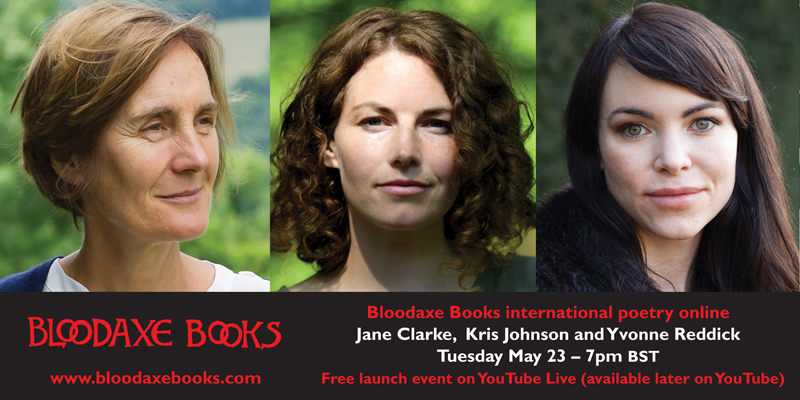 Launch reading by Jane Clarke, Kris Johnson and Yvonne Reddick
Jane Clarke, Kris Johnson and Yvonne Reddick launched their new poetry collections at Bloodaxe's live-streamed launch event on 23 May 2023.
They read live and discussed their new collections with each other and with the host, Bloodaxe editor Neil Astley, joining him from Co Wicklow, North Shields and Manchester. Stunning readings and fascinating discussion of poetry, nature, home and memory. All three collections have since been longlisted for the 2023 Laurel Prize for nature writing and ecopoetry.
This free Bloodaxe launch event was streamed on YouTube Live and is now available to watch on our YouTube channel: https://www.youtube.com/watch?v=_MttVRiJmG8
To order copies of the poets' books direct from Bloodaxe, please click on these links. If you are in Ireland or elsewhere in the EU, you can pre-order via Books Upstairs in Dublin:
Jane Clarke: A Change in the Air
Kris Johnson: Ghost River
Yvonne Reddick: Burning Season
*
Jane Clarke: A Change in the Air
Jane Clarke's third collection is far-reaching and yet precisely rooted in time and place. In luminous language her poems explore how people, landscape and culture shape us. Voices of the past and present reverberate with courage and resilience in the face of poverty, prejudice, war and exile and the everyday losses of living. Across six sequences these intimate poems of unembellished imagery accrue power and resonance in what is essentially a book of love poems to our beautiful, fragile world. A Change in the Air follows Jane Clarke's widely praised previous collections The River (2015) and When the Tree Falls (2019).
Jane Clarke grew up on a farm in Co. Roscommon and lives in Co. Wicklow, where she combines writing with her work as a tutor and facilitator. Her first collection, The River, was published by Bloodaxe in 2015. It was shortlisted for the Royal Society of Literature's Ondaatje Prize, given for a distinguished work of fiction, non-fiction or poetry evoking the spirit of a place. Her second book-length collection, When the Tree Falls (Bloodaxe, 2019), was shortlisted for the 2020 Pigott Poetry Prize, the Irish Times Poetry Now Award and the Farmgate Café National Poetry Award 2020, as well as being longlisted for the Royal Society of Literature's Ondaatje Prize 2020. In May 2020 she presented The Miners' Way, a half-hour feature for Radio 4 that was chosen for Radio 4's Pick of the Week.
*
Kris Johnson: Ghost River
Ghost River invites readers to stare down blue-mouthed crevasses, venture into old growth forests, and peer beneath the floorboards of ancestral homesteads. In this lyrical and intimate portrait of America's Pacific Northwest, wilderness and home are interwoven. But this is not Arcadia. Deep time is punctured by strip malls and freeways, wildfires and dams. Questioning the influence of the past on the present, the central sequence reimagines this landscape from the perspective of the British explorer, George Vancouver, who charted its waterways on an expedition to locate the illusive Northwest Passage. In their passage between America and England and the terrain of early motherhood, these poems of loss and renewal explore what it is to be home. Ghost River is Kris Johnson's first book-length collection.
Kris Johnson is from America's Washington state but has lived in the UK since 2007. She received her MA and PhD in Creative Writing from Newcastle University where she has also taught and worked as a researcher. In 2019, she was awarded a Developing Your Creative Practice grant from Arts Council England. Her poems have been published in journals and anthologies, including Ambit, Hallelujah for 50ft Women (Bloodaxe Books, 2015), Poetry Ireland Review, Poetry Northwest, and Poetry London. Her debut pamphlet, Skinny Dip, was published in 2022 by Enchiridion.
*
Yvonne Reddick: Burning Season
Burning Season is a book about fire and survival, climate change and nature's defiance. Yvonne Reddick's understanding of climate change is uniquely personal: her father was a petroleum engineer, and many members of her family worked in the fossil fuel industry. The collection speaks of the paradox that her Dad's gift to her was her love of nature and mountain landscapes. Burning Season includes a series of vivid, moving and heartfelt poems that explore her grief following her father's death in a hiking accident. These are set against a wider backdrop of ecological loss and heartbreak. The book combines poems with nature diaries and lyric essays to trace an intriguing family history. It tells the story of a father who worked on North Sea oil platforms and Omani oilfields, and who transported the entire family to Kuwait four years after the first Gulf War. Reddick's mother worked in seismology, detecting deposits of oil deep below the ground. This family story forms the bedrock of Burning Season, which is Yvonne Reddick's first book-length collection.
Yvonne Reddick is a writer, editor, ecopoetry scholar and climber. She has published four pamphlets, including Translating Mountains (Seren, 2017), winner of the Mslexia Women's Pamphlet Competition, and Spikenard (Laureate's Choice, 2019), which was a poetry recommendation for early 2019 in the London Review of Books. Born in Glasgow in 1986, she grew up in Aberdeen, Kuwait City and South East England. She lives in Manchester and holds a Readership in English Literature and Creative Writing at the University of Central Lancashire. Her writing reflects the landscapes she has experienced, their environments, and the impacts of the oil industry on many of them.
[13 April 2023]