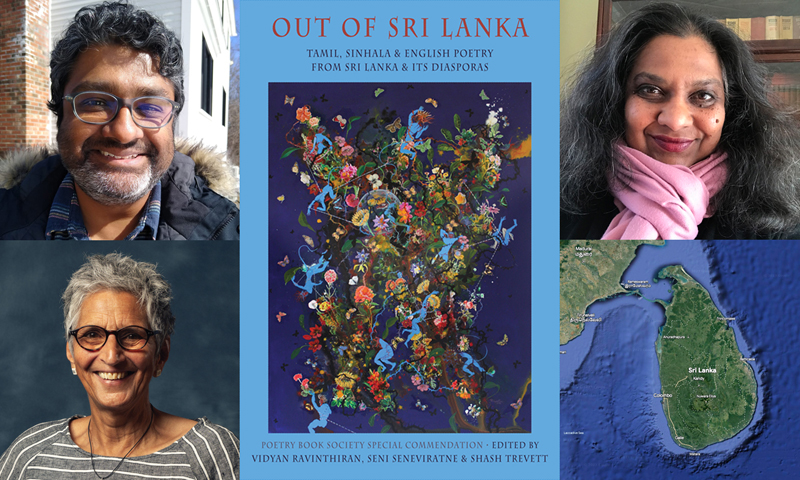 Out of Sri Lanka Events

'My anthology of the year was Out of Sri Lanka: Tamil, Sinhala and English poetry from Sri Lanka and its diasporas, edited by Vidyan Ravinthiran, Seni Seneviratne and Shash Trevett, which is everything an anthology should be: conscientious, archival, surprising, world-building, full of voices and lives.' – Jeremy Noel-Tod, Times Literary Supplement (Books of the Year)
Out of Sri Lanka is the first ever anthology of Sri Lankan and diasporic poetry – many exiles refuse to identify as "Sri Lankan" – features over a hundred poets writing in English, or translated from Tamil and Sinhala. It brings to light a long-neglected national literature, and reshapes our understanding of migrational poetics and the poetics of atrocity. Poets long out of print appear beside exciting new talents; works written in the country converse with poetry from the UK, the US, Canada and Australia. Poems in traditional and in open forms, concrete poems, spoken word poems, and experimental post-lyric hybrids of poetry and prose, appear with an introduction explaining Sri Lanka's history.
Out of Sri Lanka was pubished by Bloodaxe Books in June 2023, and was a Poetry Book Society Special Commendation for Summer 2023.
'There are angry waves crashing throughout this collection, the reverberations of colonialism and imperialism, swelled into a civil war, factions and the demonising of Muslim communities, yet amid all of this, each poem is a silent dewdrop shining on the Sri Lankan diaspora. A compilation of jasmine in full bloom and honey birds by day.' - Roy McFarlane, PBS Selector, Poetry Book Society Summer Bulletin 2023, on Out of Sri Lanka
Vidyan Ravinthiran was born in Leeds, to Sri Lankan Tamils. His first book of poems, Grun-tu-molani (Bloodaxe Books, 2014), was shortlisted for the Forward Prize for Best First Collection, the Seamus Heaney Centre Poetry Prize and the Michael Murphy Memorial Prize. His second, The Million-petalled Flower of Being Here (Bloodaxe Books, 2019), won a Northern Writers Award and a Poetry Book Society Recommendation. It was shortlisted for the 2019 Forward Prize for Best Collection, the 2019 T.S. Eliot Prize and the 2021 Ledbury Munthe Poetry Prize for Second Collections.
Seni Seneviratne, a writer of English and Sri Lankan heritage, is published by Peepal Tree Press, with books including Wild Cinnamon and Winter Skin (2007), The Heart of It (2012), and Unknown Soldier (2019). Unknown Soldier is a Poetry Book Society Recommendation, a National Poetry Day Choice and was highly commended in the Forward Poetry Prizes 2020. She is a fellow of the Complete Works programme for diversity and quality in British Poetry, with work included in Ten: new poets from Spread the Word, ed. Bernardine Evaristo & Daljit Nagra (Bloodaxe Books, 2010). She is currently working on an LGBTQ project with Sheffield Museums entitled Queering the Archive.
Shash Trevett is a Tamil from Sri Lanka who came to the UK to escape the civil war. She is a poet and a translator of Tamil poetry into English. Her poetry has appeared in anthologies and journals (including Poetry, Poetry London and The North), she has read widely across the UK and is a winner of a Northern Writers' Award. Her pamphlet From a Borrowed Land was published in 2021 by Smith|Doorstop. Shash has been on judging panels for the PEN Translates awards and the London Book Fair, and was a Visible Communities Translator in Residence at the National Centre for Writing. Shash is a Ledbury Critic, reviewing for PN Review and the Poetry Book Society and is a Board Member of Modern Poetry in Translation.
An interview with all three editors went online at Words Without Borders ahead of publication in the USA on 15 August 2023. Read online here.
An excellent in-depth review of Out of Sri Lanka has gone online on Chris Edgoose's Wood Bee Poet blog. A wonderful close reading of the anthology. Read online here.

Out of Sri Lanka was featured in Write Out Loud here ahead of the online York Festival of Ideas launch event on 8 June 2023. Scroll down to see a video of the event.
A detailed review of the 20 June 2023 GemArts Masala Festival launch at NCLA is online at Write Out Loud here. A video of the Newcastle launch is below.
PAST EVENTS

Thursday 20 July 2023, in-person launch event at GemArts Masala Festival in Newcastle
Out of Sri Lanka anthology editors Vidyan Ravinthiran, Seni Seneviratne and Shash Trevett joined NCLA Director Preti Taneja to discuss the anthology at GemArts' Masala Festival in Newcastle on 20 July 2023. The event featured an exclusive video of contributors to the anthology reading their poems as well as the three poet-editors reading their own poems and those of other contributors to the book.
Thursday 8th June 2023, 1pm-2pm, online launch event

York Festival of Ideas, University of York

Infinite Remembering: Poetry beyond love and war

Shash Trevett and Vidyan Ravinthiran, two of the Out of Sri Lanka co-editors, joined Bloodaxe editor Neil Astley to discuss this new anthology, which features over 300 poems written in English, or translated from Tamil and Sinhala. They spoke about how this diverse collection brings to light a long-neglected national literature and reshapes our understanding of migrational poetics and the poetics of atrocity. With video readings from some of the poets included in the anthology.
Facilitated by Anthony Vahni Capildeo FRSL, Writer in Residence at the University of York.
A recording of this brilliant event has been made available on the York Festival of Ideas Watch Again page. View video below or go to: https://www.youtube.com/yorkideas
[18 May 2023]