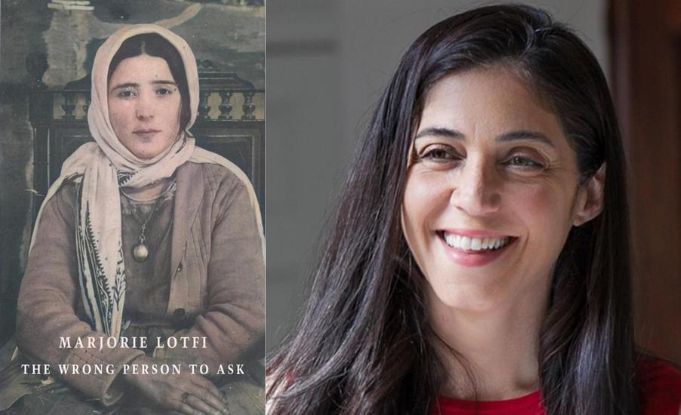 Marjorie Lotfi Launch Events
Winner of the James Berry Poetry Prize
'The Wrong Person to Ask by Marjorie Lotfi is a wondrous treasure – elegant poems of great tenderness and detail, vivid in heart and imagery, mesmerising in power. Whole worlds and people shimmer alive through scenes and stories of exile, departure, arrival, but most importantly, clear witness and remembrance. A deeply honouring book fully built of love.' – Naomi Shihab Nye
Marjorie Lotfi's award-winning first full collection The Wrong Person to Ask is a book of two halves, each a meditation on the idea of home, both the places we start and end up in our lives. Spanning a childhood in Iran dislocated by revolution, through years as a young woman in America, to her current home in Scotland, these poems ask what it means to come from somewhere else, what we carry with us when we leave, and how we land in a new place and finally come to rest.
Marjorie Lotfi was one of the three winners of the inaugural James Berry Poetry Prize in 2021, and her first book-length collection, The Wrong Person to Ask (Bloodaxe Books, October 2023) is a Poetry Book Society Special Commendation.
Marjorie will be giving a pre-publication reading from The Wrong Person to Ask at Edinburgh International Book Festival on 28 August.
FORTHCOMING EVENTS
Wigtown Book Festival 2023 (Dumfries & Galloway, Scotland)
Marjorie will be taking part in the following events and workshops at this year's Wigtown Book Festival:
Wednesday 27 September, 2pm: Marjorie Lotfi & Heshani Sothiraj Eddleston - The Language of Food (Home Farm)
Join visual storyteller Heshani Sothiraj Eddleston and writer Marjorie Lotfi for a writing workshop about how we discover our histories, culture, and ourselves through the language of food. More details here.
Thursday 28 September, 12pm: Open Book Launch - Marjorie Lofti and Claire Urquhart (County Buildings, Main Hall)
Marjorie Lotfi and Claire McCartney Urquhart share new work written in sessions run by the Open Book community reading and writing charity. More details here.
Friday 29 September, 9:30am: Poetry for Breakfast - Marjorie Lotfi and Jim Carruth (Festival Cafe)
Start your day with a blast of caffeine sweetened by poetry and chat. Friday's poets are Marjorie Lotfi and Jim Carruth. More details here.
Friday 29 September, 1:30pm: Scotland's Young Makars (Festival Marquee)
Join Scotland's Young Makars of 2023 as they deliver a series of imaginative, funny, and insightful poems. Hosted by Marjorie Lotfi. More details here.
Saturday 30 September, 4:30pm: Sumayya Usmani - Andaza: A Memoir of Food, Flavour and Freedom in the Pakistani Kitchen (McNeillie Tent)
Marjorie will be chairing this event about cookbook author Sumayya Usmani's new memoir. More details here.
Sunday 1 October, 1:30pm: Marjorie Lotfi, Manjeet Mann - What is Home? (County Buildings, Osprey Room)
Follow two journeys of seeking refuge and belonging in the discussion featuring Costa Children's Book Award winning Manjeet Mann beside poet Marjorie Lofti, winner of the James Berry Poetry Prize. More details here.
BBC RADIO SCOTLAND SUNDAY MORNING SHOW BROADCAST LIVE FROM WIGTOWN BOOK FESTIVAL

Sunday Morning, BBC Radio Scotland, Sunday 1 October 2023, 8-10am

Marjorie Lotfi will read from her forthcoming debut poetry collection The Wrong Person to Ask on BBC Radio Scotland's Sunday Morning show with Zara Janjua on 1 October. The programme is being broadcast live in front of an audience at the Wigtown Book Festival.

'Zara Janjua presents a very special live programme celebrating the 25th anniversary of the Wigtown Book Festival in Dumfries and Galloway. In front of a studio audience in the Main Room of the town's County Buildings, Zara will be joined by a host of great guests as well as live music from the Bookshop Band who create music especially inspired by literature. Among the authors appearing are award winning authors Michael Morpurgo, Kate Mosse and Patrice Lawrence. Zara will also be joined by Dark Skies Ranger Elizabeth Tindal and writer Dan Richards to discuss our fascination with the night, Jessica Fox will tell her extraordinary story of leaving behind her life as a NASA storyteller for a life as a bookshop assistant in Wigtown and there will be live poetry from Marjorie Lotfi.'

Listen live or after broadcast for 30 days:
https://www.bbc.co.uk/programmes/m001r0zx

Book to be in the audience:
https://www.bbc.co.uk/showsandtours/shows/wigtown23-sunday-morning-zara
IN-PERSON LAUNCH EVENT

Thursday 12 October, 7pm
Edinburgh launch of The Wrong Person to Ask
The Portobello Bookshop, 46 Portobello High Street, Edinburgh EH15 1DA
Marjorie Lotfi will be launching her debut collection The Wrong Person to Ask with an in-person reading at Portobello Bookshop in Edinburgh, which will also be livestreamed.
Tickets available here - in-person and online tickets are free, and bundle deals are available for those wishing to attend and purchase the book.
Saturday 14th October, 2pm
Berwick Literary Festival: Marjorie Lotfi, Kris Johnson and Yvonne Reddick
Berwick Parish Centre, Parade, Berwick-upon-Tweed TD15 1FD
Marjorie will join fellow Bloodaxe poets Kris Johnson and Yvonne Reddick for this poetry reading at Berwick Literary Festival. Hosted by editor Neil Astley, Berwick's annual Bloodaxe poetry event features three poets reading from debut collections out this year from Bloodaxe – all relating to home, family and dislocation as well as our relationship with the threatened natural world.
£8 - more information and booking here.
Thursday 9 November 2023, 7pm
James Berry Prize Winners' Reading
Culture Lab, Newcastle University
Marjorie will join fellow James Berry Prize winner Kaycee Hill for this reading at Newcastle University, hosted by Bloodaxe editor Neil Astley and poet and director of the Newcastle Poetry Festival Theresa Muñoz. The James Berry Poetry Prize is the UK's first poetry prize offering both expert mentoring and book publication for young or emerging poets of colour. Organised by NCLA with Bloodaxe Books, and supported by special funding from Arts Council England, the prize was launched in April 2021.
Free event, and all welcome - more details here.
Thursday 16 November, 7pm
Reading at St Mungo's Mirrorball

Centre for Contemporary Arts, 350 Sauchiehall Street, Glasgow
More details coming soon.
Wednesday 29 November
Guest Reader on 'Bringing it all Together' residency at Moniack Mhor
Moniack Mhor, Kiltarlity, Inverness-shire , IV4 7HT
Marjorie Lotfi will be reading for participants at this Moniack Mhor residential course, which lasts from Monday 27th November to Saturday 2nd December 2023.
More information and booking here.
Other dates in Scotland for November to be announced soon.
~~~~~~
Marjorie Lotfi on Rattlecast #74
Marjorie Lotfi introduces her work and reads from her pamphlet Refuge in this Rattlecast edition livestreamed on 5 January 2021. She was interviewed from her home in Edinburgh by Timothy Green from San Bernadino, California. Her section runs from 3:55 to 1:04:52.
Marjorie reads some poems which will be published in The Wrong Person to Ask, including 'Gift' (now called 'Mama Bozorg') and 'The gun in its holster'. She speaks about her experiences of having to flee Iran, of growing up in the US and finally moving to Scotland.
[20 July 2023]