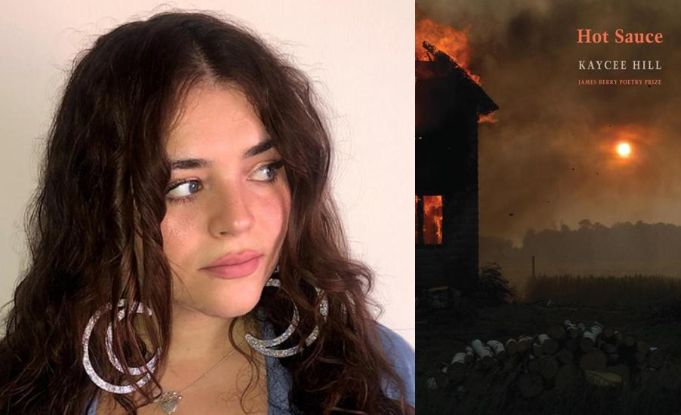 Kaycee Hill Readings
'From dancehalls, grime raves, to prisons, kitchens and gardens, Kaycee Hill's poems excavate an archive of memories with synaesthetic dexterity. A robin's red breast transforms into "the thumping heart of a young naked ash tree". And queuing crowds become "shoals of black sea bass". These poems of place transform the contemporary into a mythic lyrical landscape, where images like "I felt one hundred hymens breaking like bird's skulls" conjure up a rich surreal tapestry with dark folkloric undertones. Nature is a vivid backdrop with filmic effect. The iconic music of Sade, Corrine Bailey Rae, Genuine, Diana Ross and the Supremes demarcate era and time. Kaycee Hill's poems linger on the tongue like hot pepper sauce.' – Malika Booker
In Hot Sauce, her award-winning debut collection, Kaycee Hill frankly explores coming of age as a woman – and the intricacies of connection and memory – against an urban-pastoral landscape. Raging with vivid, smoky lyricism and full-blooded imagery, Kaycee Hill's poems are both a beginning and a continuation. Reflecting on her life and those in it, as well as first-times, underground scenes and the female body, she looks towards what is unflinchingly personal, and also outwards: towards family and strangers, nature and place, and a world that shapeshifts before us. Hot Sauce is a searing first collection that captures the visceral vulnerabilities of navigating life on the cusp.
Hot Sauce was published by Bloodaxe Books in October 2023. Kaycee Hill gave a launch reading at Winchester Poetry Festival, and read in Newcastle on 9 November 2023 alongside fellow James Berry Poetry Prize winner Marjorie Lotfi. They are joint winners (along with Yvette Siegert) of the inaugural James Berry Poetry Prize in 2021.
PAST EVENTS
James Berry Poetry Prize Winners' Reading, Thursday 9 November 2023, 7pm, Newcastle Centre for the Literary Arts

Kaycee Hill joined fellow James Berry Prize winner Marjorie Lotfi for this special event at Newcastle University on 9 November 2023, hosted by Bloodaxe editor Neil Astley and poet and director of the Newcastle Poetry Festival Theresa Muñoz. Their readings were followed by a Q&A, with Neil, Theresa and the audience asking the questions.
The James Berry Poetry Prize is the UK's first poetry prize offering both expert mentoring and book publication for young or emerging poets of colour. Organised by NCLA with Bloodaxe Books, and supported by special funding from Arts Council England, the prize was launched in April 2021. Marjorie and Kaycee were joint winners along with Yvette Siegert, whose debut will be published in 2025.
Details of the second James Berry Poetry Prize were announced at this event. Submissions will open in April 2024.
James Berry Poetry Prize reading 2021

The three winners of the inaugural James Berry Poetry Prize were announced at an NCLA online event on 28 October 2021: Kaycee Hill, Marjorie Lotfi and Yvette Siegert. Hosted by two of the judges, Jacob Sam-La Rose and Theresa Muñoz, the event also featured four other shortlisted poets. The three winners each received year-long mentoring during 2021-22 plus £1000 and publication of their first book-length collections by Bloodaxe in 2023 (and 2025 in Yvette Siegert's case). They read in turn from 30:04, with Kaycee's reading starting at 32:45.
[16 October 2023]