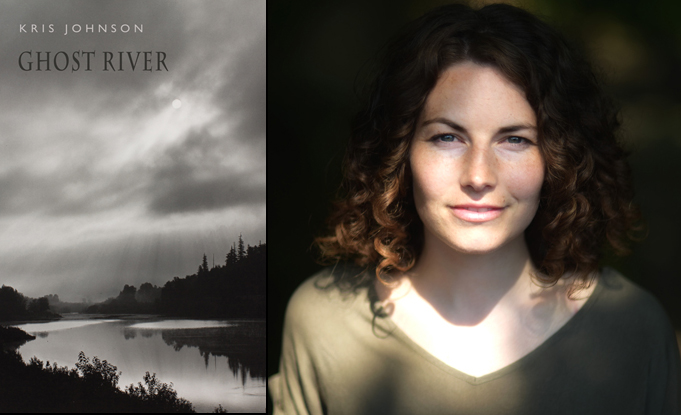 Kris Johnson Readings
'This debut collection is steeped in deep ecology and a fascination for the land that exists beneath naming and mapping ... These are musical, lyrical poems that evoke the majesty of landscape, the depth and power of water and invite us to stop, and look again.' - Mary Mulholland, The Alchemy Spoon, on Ghost River
Born and raised in America's Washington state, Kris Johnson moved to the UK in 2007. Ghost River, her first book-length collection, was published by Bloodaxe in May 2023 and was longlisted for The Laurel Prize 2023 for nature writing and ecopoetry. Ghost River invites readers to stare down blue-mouthed crevasses, venture into old growth forests, and peer beneath the floorboards of ancestral homesteads. In this lyrical and intimate portrait of America's Pacific Northwest, wilderness and home are interwoven. But this is not Arcadia. Deep time is punctured by strip malls and freeways, wildfires and dams. Questioning the influence of the past on the present, the central sequence reimagines this landscape from the perspective of the British explorer, George Vancouver, who charted its waterways on an expedition to locate the illusive Northwest Passage. In their passage between America and England and the terrain of early motherhood, these poems of loss and renewal explore what it is to be home.
'This is centred on the landscape of America's Pacific Northwest, but it is no rural idyll: ruggedly beautiful, steeped in myth and mystery, but also dark and dangerous … Impossible to do this rich and complex collection justice in a short review: it will reward frequent rereading and group discussion.' – Frank Startup, The School Librarian, on Ghost River
FORTHCOMING READINGS
Saturday 14th October, 2pm
Berwick Literary Festival: Marjorie Lotfi, Kris Johnson and Yvonne Reddick
Berwick Parish Centre, Parade, Berwick-upon-Tweed TD15 1FD
Kris will join fellow Bloodaxe poets Marjorie Lotfi and Yvonne Reddick for this poetry reading at Berwick Literary Festival. Hosted by editor Neil Astley, Berwick's annual Bloodaxe poetry event features three poets reading from debut collections out this year from Bloodaxe – all relating to home, family and dislocation as well as our relationship with the threatened natural world.
£8 - more information and booking here.
Friday 20th October, 7.30pm
A Poetry Reading with Patrick Errington, Kris Johnson and John Challis
Topping & Company Booksellers of Edinburgh, 2 Blenheim Place, Edinburgh EH7 5JH
Join us for a thrilling evening with a trio of poets! We are lucky to be joined by the wonderful Patrick Errington, Kris Johnson and John Challis for a unique event celebrating contemporary poetry, with all three authors reading from their own works.
Tickets £7 / £5 (redeemable against book purchases) - more information and ticket booking here.
PAST READINGS
NEWCASTLE POETRY FESTIVAL
In this reading at the 2023 Newcastle Poetry Festival, Kris reads eight poems from Ghost River: 'Rainier', 'Bodies of Water', 'Ghost River', 'Theoretical Geographers', 'Pseudotsuga menziesii', 'Passage', 'Northwest Passage' and 'Tectonics'.
ONLINE LAUNCH: MAY 2023
Jane Clarke, Kris Johnson and Yvonne Reddick launched their new poetry collections at Bloodaxe's live-streamed launch event on 23 May 2023. They read live and discussed their new collections with each other and with the host, Bloodaxe editor Neil Astley, joining him from Co Wicklow, North Shields and Manchester. Stunning readings and fascinating discussion of poetry, nature, home and memory. All three collections have since been longlisted for the 2023 Laurel Prize for nature writing and ecopoetry.
[01 September 2023]