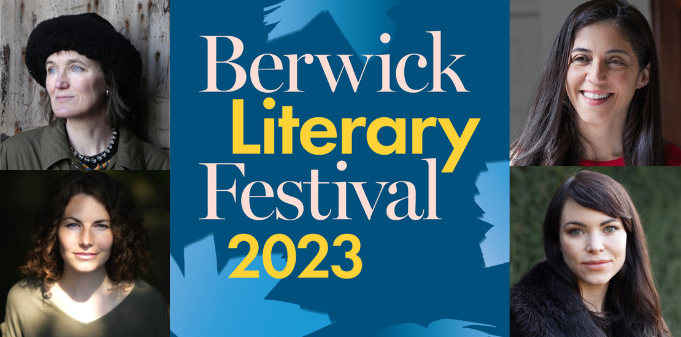 Bloodaxe Books at Berwick Literary Festival 2023
This year's Berwick Literary Festival takes place in Berwick-upon-Tweed 12-15 October 2023. The theme of this year's festival is 'Celebrating Words' and the full festival programme can be found online here.
On Saturday 14 October at 10am, Northumbrian poet Katrina Porteous will be at Berwick Baptist Church reading poetry as part of Under the Ice, a new audio-visual collaboration between the poet, composer Peter Zinovieff and scientists from Northumbria University that explores the vast mountains, valleys, lakes and volcanoes that lie beneath Antarctica's frozen surface. Under the Ice includes a brief introduction for the non-scientist, stunning satellite images, poetry and electronic music. Tickets for Under the Ice are £8 and can be booked here.
Also on Saturday 14 October, at 12pm, Mike Fraser will present a discussion of Basil Bunting titled 'Basil Bunting: the most significant Northumbrian writer since Bede?', covering the work and life of this extraordinary poet. Tickets to this event are £8 and can be booked here. In 2009, Bloodaxe Books published an edition of Bunting's 1966 long poem Briggflatts which includes a CD with a 1967 audio recording Bunting made of Briggflatts and a DVD of Peter Bell's 1982 film portrait of Bunting. Basil Bunting's Complete Poems was published by Bloodaxe in 2000. Enhanced e-books of Basil Bunting's Complete Poems (with audio) and Briggflatts (with audio and video) were published by Bloodaxe in June 2016, marking the 50th anniversary of the first publication of Briggflatts.
Later on the same day, at 2pm on Saturday 14 October, three Bloodaxe poets will be reading from their new debut collections at a joint event at Berwick Parish Centre. Kris Johnson's Ghost River was published in May 2023 and was longlisted for The Laurel Prize 2023. Marjorie Lotfi is a winner of the James Berry Poetry Prize for her collection The Wrong Person to Ask, which has also received a Poetry Book Society Special Commendation and is forthcoming in October of this year. Yvonne Reddick's Burning Season, published in May 2023, is on the shortlist for The Laurel Prize 2023. All three poets will be appearing at other events throughout the Autumn, and full details of all of their events can be found on our website here. Tickets to the joint reading at Berwick Literary Festival are £8 and can be booked here.
[27 September 2023]