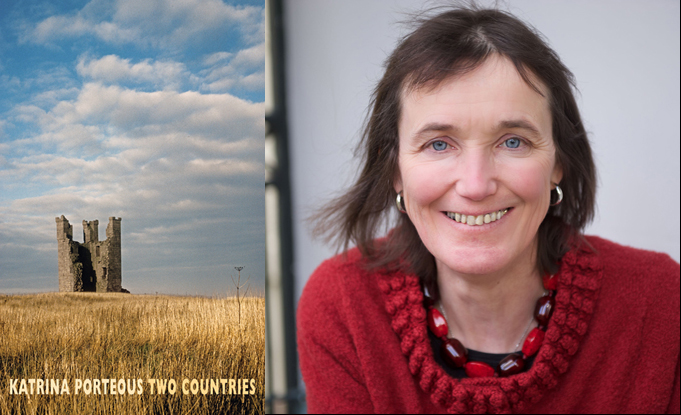 Katrina Porteous Readings
Katrina Porteous's 2014 collection Two Countries was shortlisted for the Portico Prize for Literature 2015. These are poems of the borderlands between England and Scotland. Her next collection Edge, forthcoming in October 2019, will gather together poems from Katrina's scientfic collaborations.
Katrina read at an event in Stockton on 20 July 2019 marking the 50th anniversary of the first humans landing on the Moon as part of NASA's Apollo 11 lunar mission. Read more about her connection with space here.
Katrina Porteous was interviewed about her radio poem Dunstanburgh (in Two Countries) on Fence Me In, BBC Radio 4, Sunday 4 August, 1.30pm. Listen here.
She gives an account of the radio programme on her blog here.


Forthcoming events with Katrina Porteous in Autumn 2019 - full details to follow:
Bodmin Moor Poetry Festival -- Saturday September 28, 8-9.15pm -- Katrina reads from Two Countries and Edge. Click here to book.
Durham Book Festival -- Saturday October 12, 11am-noon, St Chad's Chapel, Durham -- Katrina and Phoebe Power read and discuss their specially commissioned new poems for The People's Landscape on the Durham Coast. Commissioned by Durham Book Festival and the National Trust 2019. Click here to book.
Berwick Literary Festival -- Sunday October 20, 2-3pm, Holy Trinity Parish Centre, Berwick on Tweed. Launch of Katrina's new Bloodaxe collection, Edge. Click here to book.
Science and Industry Museum, Manchester -- Wednesday November 27, 7-10pm. The Sun 'Late' event (over 18s only) includes performance of Sun by Katrina from her book Edge.
An Evening with Don Paterson and Katrina Porteous -- Monday December 9, 7.30-9.30pm, Barter Books, Alnwick.

[16 July 2019]