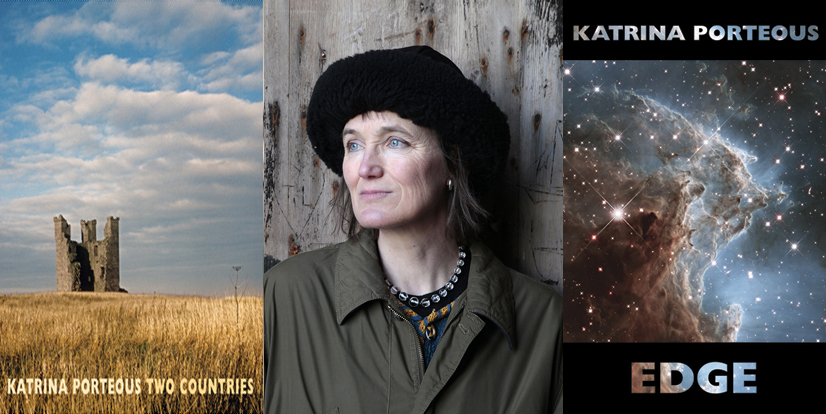 Katrina Porteous Readings
Katrina Porteous's third collection Edge, published by Bloodaxe on 24 October 2019, gathers together poems from Katrina's scientfic collaborations. All three pieces were commissioned for performance in Life Science Centre Planetarium, Newcastle upon Tyne, between 2013 and 2016, with computer music by Peter Zinovieff.
Edge follows Katrina's two earlier collections, The Lost Music (1996) and Two Countries (2014), which were concerned with the landscapes and communities of North-East England. Edge was launched at the Berwick Literary Festival on 20 October 2019.
Katrina was interviewed on BBC Radio 4's Front Row in November 2019. She talked to Kirsty Lang about space, science and her new collection Edge. Listen here. (intro & from 18:09).
Novelist Olivia Fane recommended Katrina's poetry on the 'Better Known' podcast. She read an extract from 'Titan' in the title sequence of Edge and the whole of the title poem from The Lost Music. Click here to listen (from 5:45)

FORTHCOMING READINGS BY KATRINA PORTEOUS
Centre for Endangered Languages, Cultures and Ecosystems (CELCE), University of Leeds, Wednesday 24th February 2021, 4pm GMT
Katrina Porteous: 'The Sea's the Boss'

The language spoken by the Northumbrian 'coble' fishing community in the late 20th century contained clues to that community's historical development and to its understanding of place and nature. In this talk, touching on the language of fishing practices and species caught, place names, navigation and visualisation of the seabed, taboo words and beliefs, Katrina Porteous will argue that elements of this way of life remained little changed since medieval times, and that recent developments in fishing technology, reflected in its language, have profoundly altered the relation between people and place. With illustrations from her poems, she will show that an intrinsic understanding of 'sustainability' lay at the heart of the coble fishing way of life, and explore the human cost at which this was achieved.

Poet and historian Katrina Porteous lives on the Northumberland coast and writes from a deep commitment to the ecology of place and local community. Her collections from Bloodaxe Books include The Lost Music (1996) and Two Countries (2014), and poems written for a planetarium, Edge (2019). www.katrinaporteous.co.uk
At this event, Katrina will be reading from Two Countries and The Lost Music.
Free event via Zoom:

Time: Feb 24, 2021 04:00 PM London

Join Zoom Meeting

https://us02web.zoom.us/j/83217773251?pwd=eEpxb0YyTVdUVUhzWnlpOENiNy92UT09

Meeting ID: 832 1777 3251

Passcode: 118342
Katrina read at an event in Stockton on 20 July 2019 marking the 50th anniversary of the first humans landing on the Moon as part of NASA's Apollo 11 lunar mission. Read more about her connection with space here.
Katrina Porteous was interviewed about her radio poem Dunstanburgh (in Two Countries) on Fence Me In, BBC Radio 4, Sunday 4 August, 1.30pm. Listen here.
She gives an account of the radio programme on her blog here.
[16 October 2019]