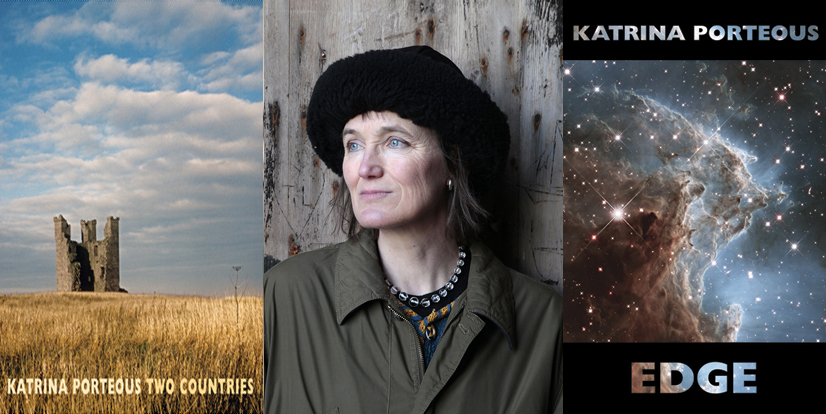 Katrina Porteous Readings
Katrina Porteous's third collection Edge, published by Bloodaxe on 24 October 2019, gathers together poems from Katrina's scientfic collaborations. All three pieces were commissioned for performance in Life Science Centre Planetarium, Newcastle upon Tyne, between 2013 and 2016, with computer music by Peter Zinovieff.
Edge follows Katrina's two earlier collections, The Lost Music (1996) and Two Countries (2014), which were concerned with the landscapes and communities of North-East England. Edge was launched at the Berwick Literary Festival on 20 October.
Katrina was interviewed on BBC Radio 4's Front Row in November 2019. She talked to Kirsty Lang about space, science and her new collection Edge. Listen here. (intro & from 18:09).
Novelist Olivia Fane recommended Katrina's poetry on the 'Better Known' podcast. She read an extract from 'Titan' in the title sequence of Edge and the whole of the title poem from The Lost Music. Click here to listen (from 5:45)

READINGS BY KATRINA PORTEOUS
Saturday 7th March 2020, 4-5.30pm, The Sill: National Landscape Discovery Centre
Bardon Mill, Hexham, Northumberland NE47 7AN
Two Countries Katrina Porteous and Alice Robinson
Katrina Porteous and Alice Robinson will be giving a special performance to accompany the Lost Words Exhibition and to celebrate International Women's Day.
Katrina will be reading from her 2014 collection Two Countries, which was shortlisted for the Portico Prize. In her first two poetry collections, which are rooted in the landscapes, people and wildlife of Northumberland, Katrina often writes in Northumbrian dialect. She is President of the Northumbrian Language Society.
For this performance Katrina is joined by former BBC Young Folk Musician of the Year finalist, Northumbrian piper Alice Robinson.
Tickets: £12 (free parking is included in the ticket price)
Booking via Northumberland National Park here.
Katrina read at an event in Stockton on 20 July 2019 marking the 50th anniversary of the first humans landing on the Moon as part of NASA's Apollo 11 lunar mission. Read more about her connection with space here.
Katrina Porteous was interviewed about her radio poem Dunstanburgh (in Two Countries) on Fence Me In, BBC Radio 4, Sunday 4 August, 1.30pm. Listen here.
She gives an account of the radio programme on her blog here.
[16 October 2019]