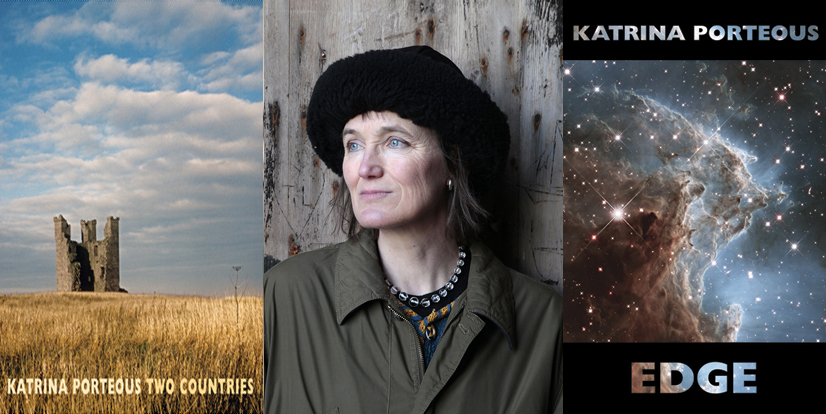 Katrina Porteous Readings
Katrina Porteous's third collection Edge, published by Bloodaxe on 24 October 2019, gathers together poems from Katrina's scientfic collaborations. All three pieces were commissioned for performance in Life Science Centre Planetarium, Newcastle upon Tyne, between 2013 and 2016, with computer music by Peter Zinovieff.
Edge follows Katrina's two earlier collections, The Lost Music (1996) and Two Countries (2014), which were concerned with the landscapes and communities of North-East England. Edge was launched at the Berwick Literary Festival on 20 October 2019.
Katrina was interviewed on BBC Radio 4's Front Row in November 2019. She talked to Kirsty Lang about space, science and her new collection Edge. Listen here. (intro & from 18:09).
Katrina Porteous was presented with a Cholmondeley Award on 9 June 2021, alongside fellow Bloodaxe poet Susan Wicks. The Cholmondeley Awards recognise the achievement and distinction of individual poets. Details here.

~~~~~~
PAST EVENTS
Interview with Katrina Porteous for the Poetry App 'Poesie', 30 April 2021

Katrina spoke in depth about her poetry, and about the formative experience of spending time with the fishermen of the Northumberland coast where she lives, She read two poems from Edge - more are featured on the Poesie App. She was responding to questions from Ben Bregman of Poesie.

~~~~~
Katrina read at an event in Stockton on 20 July 2019 marking the 50th anniversary of the first humans landing on the Moon as part of NASA's Apollo 11 lunar mission. Read more about her connection with space here.
Katrina Porteous was interviewed about her radio poem Dunstanburgh (in Two Countries) on Fence Me In, BBC Radio 4, Sunday 4 August, 1.30pm. Listen here.
She gives an account of the radio programme on her blog here.
[16 October 2019]