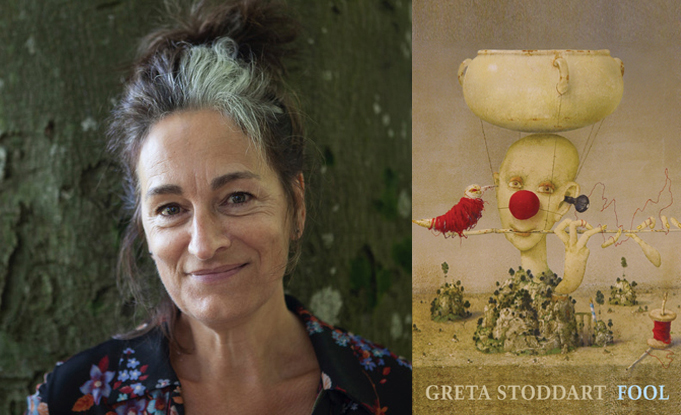 Greta Stoddart Events and Readings
'Among current major UK poets, Stoddart's poetic voice is perhaps as hard to categorise as anyone's, except in its excellence. Even more than its wondrous three precursors, Fool will demand re-readings to absorb its full richness.' – Matthew Paul, The Friday Poem
Greta Stoddart's fourth collection, Fool, was published by Bloodaxe in September 2022. When knowledge is ours at the tap of a key, what is it we're accumulating, and is it at the expense of another, more intuitive, kind of knowing? The word 'fool' derives from the Latin follis, one of whose meanings is 'empty-headed person'. Such mindlessness is not quite imaginable, but perhaps it is possible that by unknowing a thing we can start to see it differently. There's a lot the fool doesn't know – otherwise they wouldn't be a fool – but can anyone be trusted to know anything?
Greta Stoddart's third collection, Alive Alive O (2015) - her first from Bloodaxe - was shortlisted for the Roehampton Poetry Prize. Her half-hour radio drama Who's There?, first broadcast on Radio 4's The Echo Chamber in 2017, was shortlisted for the Ted Hughes Award.
Greta Stoddart's poem 'Spell' from her fourth collection Fool was featured by Carol Rumens as her Poem of the Week online column in The Guardian on 19 September 2022. Read here.
Greta Stoddart writes about the three poems she'd like to take to a desert island in The Friday Poem's Castaway Companions feature of 9 September 2022 here.
An in-depth review of Fool is featured on The Friday Poem here.
PAST EVENTS
Bloodaxe September 2022 online launch reading
Greta Stoddart launched Fool alongside the authors of our other September 2022 publications, Jane Griffiths and Shazea Quraishi. All three authors read from their new collections and discussed their work with Bloodaxe editor Neil Astley. The event is now available on YouTube here, where it is divided into chapters, or click play on the video above. Greta read last in each set.
[19 April 2016]