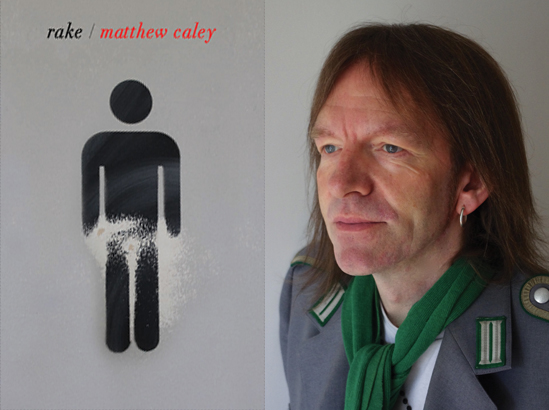 Matthew Caley Readings
The tour continues: Matthew Caley readings from his fifth collection Rake in 2017-18. Matthew's next collection is forthcoming from Bloodaxe in September 2019.

Friday 14th December 2018, doors open 8pm

Poets' Café

South Street Arts Centre, 21 South Street, Reading, RG1 4QU
Matthew Caley - guest poet

Matthew will be reading from his fifth collection Rake.

8.00pm £5.00 / £4.00 con

Click here for more information.

ONLINE INTERVIEW WITH MATTHEW CALEY

Click here to read an interview with Matthew Caley on Poetry Spotlight. He discusses his new collection Rake.
Matthew Caley was interviewed about Rake on Resonance FM

The News Agents, Resonance FM, Saturday 2 April 2016
An hour-long interview with Matthew Caley ran on Resonance FM's arts show The News Agents. He was speaking to Jude Cowan Montague about his new collection Rake. He read several poems from his new collection, and Jude set some of them to music.

"Rakes and Romps: Sex in the Papers." Poet Matthew Caley discusses sex in the news and libertines in European history while leafing through his fifth collection, 'Rake,' published by Bloodaxe Books. Plus adventures in sound and performative discourse.
Available to listen to online: https://www.mixcloud.com/Resonance/the-news-agents-2nd-april-2016/


[04 December 2018]