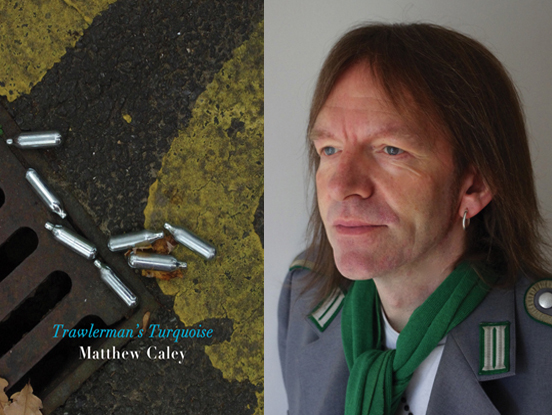 Matthew Caley Readings
Matthew Caley's sixth collection Trawlerman's Turquoise was published by Bloodaxe in September 2019, and was launched at King's Lynn Poetry Festival on 27 September, with further launch readings in London and Nottingham. Matthew gave a reading and workshop at the Poetry in Aldeburgh festival in November 2019.
The book's title derives from the long, central, hyper-associative poem, 'from The Foldings' – trawlerman's turquoise being a phrase to describe a psychic glimpse of the ocean for perennial inner-city dwellers, who have only ever heard rumour of one.
StAnza: Scotland's International Poetry Festival, 4-8 March 2020

Thursday 5 March, 15:30 - 16:30

Byre Theatre, Abbey Street - Auditorium
The StAnza 2020 Lecture: Mother, Mother Ocean
Matthew Caley will be giving the STANZA Lecture 2020 - Mother, Mother, Ocean - Modernist Women Poets and The Sea
To tie with this an 'image, text, sound installation' - a collaboration between Matthew and Marine Biology specialists from St Andrews University - featuring lines from his new collection Trawlerman's Turquoise - will be shown throughout the festival.
£4.50/£3.50
Friday 6 March, 10:00 - 11:10
Byre Theatre, Abbey Street - Studio Theatre
Breakfast at the Poetry Café: Coast Lines (hosted by Matthew Caley)
StAnza breakfast panel discussion events offer a relaxed start to the day, with a group of poets and other festival participants discussing all things poetical over coffee and pastries.

Researchers have found that spending time by the sea can be key to happiness – so perhaps it's no surprise that poets down the centuries have been drawn to the coast. This morning we'll be talking about how poets explore, engage with and celebrate our borders with the sea, as well as asking how storytelling can feed into sustainability.

£5/£4
Click here to book for both events (tickets on sale from 14 January)
Matthew Caley was one of the StAnza poets interviewed by The List. Read the feature here.
[11 December 2019]