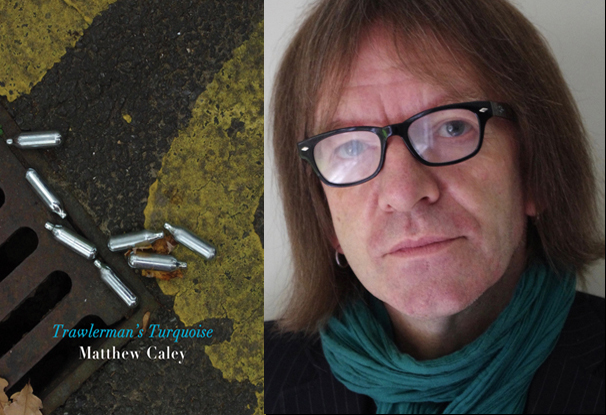 Matthew Caley Launch Readings
Matthew Caley's sixth collection Trawlerman's Turquoise will be published by Bloodaxe in September 2019, and will be launched at King's Lynn Poetry Festival on 27 Setpember. The book's title derives from the long, central, hyper-associative poem, 'from The Foldings' – trawlerman's turquoise being a phrase to describe a psychic glimpse of the ocean for perennial inner-city dwellers, who have only ever heard rumour of one.
King's Lynn Poetry Festival, Town Hall, Saturday Market Place, King's Lynn PE30 5DQ

Friday 27th September, 7.30pm

Elisabeth Sennitt Clough, Matthew Caley, Helen Ivory
Launch event for Matthew Caley's sixth collection Trawlerman's Turquoise. He will be reading alongside fellow Bloodaxe poet Helen Ivory, whose fifth collection The Anatomical Venus was published in May 2019.
All tickets are £8.50, either in advance or on the door. Friday and Saturday nights are particularly popular, so do consider booking in advance to secure a seat. An all-weekend pass is £37.50. Students' price is £1 per event.
Full details at lynnlitfests.com
Thursday 17th October 2019, 7.00pm, London

The Wheatsheaf, [Upstairs] 25 Rathbone Place, Fitzrovia, London WIT 1JB

Slow Dancer 20 Anniversary Reading

An evening of readings by a selection of Slow Dancer poets - from Matthew Caley to Tamar Yoseloff with plenty more in between - to mark 20 years since this pioneering poetry press ceased publication.

Free event but booking required.
Click here to book.


Thursday 24th October, 7.30pm, Kirkdale Bookshop, 272 Kirkdale, Sydenham, London SE26 4RS

Matthew reading from Trawlerman's Turquoise and will be in conversation.

Booking information: Roland c/o 020 8778 4701 or mail@kirkdalebookshop.com.

More details will be posted in due course here.


Wednesday 6th November 20019, 7.00pm, Five Leaves Bookshop, 14a Long Row, Nottingham NG1 2DH

Nottingham launch Trawlerman's Turquoise
Matthew Caley reads from Trawlerman's Turquoise with his sister Ruth Hobson reading from her debut collection Arthur Talks.

Tickets: £4.00 on the door (£2.00 students). Please let the shop know you are coming on events@fiveleaves.co.uk.
More information here.


Friday 8th-Sunday 10th November 2019, Poetry in Aldeburgh Festival
SATURDAY 5:30 - 6:30pm, JUBILEE HALL
Matthew Caley will be reading at the Poetry in Aldeburgh Festival. Other Bloodaxe poets reading at this year's festival include Grace Nichols.
BOOKS FOR DISQUIETING TIMES -- FOUR POETS

Matthew Caley, Carrie Etter, Kate Noakes, Tamar Yoseloff

The poems in Matthew Caley's Trawlerman's Turquoise are 'full of meting borders, random dangers, shifting identities, misread commmuniqués, false reports and information overload – destabilising and exhilarating in equal measure'. Carrie Etter grew up in Normal, Illinois, but the poems in The Weather in Normal are anything but. They explore changes in the town since her parent's death and the impact of climate change on the US state's lansdscape and lives. Kate Noakes' The Filfthy Quiet teems with poems 'aloud with every imaginable sensation' and 'full of sparks and campfires, wakeful nights and miracles, and bold women who know the "art of repair" (Jane Commane). Tamar Yoseloff's new collection The Black Place brings together work that 'eschews the sentimental', offers us antidotes to cheery capitalist hype and all with a dark grandeur to her view of mortality. Diagnosis and disaster float ominously.
£10
Click here to book.
Matthew will also be giving a workshop on Saturday, 2-3.55 pm, at the Baptist Church: Finding a Tanka with Matthew Caley.

Thursday 21 November 2019, 7.30pm, London

Bards and Beats, The Ivy House, Nunhead, 40 Stuart Road, London SE15 3BE

Matthew Caley reads from Trawlerman's Turquoise.

More information will be posted in due course here.


ONLINE INTERVIEW WITH MATTHEW CALEY

Click here to read an interview with Matthew Caley on Poetry Spotlight. He discusses his fifth collection Rake.
[10 September 2019]