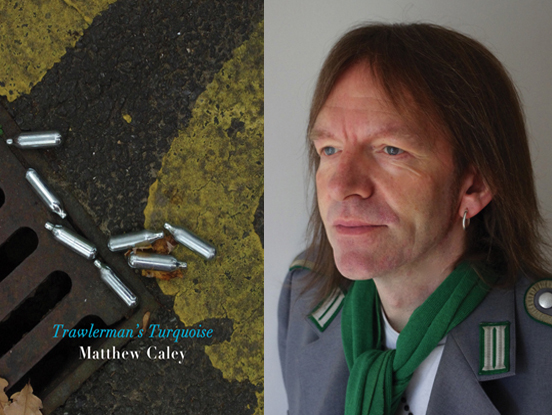 Matthew Caley Readings
Matthew Caley's sixth collection Trawlerman's Turquoise will be published by Bloodaxe in September 2019, and was launched at King's Lynn Poetry Festival on 27 September, with further launch readings in London and Nottingham. Matthew gave a reading and workshop at the Poetry in Aldeburgh festival in November 2019.
The book's title derives from the long, central, hyper-associative poem, 'from The Foldings' – trawlerman's turquoise being a phrase to describe a psychic glimpse of the ocean for perennial inner-city dwellers, who have only ever heard rumour of one.

Thursday 21 November 2019, 7.30pm, London

Bards and Beats, The Ivy House, Nunhead, 40 Stuart Road, London SE15 3BE

Matthew Caley reads from Trawlerman's Turquoise.

More information will be posted in due course here.


ONLINE INTERVIEW WITH MATTHEW CALEY

Click here to read an interview with Matthew Caley on Poetry Spotlight. He discusses his fifth collection Rake.
[10 September 2019]