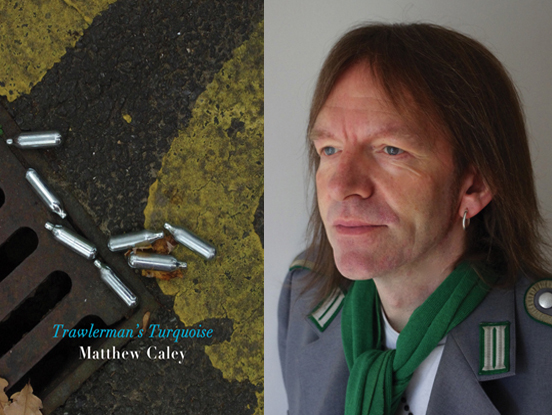 Matthew Caley Readings

'Matthew Caley's sixth collection is a double caffeine shot of delicious language and adventurous forms, peopled with poets, passers-by and small ghosts from other worlds.' - Hannah Stone, The Lake
Matthew Caley's sixth collection Trawlerman's Turquoise was published by Bloodaxe in September 2019, and was launched at King's Lynn Poetry Festival on 27 September, with further launch readings in London and Nottingham. Matthew gave a reading and workshop at the Poetry in Aldeburgh festival in November 2019.
The book's title derives from the long, central, hyper-associative poem, 'from The Foldings' – trawlerman's turquoise being a phrase to describe a psychic glimpse of the ocean for perennial inner-city dwellers, who have only ever heard rumour of one.
Matthew Caley was one of the StAnza poets interviewed by The List. Read the feature here.
Matthew delivered the StAnza Lecture 2020 - Mother, Mother, Ocean - Modernist Women Poets and The Sea on 5 March. To tie with this an 'image, text, sound installation' - a collaboration between Matthew and Marine Biology specialists from St Andrews University - featuring lines from his new collection Trawlerman's Turquoise - was shown throughout the festival. Details of the video poem TRAWL are here. The video is posted below.
Excellent reviews of Trawlerman's Turquoise are in The Lake here and Tentacular Magazine here.
FORTHCOMING ONLINE EVENTS WITH MATTHEW CALEY

Thursday 4 June 2020, Words and Jazz, 9.30-10.30pm [NB NEW START TIME OF 9.30]

Words and Art - Matthew Caley, Nicki Heinen, Aurelie Freoua

Nicki Heinen and Matthew Caley recite. Aurelie Freoua paints! Matthew Caley will read from his latest collection Trawlerman's Turquoise.
Free! Online
Details via Vortex Jazz Club here.
Thursday 11 June 2020, Over the Edge, 6.30-8pm

June Over The Edge: Open Reading on Zoom with Quincy Lehr, Maeve Galvin, & Matthew Caley

A special June 'Over The Edge: Open Reading' takes place on Zoom on Thursday, June 11th at the usual Over The Edge time 6.30-8.00pm (local Galway time). The Featured Readers are Matthew Caley, Maeve Galvin, & Quincy Lehr. There will, as always at Over The Edge: Open Readings, be an open-mic after the Featured Readers have finished. New readers are always especially welcome at the open-mic. Anyone interested in taking part in the open-mic should text Kevin Higgins on 087-6431748 or email over-the-edge-openreadings@hotmail.com between 6pm and 6.30pm on the evening of the reading. The MC for the evening will be Susan Millar DuMars.
More information on the Over the Edge blogspot here.
[11 December 2019]