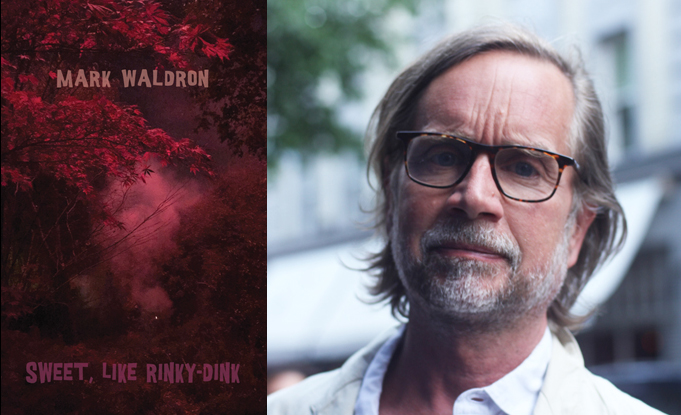 Mark Waldron Reading
Mark Waldron's fourth collection Sweet, like Rinky-Dink was published by Bloodaxe in May 2019, three years after the publication of his third collection Meanwhile, Trees. He gives brilliant readings, performing from memory. Mark filmed himself reading some poems from his new collection - see below and on the title page.
The Poetry Review Podcast: half-hour interview with Mark Waldron. Among many other things, he spoke to Emily Berry about the quirky films he made for Sweet, Like Rinky-Dink. He also read two new poems 'Contingency' and 'to Dig', which are published in the autumn 2019 issue of The Poetry Review. Click here to listen.
FESTIVAL POSTPONED
Kendal Poetry Festival - 18-21 June 2020

Saturday 20 June, 2-4pm

Kendal Suite, Castle Green Hotel
Main Reading with Vahni Capildeo and Mark Waldron

Vahni Capildeo's seven books and five pamphlets extend from prose poetry into immersive theatre. Capildeo's work is intimate yet full of humour, far-ranging and far-reaching and always fearless in its challenge to the boundaries of poetry and what it can do.
Mark Waldron's work is deliciously bold and wickedly funny, with strands of whimsy, surrealism and the grotesque running through his work. He will be reading from his latest collection Sweet, like Rinky-Dink.
Tickets: £8
Click here to book. FESTIVAL POSTPONED

Sunday 21 June, 10am-1pm
Castle Room, Castle Green Hotel
Workshop with Mark Waldron: Let's talk rubbish

Poetry is often most interesting when it lets go of the side of the pool. When the poem has to improvise to stay afloat. In those panicky moments the unconscious might express itself. Language always wants to run along the familiar runnels it was built for, but it can be made, or encouraged at least, to pop out of those runnels for a moment. We'll look at examples of poems where that seems to be happening, and we'll look at techniques that might help it happen in our own work. From cut-ups to formal constraints. We'll also look at the use of nonsense in poetry, and how the surrealists opened up possibilities, gave us, as Mallarmé put it, La grande permission. However cleverly constructed a poem might be, however profound or touching, I think readers want to experience those moments of abandon. Moments of freedom from the tyranny of language and sense.
Tickets: £16.50
Click here to book. FESTIVAL POSTPONED
[17 February 2020]