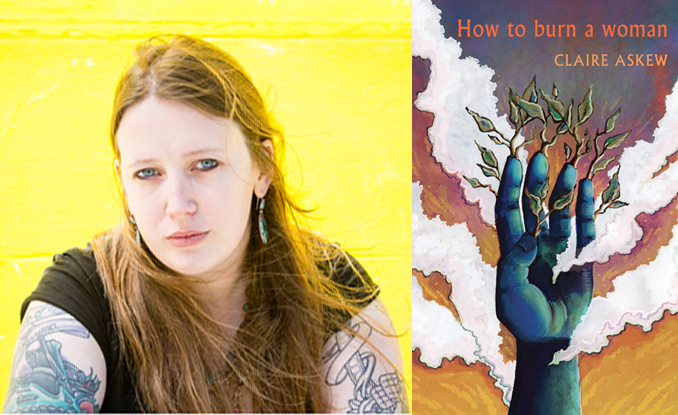 Claire Askew Events
'Through poems of witches and outsiders, of women who lived on the fringes of ordinary, Askew dives into an exploration of love with her incisive language, poetic tenderness and electric rage.' – Beth Cochrane, The Skinny, Scottish Poetry Picks for October 2021
Poet and novelist Claire Askew's electrifying second collection How to burn a woman is an investigation of power: the power of oppressive systems and their hold over those within them; the power of resilience; the power of the human heart. It throngs with witches, outsiders, and women who do not fit the ordinary moulds of the world. It is a collection which traces historic atrocities, and celebrates the lives of those accused of witchcraft with empathy, tenderness and rage. It lifts a mirror up to contemporary systems of oppression and – in language that is both vivid and accessible – asks hard questions of our current world.
Claire Askew's debut collection This changes things was shortlisted for The Seamus Heaney Centre Prize for First Full Collection 2017, the Saltire Society First Book of the Year Award 2016 and the Michael Murphy Memorial Prize 2017. It was also runner-up for the Edwin Morgan Poetry Award 2014 and shortlisted for the same prize in 2016.
Claire grew up in the rural Scottish borders, and spent many years living in Edinburgh. She's now based in Cumbria.
~~~
Claire Askew gave a brilliant interview on BBC Radio 4's Start the Week on 6 December 2021. She was discussing witches with host Andrew Marr and fellow guests actor Kathryn Hunter and historian Malcolm Gaskill. Claire was talking about her second collection How to burn a woman. Listen here. Claire's main interview is from 22:43, but she contributes at other points.
'Claire Askew's latest collection of poems, How To Burn A Woman, is a cauldron full of spells, power and love. It's peopled with witches, outsiders, and women who stand out. It too traces historic atrocities and celebrates the lives of those accused of witchcraft. But it also looks at contemporary relationships, of love bordering on infatuation, and the feelings of loss, bitterness and isolation at the end of an affair.'
FORTHCOMING EVENTS

Sunday 14 August, 2.15pm

Edinburgh International Book Festival - Claire Askew & Salena Godden: Life and Death
Meet two writers who are forging their own paths. Claire Askew's second collection, How to Burn a Woman, is a tale of power and resilience. She's joined by poet and writer Salena Godden, whose debut novel Mrs Death Misses Death is a daring, poetic take on life, love and death. Together they discuss writing the challenges of love and imbuing words with magic with Marjorie Lotfi.
Northside Theatre / Pay-what-you-can event / In-person tickets go on sale at 10:00 on Thursday 23 June / More information here.

PAST EVENTS
LIVE-STREAMED LAUNCH EVENT ON 19 OCTOBER 2021

Bloodaxe's joint launch reading by Claire Askew, Annemarie Austin and George Szirtes celebrating the publication of their new poetry collections was live-streamed on 19 October 2021, and is now available on YouTube (see video below).
Claire Askew and George Szirtes were reading live and discussing their new collections with the host, Bloodaxe editor Neil Astley, with audio recordings of Annemarie Austin reading, accompanied by screen-shares of her poems. Although three very different poets, their work explores memory, history, oppression, personal history and stories - themes that were explored by George and Claire in their conversation. As so often with these events, interesting connections between the poets were revealed, with both George and Claire having to cross borders and make lives in new countries as children (in Claire's case, this was moving to Scotland at the age of eight).
George Szirtes read first in each set, followed by Claire, and then Annemarie. George began by reading from the first section of Fresh Out of the Sky, a sequence of poems about his arrival in rainy England as a boy in 1956, having fled from Hungary with his family following the Hungarian Uprising. Claire Askew goes much further back in history with her first set of readings, beginning with a poem about her ancestor Anne Askew, who was tried as a heretic, tortured in the Tower of London and burned at the stake in 1546. This was followed by two more powerful poems about real women who were accused of witchcraft and executed. Claire gave a trigger warning so that anyone who does not wish to hear these poems could mute until the start of the next reading. In the second set, Claire read some of her contemporary poems about relationships, while George read some of his poems responding to the pandemic.
[07 December 2021]