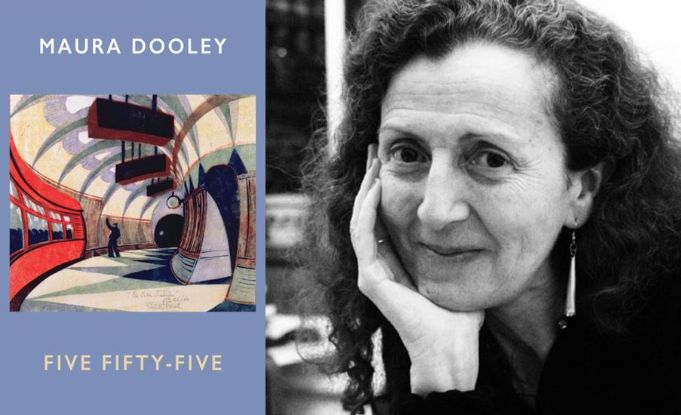 Maura Dooley Readings
'Commanding and quietly layered, these lyrically precise and subtle poems deserve revisiting.' - Maya C. Popa, Publishers' Weekly, on Five Fifty-Five
Five Fifty-Five is Maura Dooley's sixth collection, her first book since The Silvering (2016). It was published in April 2023 by Bloodaxe Books. A video of Maura's joint launch reading is below.
These are quizzical poems concerned with time and mortality which ask fundamental questions about our lives, such as Where have you gone? and Who were you anyway? She tries to find out through conversations with, among others, Louisa M. Alcott, Hokusai, Jane Austen, Buzz Aldrin, Anne Tyler and the Great Uncle and Grandfather she never knew.
Maura Dooley's translation of the work of exiled Iranian poet Azita Ghahreman, Negative of a Group Photograph, was co-published by Bloodaxe Books and the Poetry Translation Centre in October 2018. Maura regularly gives readings and also runs workshops and poetry courses.
Read a review of Five Fifty-Five in Publishers' Weekly here. The book will be available in the US from 4 July 2023 via Consortium Book Sales.
FORTHCOMING READINGS
Thursday 15 June, 7.30pm
London launch event for A Change in the Air and Five Fifty-Five
Across the Lines: Jane Clarke & Maura Dooley

West Greenwich Library, 146 Greenwich High Rd, London SE10 8NN
Jane Clarke and Maura Dooley will be launching their new collections at a reading hosted by In-Words. Jane's third full collection, A Change in the Air, is out from Bloodaxe on 25 May and Maura Dooley's new collection Five Fifty-Five was published by Bloodaxe in April 2023. As an Irish writer and a British writer of Irish descent, they will read lyrical poems that speak across the lines of history and identity, poems that are as moving as they are memorable.

An in-person reading at West Greenwich Library SE10 8NN. FREE. Refreshments available (donations very welcome).

If you're unable to attend in person, there will be a Zoom connection. Email irena@in-words.co.uk if you would like to be sent a link nearer the time.
More details of this free event are at In-Words here.
PAST EVENTS
Bloodaxe Books international poetry online reading (April 2023 book launch)
Maura Dooley read alongside Harry Clifton and Matthew Hollis as all three poets launched their new Bloodaxe collections. After their readings, they discussed their books with each other and with Bloodaxe editor Neil Astley. Maura Dooley read second in each set.
[12 April 2023]