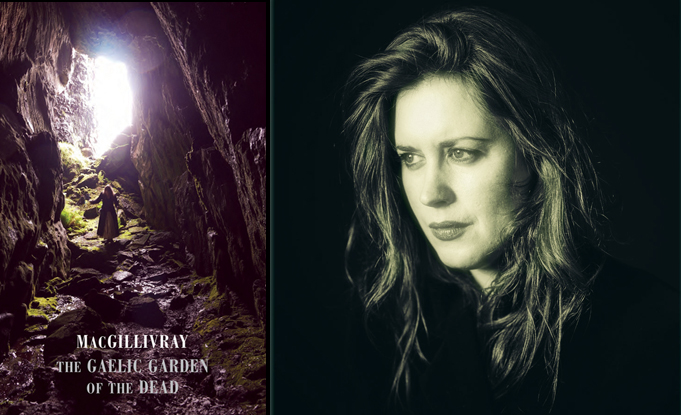 MacGillivray Readings
'I am a big admirer of MacGillivray's The Nine of Diamonds and feel that this new collection is equally, if not more, impressive. The Gaelic Garden of the Dead is three "Books of the Dead" bound as one. Includes 10 pattern poetry dream diagrams and 35 death sonnets deconstructed to Mary Queen of Scots.' – Asif Khan, Director of the Scottish Poetry Library, in The Bookseller
MacGillivray is the Highland name of Scottish writer, artist and musician Kirsten Norrie.
MacGillivray was shortlisted for New Music Performer of the Year, one of the New Music Scotland Awards, in 2017. She incorporates her extraordinary music-making into her poetry readings. Her second collection, The Nine of Diamonds: Surroial Mordantless, was published by Bloodaxe in October 2016. Her third collection, The Gaelic Garden of the Dead, was published on 21 February 2019, and was launched in Edinburgh, Oxford and London.
Listen to MacGillivray talking about and reading from her new collection The Gaelic Garden of the Dead on Radio 3's The Verb here
(MacGillivary features from 25.39 and again at 43.17).
EVENTS WITH MACGILLIVRAY


Friday 21 June 2019, 19:00 – 22:30, Leith Theatre, 28-30 Ferry Road, Edinburgh EH6 4AE

Neu! Reekie! Remain In Light #4

MODERN POETRY IN TRANSLATION

featuring

Clare Pollard, Christine De Luca & MacGillivray

----------------------------------------------------------------------------------------

3 POETS 7 LANGUAGES

To celebrate the launch of the latest issue of Modern Poetry In Translation poets Christine De Luca, Clare Pollard & MacGillivray will read, perform & experiment in poetry in no fewer than 7 of the languages spoken in Scotland & UK: including Scots, Gaelic, Shetlandic, Orcadian and English as well as translated work from the current issue by Somalian poet Asha Lul Mohammud Yusuf.
Click here to book.
A film of Kirsten Norrie in conversation with John Robb about her work can be seen here.
View trailer for The Nine of Diamonds, shot on the Isle of Skye
View film of MacGillivray reading poems from The Nine of Diamonds

[13 June 2019]