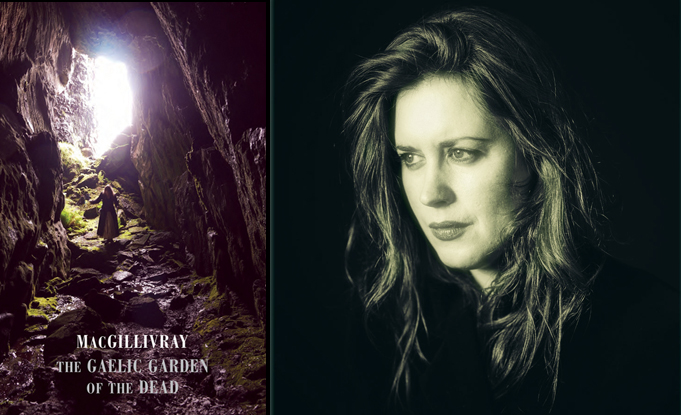 MacGillivray Readings
MacGillivray is the Highland name of Scottish writer, artist and musician K.M. Norrie.
MacGillivray was shortlisted for New Music Performer of the Year, one of the New Music Scotland Awards, in 2017. She incorporates her extraordinary music-making into her poetry readings.Her second collection, The Nine of Diamonds: Surroial Mordantless, was published by Bloodaxe in October 2016. Her next collection, The Gaelic Garden of the Dead, is forthcoming on 21 February 2019.
LAUNCH READINGS

Hayward Gallery Cafe, Southbank Centre, London, Wednesday 27 February 2019, 7pm
National Poetry Library Lates

The first of the new National Poetry Library Late series, to be held in the newly refurbished Hayward Gallery Cafe, will feature Bloodaxe poets Hannah Lowe and MacGillivray along with Theresa Lola.
Hannah Lowe has published two collections with Bloodaxe. Her new pamphlet The Neighbourhood (Outspoken Press, January 2019) asks what a neighbour is. What makes a community? In this themed collection, Lowe focuses on a small urban district, and finds a rich complexity of neighbourliness under extreme pressure. Nowhere is more at stake than the circle of home the author draws around her infant son, who must learn the fragile meanings of the neighbourhood.
Theresa Lola is a British Nigerian poet, events programmer and workshop facilitator. She is the joint winner of the 2018 Brunel International African Poetry Prize and has been shortlisted for the 2017 Bridport Poetry Prize and 2016 London Magazine Poetry Prize.

Writer and artist MacGillivray's new publication, The Gaelic Garden of the Dead (Bloodaxe, February 2019) is three Books of the Dead bound as one. This trilogy comprises an alphabet of trees spoken as witness to a Highland hanging, ten pattern poetry dream diagrams and thirty-five death sonnets deconstructed to Mary Queen of Scots.
£10
Click here to book.
1st March The Scottish Poetry Library, Edinburgh
5th March Waterstones Oxford

MacGillivray reading with Niall McDevitt
6th March The Horse Hospital, Colonnade, Bloomsbury, London WC1N 1JD
MacGillivray reading with Chris McCabe, Jeremy Reed and Niall McDevitt.

(full details to follow)
A film of Kirsten Norrie in conversation with John Robb about her work can be seen here.
Click here to read an interview with MacGillivray in connection with her appearance at Newcastle Poetry Festival in May 2017.
View trailer for The Nine of Diamonds, shot on the Isle of Skye
View film of MacGillivray reading poems from The Nine of Diamonds

[08 January 2019]