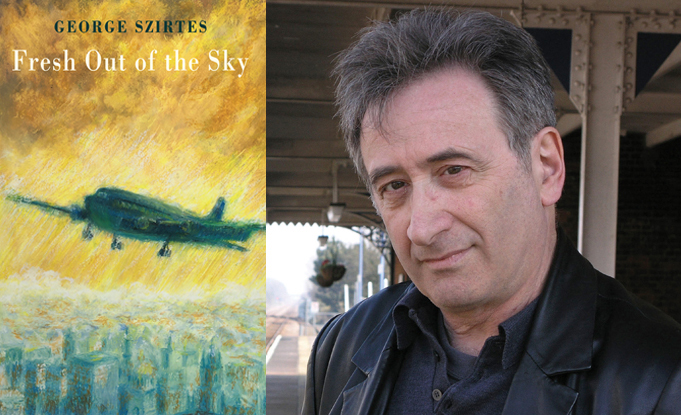 George Szirtes Readings
'His latest volume of poems is a tour de force of what he has termed "the music of what happens", a supremely well-modulated examination of both his own life and the world at large as seen through the eyes of someone, in Bob Dylan's words, "always on the outside of whatever side there was".' - Nick Cooke, London Grip, on Fresh Out of the Sky
George Szirtes was born in Budapest in 1948, and came to England with his family after the 1956 Hungarian Uprising. He was educated in England, training as a painter, and has always written in English. His Bloodaxe poetry books include: The Budapest File (2000); An English Apocalypse (2001); Reel (2004), winner of the T.S. Eliot Prize; New & Collected Poems (2008) and The Burning of the Books and other poems (2009), shortlisted for the T.S. Eliot Prize 2009. Bad Machine (2013) was a Poetry Book Society Choice and shortlisted for the T.S. Eliot Prize 2013. His latest collection, Fresh Out of the Sky, was published by Bloodaxe in 2021.
A wonderful in-depth review of George Szirtes' new collection Fresh Out of the Sky featured in the March 2022 issue of the online journal Dublin Review of Books. Read in full here.

'Without question, George Szirtes is the most distinguished poet now living in England. Hungary's loss was England's gain in 1956 and those elements of Budapest Jewish life that Szirtes has reclaimed imaginatively only serve to enrich and expand England's poetic consciousness.... Dealing with the most dreadful, dark materials, painfully honest about exile and isolation, Fresh Out of the Skies is, unexpectedly, a joyous and life-affirming work.' – Thomas McCarthy, Dublin Review of Books

George Szirtes was Michael Berkeley's guest on BBC Radio 3's Private Passions on 9 May 2021 (repeated 30 January 2022). He talked about his life and work as well as his musical choices. His poetry for adults is published by Bloodaxe. His new collection Fresh Out of the Sky, published by Bloodaxe in October 2021, remembers his arrival in England as a child in 1956, following his dramatic escape from Hungary. Listen here (this podcast edition has shorter musical clips).
PAST EVENTS
LIVE-STREAMED LAUNCH EVENT ON 19 OCTOBER 2021
Bloodaxe's joint launch reading by Claire Askew, Annemarie Austin and George Szirtes celebrating the publication of their new poetry collections was live-streamed on 19 October 2021, and is now available on YouTube (see video below).
Claire Askew and George Szirtes were reading live and discussing their new collections with the host, Bloodaxe editor Neil Astley, with audio recordings of Annemarie Austin reading, accompanied by screen-shares of her poems. Although three very different poets, their work explores memory, history, oppression, personal history and stories - themes that were explored by George and Claire in their conversation.
George Szirtes read first in each set, followed by Claire, and then Annemarie. George began by reading from the first section of Fresh Out of the Sky, a sequence of poems about his arrival in rainy England as a boy in 1956, having fled from Hungary with his family following the Hungarian Uprising. In the second set, Claire read some of her contemporary poems about relationships, while George read some of his poems responding to the pandemic.
[09 March 2022]