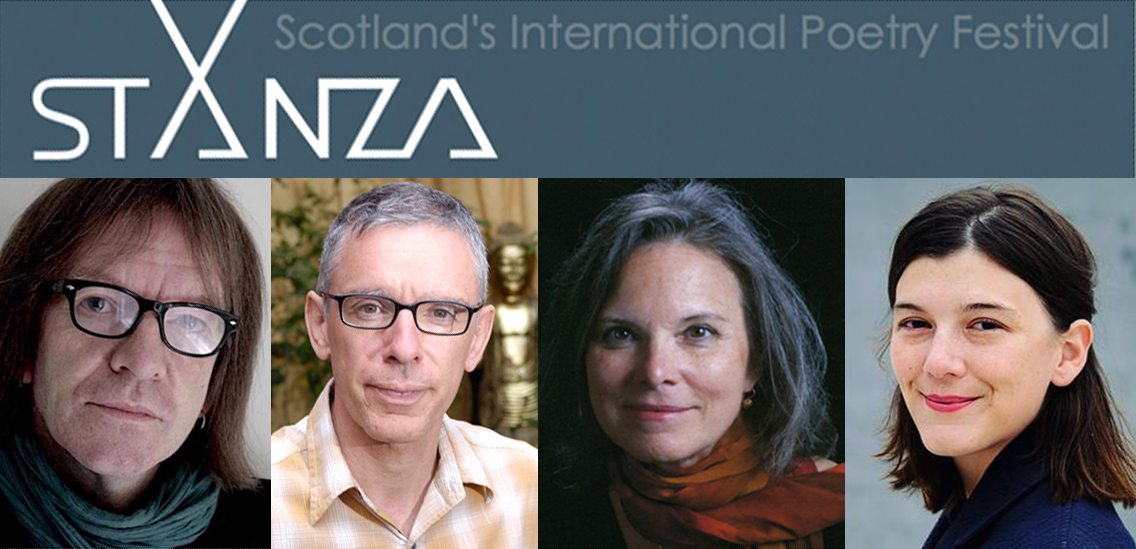 Bloodaxe Poets at StAnza
StAnza International Poetry Festival will take place 4-8 March 2020 in St. Andrews and features over 80 poets (plus artists, musicians and more).
Bloodaxe poets appearing include Matthew Caley, who will deliver the StAnza Lecture, Carolyn Forché, Charlotte Van den Broeck and Maitreyabandhu.
StAnza: Scotland's International Poetry Festival, 4-8 March 2020

Thu 5 March | 10:15 - 11:15 | Byre Theatre, Abbey Street, Conference Room
Meditation and poetry

Ease into the day with meditation and poems
Free event with Buddhist poet Maitreyabandhu.
Thursday 5 March, 15:30 - 16:30

Byre Theatre, Abbey Street - Auditorium
The StAnza 2020 Lecture: Mother, Mother Ocean
Matthew Caley will be giving the STANZA Lecture 2020 - Mother, Mother, Ocean - Modernist Women Poets and The Sea
To tie with this an 'image, text, sound installation' - a collaboration between Matthew and Marine Biology specialists from St Andrews University - featuring lines from his new collection Trawlerman's Turquoise - will be shown throughout the festival.
£4.50/£3.50
Matthew Caley was one of the StAnza poets interviewed by The List. Read the feature here.


Thursday 5 March, 17:00 - 18:00
Parliament Hall, South Street
Five O'Clock Verses
Reading: Alec Finlay, Charlotte Van den Broeck

StAnza 2020's first Five O'Clock Verses brings together two poets from Belgium and Scotland respectively. Charlotte Van den Broeck is an engaging poet whose use of narrative poetic structure, and performative approach to her readings, creates a sense of dramatic tension for readers and audiences alike. She has published two collections of poetry, Kameleon (2015), which was awarded the Herman de Coninck debut prize for poetry by a Flemish author, and Nachtroer (2017), which was nominated for the VSB Poetry Prize 2018 and the Ida Gerhard Prize. These two volumes are combined in Chameleon | Nachtroer, translated from the Dutch by David Colmer, is published by Bloodaxe in February 2020.
Alec Finlay is an internationally recognised and award-winning poet and artist who works across creative mediums to explore how the diversity of cultures can relate to landscape and ecology. Alongside publishing several folios and pamphlets, he has curated temporary art exhibitions and installations around the UK, with several works in permanent residence at Jupiter Artland.
£6.50/£5.00
Click here to book and to read a poem from the book.


Thu 5 March | 19:00 - 19:30, Byre Theatre, Abbey Street, Conference Room

Poetry at Sunset
Maitreyabandhu on Cezanne
Maitreyabandhu reads from his new collection responding to the painter.
Free but ticketed event.
Click here to book and to view a film featuring a poem from After Cezanne.
Friday 6 March, 10:00 - 11:10
Byre Theatre, Abbey Street - Studio Theatre
Breakfast at the Poetry Café: Coast Lines (hosted by Matthew Caley)
StAnza breakfast panel discussion events offer a relaxed start to the day, with a group of poets and other festival participants discussing all things poetical over coffee and pastries.

Researchers have found that spending time by the sea can be key to happiness – so perhaps it's no surprise that poets down the centuries have been drawn to the coast. This morning we'll be talking about how poets explore, engage with and celebrate our borders with the sea, as well as asking how storytelling can feed into sustainability.

£5/£4
Click here to book for both events.
Friday 6 March, 20:00 - 22:00
Byre Theatre, Abbey Street - Auditorium
Poetry Centre Stage
Michael Longley and Carolyn Forché
A double bill of poetry.
20:00 Reading – Michael Longley
21:00 Reading – Carolyn Forché
American poet Carolyn Forché will be launching her much-anticipted collection In the Lateness of the World at StAnza. She'll be giving a workshop the next morning.

£10.00/£8.50
Click here to book. Includes a link to Carolyn reading her poem 'The Boatman' from In the Lateness of the World.

Saturday 7 March, 10:30 - 12:30
Public Library, Church Square - Meeting Room
Creative Writing Workshop with Carolyn Forché
A poetry workshop led by Carolyn Forché.
Make time for your own writing and hone your poetry skills at our Saturday morning workshop, led by the multiple award-winning American poet, Carolyn Forché. Credited as having coined the phrase 'poetry of witness', Carolyn is known for work which stands out for its tenderness, stark images and emotional clarity.
£7.00

[06 January 2020]