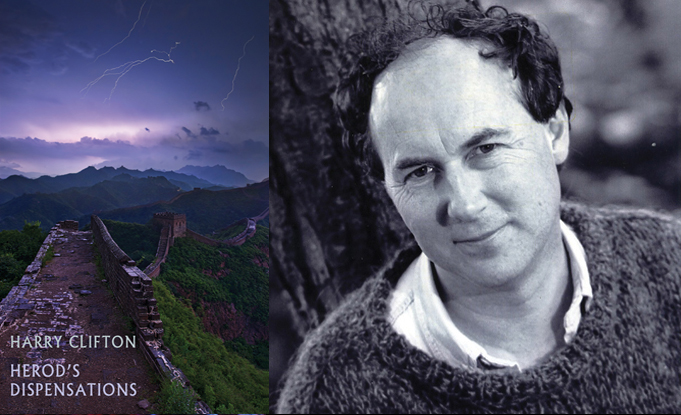 Harry Clifton launches Herod's Dispensations
Eminent Irish poet Harry Clifton's new collection Herod's Dispensations will be published by Bloodaxe on 28 March 2019. This collection revisits – in meditations on death and migration – the territories of the Far East from his early years, in the light of a new nomadic age.
Harry Clifton has published nine other books of poetry, most recently his Bloodaxe titles The Winter Sleep of Captain Lemass (2012), The Holding Centre: Selected Poems 1974-2004 (2014) and Portobello Sonnets (2017). He served as the fifth Ireland Professor of Poetry in 2010–2013.
Hodges Figgis, 56-58 Dawson Street, Dublin DO2 XE81, Ireland, Tuesday 26 March 2019, 6pm
Bloodaxe Books and Trinity College Dublin will present the launch of Harry Clifton's new collection Herod's Dispensations. Introduced by Catriona Crowe, Harry will read from the book and be available to sign copies. There will also be wine and refreshments.
Harry Clifton was interviewed about his previous book, Portobello Sonnets, on RTE Radio 1's Arena on St Patrick's Day, 17 March 2017.
Click here to listen (divided into chapters)


'Some will be surprised by the passion and intensity with which Harry Clifton embraces the local in this often astonishing, accomplished and sometimes virtuoso sequence of 35 sonnets... Portobello Sonnets chronicles Clifton's return to Dublin, a journey from experience into innocence.' – Michael O'Loughlin, The Irish Times
Click here to read the full review
Read Eiléan Ní Chuilleanáin's review of Portobello Sonnets in Dublin Review of Books here
An interview with Harry Clifton about Portobello Sonnets is on his US publisher's website (Wake Forest published their edition in November 2016).
'Returning to Portobello "was like rebuilding an identity from the ground up': Click here to read the interview.

[05 February 2019]