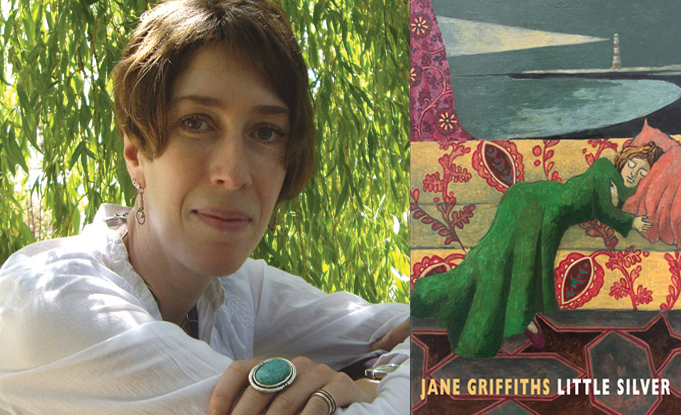 Jane Griffiths Readings
'This fascinating collection explores the gaps between matter and spirit, empirical observation, and imaginative insight, with particular emphasis on the creative process... original, thought provoking, and haunting.' - Frank Startup, The School Librarian, on Little Silver
Jane Griffiths's sixth collection Little Silver was published by Bloodaxe in September 2022, and launched with a joint reading and discussion on 21 September (video below). The recurrent themes of Little Silver are inheritance, loss, and the relationship between real and imagined lives.
Jane Griffiths's retrospective Another Country: New & Selected Poems was shortlisted for the Forward Prize for Best Collection in 2008, and was followed by Terrestrial Variations in 2012 and Silent in Finisterre (2017), a Poetry Book Society Recommendation.
An excellent review of Little Silver was featured in the Harriet Books review section of the Poetry Foundation's website on 6 December. Little Silver is distributed in the USA from 6 December 2022 by Consortium Book Sales & Distribution. Read in full on the Poetry Foundation's website here.

'British poet Jane Griffiths' sixth collection, Little Silver, offers the riches you might expect from a former bookbinder and Oxford English Dictionary lexicographer turned painter, silversmith, and John Skelton scholar. Clear-eyed lyrics move through shifting perspectives, holding us in moments of narrative tension that evolve into lyric reflection.' – Rebecca Morgan Frank, Harriet Books, Poetry Foundation

Jane Griffithss was interviewed on Wadcast – the podcast for Wadham College, University of Oxford. She was speaking about and reading poems from her sixth collection Little Silver. Jane read and introduced her poems 'New Atlantis', 'Little Silver' and 'Snow and Privet'. Listen via buzzsprout here.


FORTHCOMING READINGS

Jane Griffiths will be guest poet at the Poetry Bandwagon afternoon on Friday 26th May 2023 at Chipping Campden Literature Festival.
Details to be announced.



PAST READINGS

LIVESTREAMED LAUNCH EVENT ON 21 SEPTEMBER 2022
This launch reading by Jane Griffiths, Shazea Quraishi and Greta Stoddart celebrating the publication of their new collections was streamed live on 21 September 2022. They all read live and discussed their new collections with the host, Bloodaxe editor Neil Astley, and with each other. Jane read first in each set.

[06 December 2022]