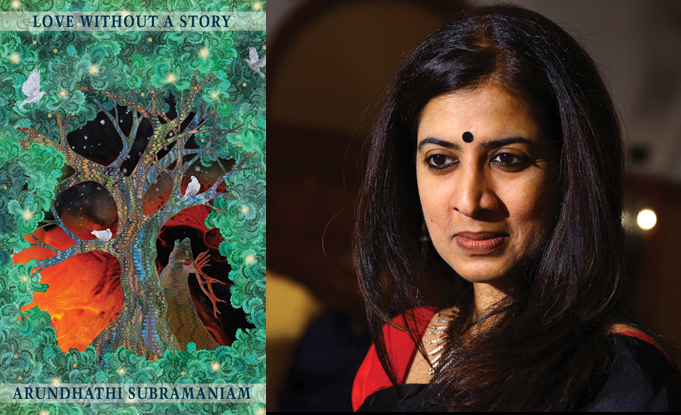 Arundhathi Subramaniam Launch Reading
'Subramaniam's verse is imbued with the spiritual and mythic in this wonderful collection, Love Without a Story. Poised and measured, these poems encourage the reader to think and feel deeply, to sit and watch as Subramaniam unveils artfully composed observations about the cosmos we inhabit and those we share it with. Love Without a Story is a breath-taking and heart-warming collection.' - Poetry Book Society Bulletin

Indian poet Arundhathi Subramaniam's fifth book of poetry Love Without a Story, published by Bloodaxe Books on 12 November 2020, was launched with two online events organised by festivals in the UK. Ledbury Poetry Festival hosted an online Poetry Salon on 13 November, at which Arundhathi was in conversation with Buddhist poet Maitreyabandhu. She also took part in a reading and discussion event at Sheaf Poetry Festival on 22 November. She joined these events live from Chennai.

Arundhathi Subramaniam's previous collection When God Is a Traveller was shortlisted for the T S Eliot Prize 2014, and won both the inaugural Khushwant Singh Prize at the Jaipur Literary Festival and the International Piero Bigongiari Prize in Italy.

The poems of Love Without a Story celebrate passion and friendship, mythic quest and modern-day longing, in a world animated by dialogue and dissent. Poems of heightened environmental awareness and urgency such as 'If It Must Be Now', 'Mitti' and 'A First Monsoon Again' look at what we are currently doing to that world.
Arundhathi Subramaniam has published two previous books of poetry in Britain with Bloodaxe, Where I Live: New & Selected Poems (2009), which combines selections from her first two Indian collections, On Cleaning Bookshelves and Where I Live, with new work, and When God Is a Traveller (2014), a Poetry Book Society Choice shortlisted for the T.S. Eliot Prize.
A Sheaf Poetry Festival interview with Arundhathi Subramaniam can be read here.
A review of Love Without a Story along with the poem 'Mitti' are featured in Inkroci magazine. Both have been translated into Italian by Andrea Sirotti, who has also translated Jane Hirshfield (see reading below).
'To read Love Without a Story is to be in the presence of a poet who is capable of rendering the physical and the everyday with a sort of sensual plenitude whilst at the same time exploring connections outwards onto more transcendental, sometimes mythical planes...' - Tom Phillips, Inkroci Magazine
Read the review here.
Read the poem here.
ONLINE LAUNCH EVENT

International live streamed launch event, Tuesday 15th December at 7pm GMT
Jane Clarke, Jane Hirshfield & Arundhathi Subramaniam

Bloodaxe Books Editor Neil Astley hosted this international live streamed reading by
Jane Clarke
,
Jane Hirshfield
and
Arundhathi Subramaniam
, celebrating the publication of their new or recent poetry collections. They joined the event from their homes in Co Wicklow, California and Bombay. They each gave two sets of readings, followed by a discussion that revealed many connections between these three outstanding poets.
This extraordinary reading and discussion is now on YouTube.
Arundhathi Subramaniam live at Ledbury Poetry Festival in July 2016

Arundhathi Subramaniam reads and introduces a selection of poems from her two Bloodaxe titles, When God Is a Traveller and Where I Live: New & Selected Poems: 'How Some Hindus Find 'Their Personal Gods'', My Friends', 'Winter, Delhi, 1997', 'Madras, November, 1995', 'Home', 'To the Welsh Critic Who Doesn't Find Me Identifiably Indian', 'I Speak for Those with Orange Lunchboxes', 'Or Take Mrs Salim Sheikh', 'Where the Script Ends' and 'Prayer'. This video shows part of the reading she gave at Ledbury Poetry Festival on 8 July 2016 following an interview with Maitreyabandu.
[05 November 2020]