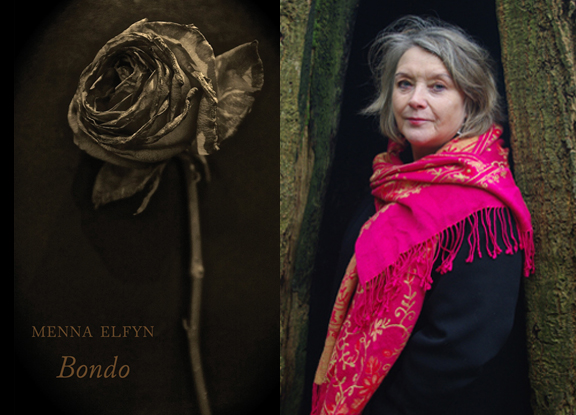 Menna Elfyn Readings

A new collection of poems from Wales's best-known and most travelled Welsh-language poet, Menna Elfyn, was published on 26 October 2017 by Bloodaxe in a dual language Welsh-English edition. Menna launched in the book at the London Welsh Centre on 19 October, and gave further launch readings from Bondo in Wales and at the Hay Winter Weekend.

Bondo has at its heart a sequence of poems in response to the mining disaster that took place at Aberfan on 21 October 1966. These poems were written over a number of years in private journals and notebooks, and reflect a deep and continuing connection with the mining communities in Wales. Menna Elfyn's poem 'The Gate' / 'Y Glwyd', first published in her 2012 Bloodaxe collection Murmur, is reprinted here in remembrance of the loss of her grandfather in a mining accident.
Menna Elfyn was a guest on Radio 3's The Verb on Friday 1 February 2019. She was discussing the subjunctive in Welsh, and reading poems from her Welsh-English collection Bondo: https://www.bbc.co.uk/programmes/m00028n4. Download podcast to hear Menna reading an additional poem.

EVENTS WITH MENNA ELFYN IN 2019

StAnza: Scotland's International Poetry Festival, St Andrews, Friday 8 March, 20:00 - 22:00

The Byre Theatre, Abbey Street - Auditorium
£9.75/£8.00

A double bill of poetry featuring Jacqueline Saphra and Menna Elfyn.
20:00 Reading – Jacqueline Saphra
21:00 Reading – Menna Elfyn​​​​​​​
Click here to book.
Menna will also be taking part in two other events at StAnza - one on Eluned Phillips on Friday, and another on translation on the Saturday.
[05 February 2019]