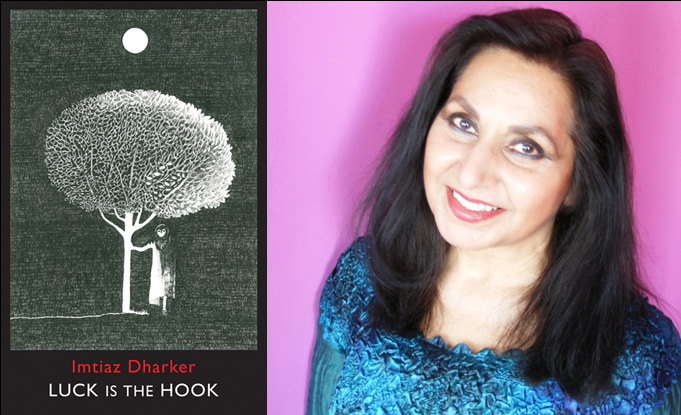 Imtiaz Dharker Readings
'Her clear-eyed attention brings each subject dazzlingly into focus. She makes it look easy, this clarity and economy, but it is her deft phrasing, wit and grace that create this immediacy'. - Carol Ann Duffy
Imtiaz Dharker was awarded the Queen's Gold Medal for Poetry for her fifth collection Over the Moon. Her sixth, Luck is the Hook, was published by Bloodaxe on 29 March 2018. The book was given a pre-publication launch at Verve Poetry Festival in Birmingham on 15 February and was formally launched at St Paul's Cathedral in London on 13 April. She was poet-in-residence at the London Book Fair in April, and read at a number of festivals in 2018, including Cúirt International Festival of Literature (as a headline poet), Newcastle Poetry Festival, Edinburgh International Book Festival, Durham Book Festival (Schools event) and Ilkley Literature Festival, at which she was Poet-in-Residence. She was 'In Conversation' at the Hong Kong International Literary Festival and read at the Woodstock Poetry Festival in November. Imtiaz Dahrker was a headline poet at StAnza, Scotland's International Poetry Festival, in March 2019.
Imtiaz Dharker was The London Book Fair's first ever 'Poet of the Fair' in April 2018). A five-minute interview Imtiaz gave to The London Book Fair can be read here. She was also Poet in Residence at Ilkley Literature Festival in October 2018.
Links to interviews and radio features with Imtiaz Dharker are here.
READINGS BY IMTIAZ DHARKER IN 2019
Monday 29 April, 7pm, Stratford Circus Arts Centre, Theatre Square, London E15 1BX
Carol Ann Duffy and Friends: Poetry for the insect population
The last event of Carol Ann Duffy's Laureateship. Readings by Carol Ann Duffy, Imtiaz Dharker, Daljit Nagra, Andrew McMillan, Sean Borodale, Hannah Sullivan, Zaffar Kunial, Ella Duffy, Mark Pajak, Matthew Hollis and Yvonne Reddick.
£8
Click here to book.



Saturday 18 May, Sheaf South Yorkshire Poetry Festival, 6-7.30pm
Sheffield Hallam Performance Lab, Sheffield
Imtiaz Dharker & Vahni Capildeo
Tickets £9-11
Click here to book.

Saturday 1 June, 2.15pm
Guest reader The Philip Larkin Society AGM Hull

Wednesday 12 June, 7.30 for 8 pm, Bedford Park Festival, Chiswick, London
St. Michael & All Angels Hall, opp. Turnham Grn tube, Bath Rd, Chiswick, London W4 1TX
Poetry Evening with special guest Imtiaz Dharker, hosted by Chiswick poets Anne-Marie Fyfe & Cahal Dallat.
Click here for more details.
Friday 21 June Manchester Metropolitan University 1pm to 1.30pm
Keynote reading Mother Tongue Other Tongue Awards ceremony.

[17 April 2019]