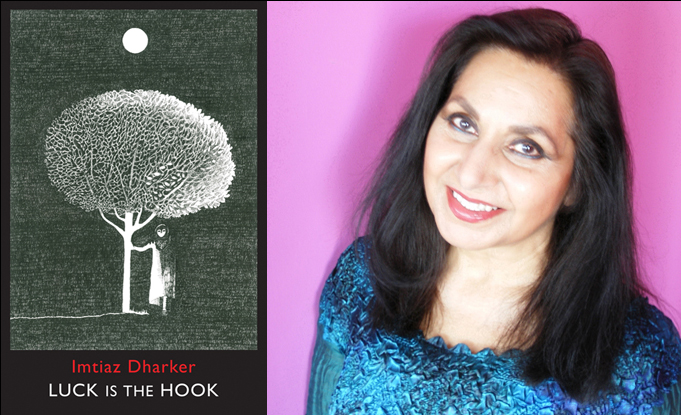 Imtiaz Dharker Readings
'Her clear-eyed attention brings each subject dazzlingly into focus. She makes it look easy, this clarity and economy, but it is her deft phrasing, wit and grace that create this immediacy'. - Carol Ann Duffy
Imtiaz Dharker was awarded the Queen's Gold Medal for Poetry for her fifth collection Over the Moon. Her sixth, Luck is the Hook, is published by Bloodaxe on 29 March 2018. The book was given a pre-publication launch at Verve Poetry Festival in Birmingham on 15 February and was formally launched at St Paul's Cathedral in London on 13 April. She will be reading at a number of festivals in 2018, including Cúirt International Festival of Literature, Newcastle Poetry Festival and Edinburgh International Book Festival, with appearances at Durham Book Festival, Ilkley and Woodstock Festivals to follow.
Imtiaz Dharker was The London Book Fair's first ever 'Poet of the Fair' in April 2018). A five-minute interview Imtiaz gave to The London Book Fair can be read here. She was also Poet in Residence at Ilkley Literature Festival in October 2018.
Listen to her talk about and read from Luck is the Hook on RTE Radio 1's The Poetry Programme and on Radio 4's Front Row here.
READINGS BY IMTIAZ DHARKER
The Hong Kong International Literary Festival, 5 November 2018, 8.30-10pm

Venue: F Hall, Tai Kwun, Price: $125 / $62.50
In Conversation with Imtiaz Dharker
Winner of the Queen's Gold Medal for Poetry 2014 for her dazzling collection, Over the Moon, Pakistan-born British poet Imtiaz Dharker will explore love, loss and luck in a reading and moderated talk with Nashua Gallagher.

Known for exploring gender politics and the interstitial spaces where "Glasgow meets Lahore and Mumbai meets Birmingham" (Poetry International), Dharker is also an accomplished visual artist and filmmaker. Don't miss this opportunity to hear Dharker discuss her work, which is at once cosmopolitan, intimate and deeply humane.
Click here to book.
Woodstock Poetry Festival, Sunday 11 November 2018, 5.30pm
The Woodstock Bookshop, 23 Oxford Street, Woodstock, Oxon OX21 1TH
Isabel Galleymore, Abigail Parry & Imtiaz Dharker

Imtiaz Dharker is reading at this year's Woodstock Poetry Festival on November 11 with Isabel Galleymore (Carcanet) and fellow Bloodaxe poet Abigail Parry, whose debut collection Jinx was shortlisted for the Forward Prize for Best First Collection.
Tickets £10
Click here to book.
Imtiaz Dharker read extracts from her long poem 'This Tide of Humber' on Radio 4's Front Row as part of the BBC Contains Strong Language Festival. Click here to listen.
Click here to listen to Imtiaz read her beautiful poem 'Thaw' from to mark the winter solstice on Front Row on 21 December 2017. Both poems are now published in Luck is the Hook.
[15 October 2018]