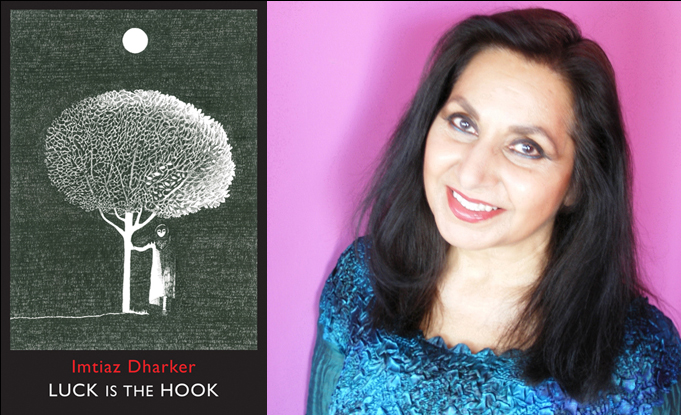 Imtiaz Dharker Readings

'Imtiaz Dharker's poetry shines a light in the dark… You cannot hear her perform without being somehow transformed by the experience. Witty, wise, profound and moving, her work crosses continents. Carol Ann Duffy once said if there was to be a world laureate, it would be Dharker. Agreed.' – Jackie Kay, The Guardian
Imtiaz Dharker was awarded the Queen's Gold Medal for Poetry for her fifth collection Over the Moon. Her sixth, Luck is the Hook, was published by Bloodaxe on 29 March 2018. Imtiaz was poet-in-residence at the London Book Fair in April 2018, and read at a number of festivals in 2018, including Cúirt International Festival of Literature (as a headline poet), Newcastle Poetry Festival, Edinburgh International Book Festival, Durham Book Festival (Schools event) and Ilkley Literature Festival, at which she was Poet-in-Residence. She was 'In Conversation' at the Hong Kong International Literary Festival and read at the Woodstock Poetry Festival in November. Imtiaz Dharker headlined at StAnza, Scotland's International Poetry Festival, in 2019.
Imtiaz Dharker was The London Book Fair's first ever 'Poet of the Fair' in April 2018). A five-minute interview Imtiaz gave to The London Book Fair can be read here. She was also Poet in Residence at Ilkley Literature Festival in October 2018.
Links to interviews and radio features with Imtiaz Dharker are here.
Imtiaz Dharker was Chester Literature Festival Guest Director and Artist in Residence for November and December 2019. An installation of her drawings and poetry covers the spaces of Storyhouse Chester until November 2020. More on Imtiaz's residency here.

Imtiaz was interviewed for The Scotsman Sessions ahead of her virtual appearance (sold out) at StAnza International Poetry Festival in St Andrews in March 2021. A film of her reading 'Chaudhri Sher Mobarik looks at the loch' and 'The Trick' from Luck is the Hook was accompanied by an interview.

'In her seven collections of poetry, all illustrated with her own intricate drawings, she moves skilfully between the personal and the public.' – Susan Mansfield, The Scotsman

Read the feature here.
FORTHCOMING READINGS

Wednesday 29 September 2021, 7-8pm, DESIblitz Literature Festival

In Conversation: Imtiaz Dharker

The DESIblitz Literature Festival is returning to Birmingham for its third year this September, showcasing the work of the UK's leading British South Asian literary talent and headlined by Nikesh Shukla and Sathnam Sanghera
Interview, author reading, and audience Q&A with internationally recognised poet, Imtiaz Dharker. Hosted by Balraj Sohal.
Free online event.
Booking details here.
Wednesday 10 November 2021, Forest Poets, 8pm (previously announced as 8 November).
Guest poet: Imtiaz Dharker

Via Zoom. Details will be posted on Eventbrite in due course.

Wednesday 8th December, The Coronet Theatre, Notting Hill Gate, London, 7.30pm - in person event

Poetry Club: Kayo Chingonyi, Imtiaz Dharker, Hannah Lowe
The popular contemporary poetry series, Poetry Club, returns to The Coronet Theatre in their intimate auditorium, featuring readings from Kayo Chingonhyi,along with Bloodaxe poets Imtiaz Dharker and Hannah Lowe.

Tickets:
£15 standard
£12 concessions
Click here to book.
PAST VIRTUAL READINGS BY IMTIAZ DHARKER IN 2020
Thursday 17 December, 7pm, Makar to Makar - streamed live at 7pm, then available on YouTube

Imtiaz Dharker was invited back to Makar to Makar. She was part of the Christmas special line-up, along with former UK Poet Laureate Carol Ann Duffy and Jen Hadfield, whose first two collections were published by Bloodaxe. Imtiaz was Jackie Kay's guest on Makar to Makar on 4 June (see video below).
Imtiaz read some beautiful winter poems, including 'Thaw' from Luck is the Hook, and she also read her unpublished poem 'Go to the Child' which was set to music in 2019 for Radio 3 Breakfast's Carol Competition. You can listen to all the settings on Radio 3's website here.
'Curated by the Makar, the National Poet for Scotland, Jackie Kay, Makar To Makar has showcased a dazzling line-up of established talent and emerging voices, including Imtiaz Dharker and Niall Campbell. The main run of Makar To Makar is over, but we are returning for two final seasonal shows, Christmas and Burns Night specials.'
This outstanding series combines poetry, conversation and a cappella singing from Claire Brown, Katherine Philpott, and Suzanne Bonnar. For this Christmas Makar to Cracker event, Suzanne's daughter also joined the show to sing a duet.
Makar To Cracker | Christmas Special | Jackie Kay with Carol Ann Duffy, Jen Hadfield, Imtiaz Dharker and Annie Lennox

Saturday 28th November, 8pm, Ó Bhéal Winter Warmer Festival of Poetry

Tongo Eisen-Martin, Jacob Polley, Imtiaz Dharker
The festival featured 36 poets from fifteen countries. Fellow Bloodaxe poet Jane Clarke also read on 28 November.
Imtiaz is introduced at 40:00. The other two poets join her after her reading for a discussion.
Thursday 30th July 2020, 5pm, Inside Writing Festival

Imtiaz Dharker closed the Inside Writing festival on 30 July. This digital festival has taken place instead of the Newcastle Poetry Festival this year.
'Join us for the final INSIDE WRITING event, an exclusive poetry reading from Newcastle University Chancellor, and Queen's Gold Medal for Poetry Winner, Imtiaz Dharker. '
Imtiaz Dharker read three new poems for the graduating students and for young people during this pandemic: 'For You, Whose Moment is Due', See Through' and 'Answering Back', as well as her new poem 'Cranes Lean in', written during lockdown.
She read from her recent Bloodaxe collections Over the Moon ('Speech Balloon', 'I Swear', 'Waiting for Crossrail', 'At Smithfield, waiting to get in', 'Medium') and Luck is the Hook ('Flight Radar', 'The Trick', This Tide of Humber'), as well as poems from older collections: I Speak for the Devil (They'll say, 'She must be from another country''), The Terrorist at My Table ('The Right Word') and Postcards from god ('Living Space'), among others.
~~~
Thursday 4 June 2020, 7pm, Makar to Makar

Jackie Kay in conversation with Imtiaz Dharker

Imtiaz Dharker was in conversation with the Scottish Makar (National Poet of Scotland) Jackie Kay on Makar to Makar on 4 June, with music from Suzanne Bonnar. A moving mix of poetry, conversation and song. Imtiaz read poems from several of her Bloodaxe collections: Luck is the Hook ('The trick', 'Chaudhri Sher Mobarik looks at the loch', Over the Moon ('Speech Balloon' 'I swear', 'In Wales, wanting to be Italian, 'Hiraeth, Old Bombay') and I Speak for the Devil (They'll say, 'She must be from another country''), along with some new poems.
A separate clip from the end of the event, in which Imtiaz reads 'I swear' and her new poem 'Cranes Lean in', has been posted here. The full video of this wonderful event is posted below.
Links to all Makar to Makar episodes, with full credits to all the poems read – including Jackie Kay's poems published by Bloodaxe - are here.
[01 June 2020]