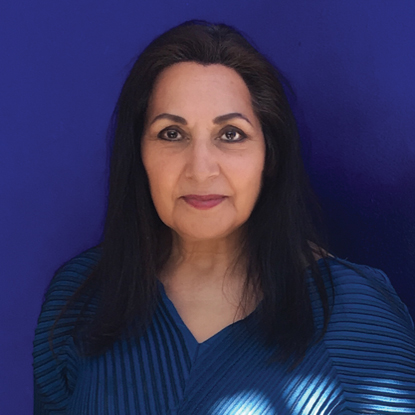 Imtiaz Dharker Readings
'Her clear-eyed attention brings each subject dazzlingly into focus. She makes it look easy, this clarity and economy, but it is her deft phrasing, wit and grace that create this immediacy'. - Carol Ann Duffy
Imtiaz Dharker was awarded the Queen's Gold Medal for Poetry for her fifth collection Over the Moon. Her sixth, Luck is the Hook, was published by Bloodaxe on 29 March 2018. The book was given a pre-publication launch at Verve Poetry Festival in Birmingham on 15 February and was formally launched at St Paul's Cathedral in London on 13 April. She was poet-in-residence at the London Book Fair in April, and read at a number of festivals in 2018, including Cúirt International Festival of Literature (as a headline poet), Newcastle Poetry Festival, Edinburgh International Book Festival, Durham Book Festival (Schools event) and Ilkley Literature Festival, at which she was Poet-in-Residence. She was 'In Conversation' at the Hong Kong International Literary Festival and read at the Woodstock Poetry Festival in November. Imtiaz Dahrker was a headline poet at StAnza, Scotland's International Poetry Festival, in March 2019.
Imtiaz Dharker was The London Book Fair's first ever 'Poet of the Fair' in April 2018). A five-minute interview Imtiaz gave to The London Book Fair can be read here. She was also Poet in Residence at Ilkley Literature Festival in October 2018.
Links to interviews and radio features with Imtiaz Dharker are here.
READINGS BY IMTIAZ DHARKER IN 2019
24 July, Arvon Moniack Mhor

Imtiaz Dharker will be the guest reader for Masterclass with Carol Ann Duffy and Michael Woods.


Sunday 13 October 2019, 2.30-3.30, Main Marquee, Cornwall Book Festival
Imtiaz Dharker and Zaffar Kunial

This year's poetry reading comes from two distinguished poets peculiarly well placed to write about questions of belonging and identity.Imtiaz Dharker is a Lahore-born, Glasgow-raised poet, artist and documentary filmmaker. She has won the Queen's Gold Medal but famously declined the Laureateship this year to focus on her writing. Zaffar Kunial was born in Birmingham and lives in Hebden Bridge and celebrates his mixed Pakistani-Anglo-Scottish heritage in his work. His debut collection, Us, has been shortlisted for this year's TS Eliot Prize.
Tickets £6.00

Click here to book.
8 November NAWE Conference in York

Imtiaz Dharker will be a keynote reader at the NAWE conference in York.


19 November Lumen Cold Weather Shelter


30 November Southall Black Sisters
[01 July 2019]