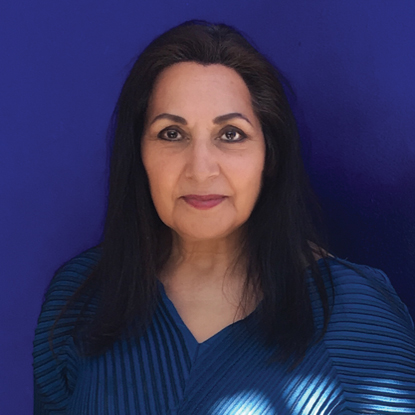 Imtiaz Dharker Readings
'Her clear-eyed attention brings each subject dazzlingly into focus. She makes it look easy, this clarity and economy, but it is her deft phrasing, wit and grace that create this immediacy'. - Carol Ann Duffy
Imtiaz Dharker was awarded the Queen's Gold Medal for Poetry for her fifth collection Over the Moon. Her sixth, Luck is the Hook, was published by Bloodaxe on 29 March 2018. The book was given a pre-publication launch at Verve Poetry Festival in Birmingham on 15 February and was formally launched at St Paul's Cathedral in London on 13 April. She was poet-in-residence at the London Book Fair in April, and read at a number of festivals in 2018, including Cúirt International Festival of Literature (as a headline poet), Newcastle Poetry Festival, Edinburgh International Book Festival, Durham Book Festival (Schools event) and Ilkley Literature Festival, at which she was Poet-in-Residence. She was 'In Conversation' at the Hong Kong International Literary Festival and read at the Woodstock Poetry Festival in November. Imtiaz Dahrker was a headline poet at StAnza, Scotland's International Poetry Festival, in March 2019.
Imtiaz Dharker was The London Book Fair's first ever 'Poet of the Fair' in April 2018). A five-minute interview Imtiaz gave to The London Book Fair can be read here. She was also Poet in Residence at Ilkley Literature Festival in October 2018.
Links to interviews and radio features with Imtiaz Dharker are here.
READINGS BY IMTIAZ DHARKER IN 2019
Friday 21 June, Manchester Metropolitan University, 1pm to 1.30pm
Keynote reading Mother Tongue Other Tongue Awards ceremony.
Thursday 27 June 2019, 5-7.30pm
Brooks Building, Manchester Metropolitan University, 53 Bonsall Street, Manchester M15 6GX
Partnership working and poetry showcase (featuring Imtiaz Dharker)

Partnership Networking and Poetry Showcase: a one-stop shop for teachers wanting to creatively enhance teaching in the next academic year with keynote by GCSE poet Imtiaz Dharker.

Suitable for: teachers, librarians and other educations (Early Years through to KS4)

Free. Refreshments provided.
Click here for more information & bookings.
Saturday 29 June, Bradford Literature Festival, 7.30-10.30pm

Alhambra - The Studio
Lyrical Mehfil: with Imtiaz Dharker, Juan Felipe Herrera, Sabrina Mahfouz, Sophia Thakur, Charly Cox & Nadine Aisha Jassat
Bradford LitFest's annual candle-lit celebration of lyrical poetry. In the homes and palaces of South Asian nobility, mehfils were gatherings where audiences would be treated to intimate evenings of courtly entertainment. This mehfil infuses the traditional event with a diverse set of voices and innovative performances that will stay in your mind long after the night is over.

With Nadine Aisha Jassat, Charly Cox, Sophia Thakur, Sabrina Mahfouz and Juan Felipe Herrera. The evening will conclude with a performance by award-winning poet Imtiaz Dharker.
Click here to book.
[20 May 2019]