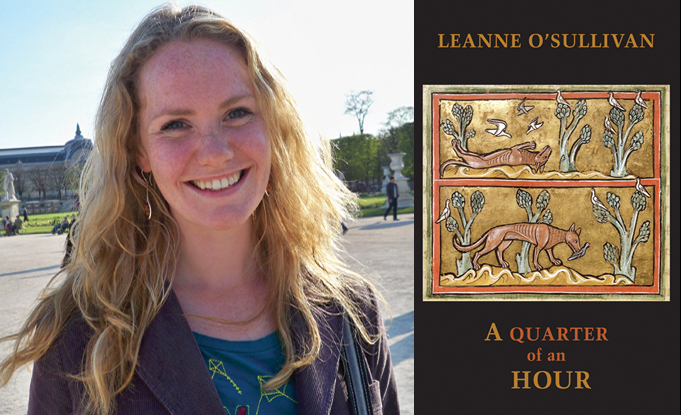 Leanne O'Sullivan Readings & Events

'I loved... Leanne O'Sullivan's beautifully imagined and well-made account of her husband's recovery from illness, A Quarter of an Hour.' - John McAuliffe, The Irish Times (Poetry Books of the Year 2018)
'A Quarter of an Hour is a rich, nuanced, and powerful volume, which confirms Leanne O'Sullivan's mastery of her art.' - Florence Impens, Dublin Review of Books

Cork poet Leanne O'Sullivan's new book-length sequence of poems explores the mysterious world of memory loss as experienced by her husband after a rare brain infection. A Quarter of an Hour was launched at the Cork International Poetry Festival on 13 February 2018 and in Newcastle upon Tyne at The Newcastle Poetry Festival in May 2018. Further readings followed in Longford and at West Cork Literarary Festival. She read again at Cork International Poetry Festival in 2019, at which she was also in conversation with former Poet Laureate of the United States, Billy Collins.

In 2013 a brain infection caused Leanne's husband Andrew to fall into a coma lasting three weeks. When he came round, it was to almost complete memory loss. In beautiful poems that draw on Greek and Irish myth, Leanne charts her husband's illness from the moment it struck, through her long bedside vigil, and the years of total memory loss, to the slow process of gradual recovery of memory. The animals and birds that filled his mind at that time, and which he felt helped draw him back to reality, are depicted in poems that also raise awareness of other losses, such as ecological changes in the Arctic. Leanne spoke to the Irish Examiner about her husband's illness and miraculous recovery here.
A Quarter of an Hour won the inauguaral Farmgate Cafe National Poetry Award 2019, and has been shortlisted for the Irish Times Poetry Now Award 2019, the winner of which will be announced at the Mountains to Sea Festival on 30 March.
2019 EVENTS WITH LEANNE O'SULLIVAN

Saturday 30 March 2019, Mountains to Sea Festival, 12-1pm, dlr LexIcon Lab, Level 3, dlr LexIcon,

Mountains to Sea dlr Book Festival and The Irish Times once again present the Poetry Now Award in the company of judges, poets Bernard O'Donoghue, Moya Cannon and Lucy Collins.
Both Leanne O'Sullivan and Ailbhe Darcy have been shortlisted for their latest Bloodaxe collections.
Free event
https://www.eventbrite.ie/e/mountains-to-sea-irish-times-poetry-now-award-tickets-55107791889

Tuesday 23 April 2019, 8pm, Cork World Book Festival
City Library, Cork, Ireland
The opening night of the 15th Cork World Book Festival welcomes Tess Gallagher and Harry Clifton, both of whom have new collections published by Bloodaxe in March 2019. The evening will be curated and presented by Cork-based Bloodaxe poet Leanne O'Sullivan.

Free
https://corkworldbookfest.com/events/
'In each of her four books, Leanne O'Sullivan has managed the balancing act of fashioning striking individual poems while developing a book-length project. Skilful and soulful, her achievements as a writer are as clear as ever in her powerful new book, A Quarter of an Hour.' - John McAuliffe, The Irish Times
John McAuliffe's review in The Irish Times can be read in full here. He also chose the collection as one of his poetry books of the year in The Irish Times.
Leanne was interviewed on RTE Radio 1's Arena here and on The Poetry Programme here.
To read Florence Impens' wonderful essay-review in Dublin Review of Books, click here.
For links to more press & radio interviews with Leanne, see: http://www.bloodaxebooks.com/news?articleid=778.

[25 March 2019]