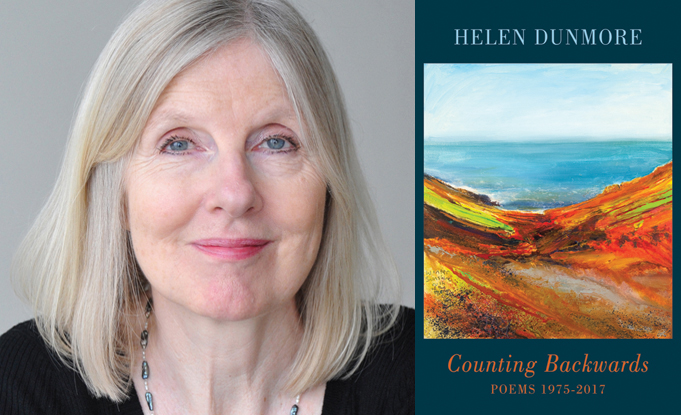 Launch event for Helen Dunmore's Counting Backwards
Tuesday 26th February 2019, 7pm, Waterstones Piccadilly
203/206 Piccadilly, London W1J 9HD
Counting Backwards: In celebration of Helen Dunmore

Launch event featuring novelist Amanda Craig, poets Tony Curtis, Maura Dooley, Lawrence Sail, and Bloodaxe's editor Neil Astley

Waterstones Piccadilly is hosting a special launch event to mark the publication of the late Helen Dunmore's retrospective, Counting Backwards: Poems 1975-2017.
Counting Backwards was Helen Dunmore's original title for Inside the Wave, taken from the first poem in that final collection. This retrospective works backwards through her ten collections, which were written over 40 years. It brings together all the poems from her earlier selected, Out of the Blue (2001), with her later collections: Glad of These Times (2007), The Malarkey (2012), and Inside the Wave (2017), as well fifteen additional poems from earlier collections. Helen Dunmore was posthumously awarded the Costa Poetry Award for her final collection Inside the Wave, which went on to be named Costa Book of the Year 2017 in January 2018.
The event will feature readings from the book by some of Helen Dunmore's writer friends, novelist Amanda Craig, poets Tony Curtis, Maura Dooley and Lawrence Sail, and her poetry editor of forty years, Neil Astley. Helen's family will also be present.
£17.50 Book and Ticket
£8 General Admission / £6 Waterstones Plus Cardholder
For more information and booking details, see: https://www.waterstones.com/events/counting-backwards-in-celebration-of-helen-dunmore/london-piccadilly
Neil Astley paid tribute to Helen Dunmore and wrote about their forty- year editorial relationship in an article on Waterstones' blog. It is illustrated with a photograph of them together at the launch of Helen's debut collection The Apple Fall in Newcastle in 1983. https://www.waterstones.com/blog/helen-dunmore-a-personal-tribute-by-bloodaxe-books-editor-neil-astley

A beautiful short film about Inside the Wave featuring Helen's son and daughter, and links to media interviews with them after their mother's final poetry collection won Costa Book of the Year, are posted here.
[06 February 2019]