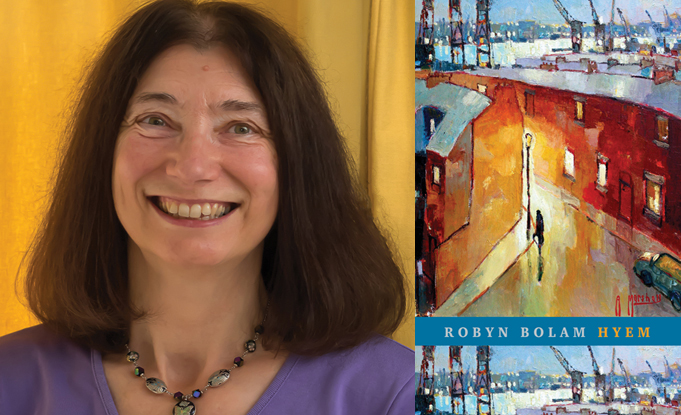 Robyn Bolam Readings
Robyn Bolam has been announced as the new Poet Laureate for Hampshire 2018. Robyn grew up in North-East England, but now lives in the New Forest. Her recent poetry collection Hyem explores what and who makes us feel at home. Both people, and creatures – from whales off Kaikoura in New Zealand, New Forest cicadas, fish in the Thames, wrens, robins and starlings, to a climbing fox – face challenges to find homes where they can thrive. Hyem (home in Geordie) is also about growing up on Tyneside, loving a place through changes and celebrating those who preserve its history and spirit.
Robyn will be giving a number of readings as part of her new role as Poet Laureate for Hampshire, and will be commissioned to write poetry highlighting the Hampshire Cultural Trust's exhibition and project work during 2018. Her poems will be widely shared and she will act as an advocate for the power of reading and creative writing. Click here to read more about the appointment.
Robyn Bolam also edited the anthology Eliza's Babes: Four centuries of women's poetry in English, c. 1500-1900 (Bloodaxe, 2005).


READINGS & WORKSHOPS BY ROBYN BOLAM IN 2018

New Milton's 'Play on Words' Literary Festival (12 Oct - 4 November)
Forest Arts, Old Milton Road, New Milton BH25 6DS
Saturday 27th October, 10-12.30am
Workshop with Robyn Bolam

From £9.50
Click here to book

South Downs Poetry Festival, the Square Tower, Broad Street, Portsmouth PO1 2ND
Sunday 28th October, 6.30-9.30pm
Reading by Robyn Bolam, Stephanie Norgate and others
The Blood Jet of Poetry at the Square Tower, Portsmouth

A celebration of words, music and song from the acclaimed and multi-prizewinning Spring Poets, with live music from Les Kazoos D'Amour and WordBass. Spring Poets are Marianne Barber, Denise Bennett (Inaugural Hamish Canham Prize), Robyn Bolam (Bloodaxe & Hampshire Poet 2018), Lydia Fulleylove (Two Ravens Press), Eve Jackson (The Frogmore Prize), John Haynes (Costa Poetry Prize), Ruth Marden (Happenstance), Joan McGavin (Hampshire Poet 2014), Stephanie Norgate (Bloodaxe & Forward shortlist), Maggie Sawkins (Ted Hughes Award 2013), Chris Sparkes (Kissing through Glass).

WordBass – winsome words with double bass performed by Maggie Sawkins and David Jordan. Les Kazoos D'Amour – a lively and quirky mix of Swing to Folk, Jazz to Pop, Music Hall to Rock 'n' Roll, with a touch of Ivor Cutler for good measure. Performed by Janet Ayers and Matthew Parsons on banjolele, guitar, ukulele, percussion, vocals and violins … and of course, kazoos.

Tickets: £7.00 are available from http://www.thenovium.org/boxoffice Tel 01243 816525

Wednesday 28 November, 2pm, The Red House Museum, Quay Road, Christchurch, Dorset BH23 1BU

Robyn Bolam presents 'An afternoon of inspiration by Hampshire Poet 2018' including a discussion about early women poets from Hampshire and one or two linked to Dorset (poets included in her anthology Eliza's Babes).
£2.50/£4.50 Friends/visitors, to include refreshments. Call 01202 482860 to book.
Click here to book.



Click here to read a review of Hyem in The Lake.
Carol Rumens discusses the poem 'Moving On' from Hyem in her Guardian online Poem of the Week column. Click here to read.

Click here to read an interview with Robyn Bolam in The Hexham Courant about growing up in the North East.



[10 October 2018]