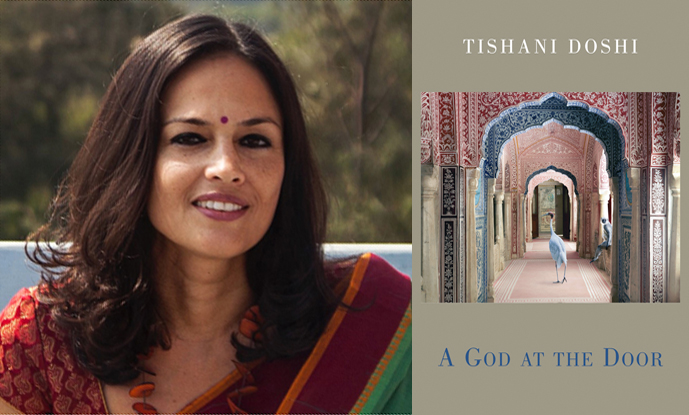 Tishani Doshi Launch Readings
'The witty, wise and clear-eyed novelist, dancer and poet deploys both rage and sharp analysis covering issues from the precarious state of the environment to the treatment of women.' – The Guardian (2021 in Books) on A God at the Door
Poet, novelist and dancer Tishani Doshi will be launching her fourth collection A God at the Door with a series of online readings organised by UK and Irish festivals. Two of these are in March, a month ahead of UK publication on 22 April 2021.
In 2018 Tishani toured the UK and Ireland with readings and dance/spoken word performances for her third collection Girls Are Coming Out of the Woods, a Poetry Book Society Recommendation. The collection and her accompanying dance performance were shortlisted for the Ted Hughes Award for New Work in Poetry 2018.
Her previous two collections were Everything Begins Elsewhere, published by Bloodaxe in 2012, and her debut, Countries of the Body (Aark Arts) winner of the Forward Prize for best first collection. Her second novel, Small Days and Nights (Bloomsbury, 2019) was shortlisted for the RSL Ondaatje Prize.
~~~~
Tishani Doshi was interviewed for 'The Holiday that Changed Me' feature in The Telegraph's Travel section on 2 January 2021. Tishani wrote about how a student trip to Italy led to her becoming a poet. Click here to read. Available in full by subscription. Register to see a few articles for free.
~~~~
FORTHCOMING LAUNCH READINGS

Friday 12 March 2021, 14:00 - 14:45, StAnza: Scotland's International Poetry Festival

Round Table with Tishani Doshi

An intimate audience with Indian poet and journalist Tishani Doshi, on a welcome return to StAnza. A pre-publication event for A God at the Door.

Please be aware that Round Table events are very limited in capacity and generally sell out quickly.
Live Webcast via StAnza Zoom
£7
Click here for more information. SOLD OUT!
Saturday 27 March, 11am, Mountains to Sea Festival dlr Book Festival, Ireland

Two Poets: Paula Meehan and Tishani Doshi hosted by Doireann Ní Bhriain
Two poets at the height of their powers: former Ireland Professor of Poetry Paula Meehan for an exploration of her generous collection of selected poems As If By Magic and Tishani Doshi with her new collection A God at the Door.
Paula is one of Ireland's most distinctive poetic voices, her uncompromising engagement with the politics of gender and class, her love of the natural world and her grief at what threatens it, her holistic and visionary impulses to be grateful for her place in creation are hallmarks of her work. Tishani Doshi's work likewise bestows power on the powerless, deploys beauty to bear trauma and enables the voices of the oppressed to be heard with piercing clarity. Tishani has been described as 'a witty, wise and clear-eyed novelist, dancer and poet' who 'deploys both range and sharp analysis covering issues from the precarious state of the environment to the treatment of women' in her new collection A God at the Door.
Online
€5 - €10
Click here to book.


Friday 16 April 2021, The Seren Cardiff Poetry Festival
Online Workshop and Reading with Tishani Doshi

11am-1pm workshop with Tishani Doshi: "writing the revolution"
2-2:45pm Tishani Doshi reading with Joe Dunthorne
Readings are free (workshops not)
Full details to follow in mid-March here.
21-25 April, Cúirt International Festival of Literature
Tishani Doshi will be reading at Cúirt. Details to be confirmed in due course.
~~~~
Poet and dancer Tishani Doshi toured the UK and Ireland in 2018 with readings and dance/spoken word performances for her third collection Girls Are Coming Out of the Woods, a Poetry Book Society Recommendation. She devised the twenty-minute dance piece herself, and performed it to a recording of her reading the title poem (see film below). Tishani danced for many years with the renowned choreographer Chandralekha, with whom she performed internationally.
Tishani Doshi kicked off her UK & Irish tour with an interview on Radio 4's Front Row on Monday 21 May 2018. Listen here.
Read an interview with Tishani on the Bookanista website here. Links to more interviews and reviews are on Bloodaxe's website here.

Tishani Doshi dances Girls Are Coming Out of the Woods at the Dylan Thomas Birthplace


Tishani Doshi performs her dance version of 'Girls Are Coming Out of the Woods' in the Dylan Thomas Birthplace, Swansea, in July 2018. Filmed by Gareth M Davies (www.seebehindthemoon.com). Poem read by her with music composed by Luca Nardon (www.lucanardon.it).
[08 February 2021]