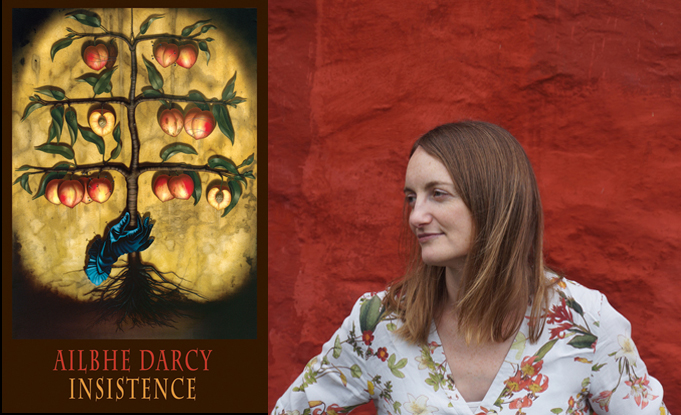 Ailbhe Darcy Readings
Cardiff-based Irish poet Ailbhe Darcy's second collection Insistence, published by Bloodaxe in May 2018, has been shortlisted for the T S Eliot Prize 2018.
Ailbhe gave a series of launch readings for the collection, starting in Cardiff, with further launches in Dublin and Cork in June. She read at Ledbury Poetry Festival in June 2018, at the John Hewitt Summer School in Armagh in July, and in Newcastle in October (a film of her wonderful reading in Newcastle is posted below). After a number of years working in the US (where much of this book was written), Ailbhe is now based in Cardiff.
Insistence is reviewed in The Irish Times here.
Ailbhe Darcy was interviewed on RTE Radio 1's arts show Arena on Wednesday 20 June 2018. Listen here. She'll be interviewed on RTE's The Poetry Programme on Sunday 16 December, 7.30pm. Links to interviews with Ailbhe Darcy are here.
An in-depth review is on the international online journal BODY here.
READINGS BY AILBHE DARCY

The T S Eliot Prize Readings, The Royal Festival Hall, Southbank Centre, London, Sunday 13 January 2019, 7pm
Ailbhe Darcy will be reading alongside the other T S Eliot Prize shortlisted poets at London's Royal Festival Hall on 13 January, the day before the winner of the prize is announced.
Hosted by Ian McMillan.
Tickets £12-15. Click here to book.
Ailbhe Darcy reads 'Nice'
This video is an excerpt from the fuller video below and shows Ailbhe Darcy reading her poem 'Nice' from Insistence.
Ailbhe Darcy reads from Insistence at Newcastle Centre for the Literary Arts
In this excerpt from Ailbhe Darcy's reading (with Finuala Dowling) at Newcastle Centre for the Literary Arts on 11 October 2018, she reads six poems from Insistence: 'Nice', 'After my son was born', 'A guided tour of the house and its environs', 'Ansel Adams' Aspens', 'Silver' and 'Still'.
[12 December 2018]