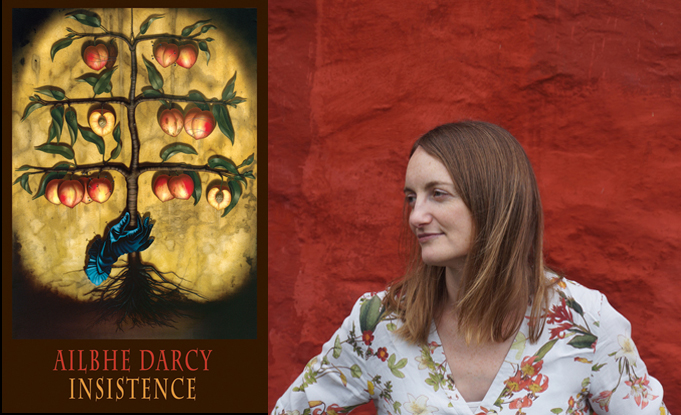 Ailbhe Darcy Readings
'Ailbhe Darcy's Insistence is a powerful voicing of life-on-the-edge. In this collection the trauma of early motherhood is twinned with economic decline, as she urgently interrogates ideas of domesticity, natural order and environmental responsibility. Her virtuosic adaptation of Inger Christensen's Alphabet is a monument to the precariousness of our times.' - Sinéad Morrissey, Chair of Judges, T S Eliot Prize 2018
Cardiff-based Irish poet Ailbhe Darcy's second collection Insistence was written in the American Rust Belt, in an era of climate change and upheaval. Insistence takes stock of the parent's responsibility to her child, the poet's responsibility to the reader, and the vulnerability of the person in the face of global crisis. Insistence was published by Bloodaxe in May 2018, and was shortlisted for both the T S Eliot Prize 2018 and the Irish Times Poetry Now Award 2019. It is shortlisted for the Pigott Poetry Prize 2019, the winner of which will be announced at Listowel Writers' Week on 29 May 2019.
READINGS BY AILBHE DARCY IN 2019
International Literature Festival Dublin, Poetry Ireland, 11 Parnell Square East, Dublin 1, D01 ND60
Ailbhe gave a series of launch readings for Insistence, starting in Cardiff, with further launches in Dublin and Cork. She read at Ledbury Poetry Festival in June 2018, at the John Hewitt Summer School in Armagh in July, and in Newcastle in October (a film of her wonderful reading in Newcastle is posted below), as well as at the T S Eliot Prize Readings at London's Royal Festival Hall on 13 January 2019. She read at the Cúirt International Festival of Literature in April 2019.
Ailbhe Darcy was interviewed for the Galway Advertiser ahead of her appearance at Cúirt. Read the feature here. 'Ailbhe Darcy is a necessary voice for this wild and crazy age, and she is probably the best Irish poet of her immediate generation.' - Kevin Higgins, Galway Advertiser
The full T S Eliot Prize Readings are available
here
. Ailbhe Darcy read exclusively from her long poem 'alphabet'.
Links to radio interviews with Ailbhe Darcy are here.
Insistence is reviewed by John McAuliffe in The Irish Times here. The collection was also one of John McAuliffe's poetry books of the year 2018:
An in-depth review is on the international online journal BODY here.
'Darcy's Insistence insists on our attention, and negotiating our way through the poems with her is an intensely rewarding experience' - Catherine Ann Cullen, Dublin Review of Books
Click here to read the full review in Dublin Review of Books.
Ailbhe Darcy reads 'Nice'
This video is an excerpt from the fuller video below and shows Ailbhe Darcy reading her poem 'Nice' from Insistence.
Ailbhe Darcy reads from Insistence at Newcastle Centre for the Literary Arts
In this excerpt from Ailbhe Darcy's reading (with Finuala Dowling) at Newcastle Centre for the Literary Arts on 11 October 2018, she reads six poems from Insistence: 'Nice', 'After my son was born', 'A guided tour of the house and its environs', 'Ansel Adams' Aspens', 'Silver' and 'Still'.
[11 April 2019]