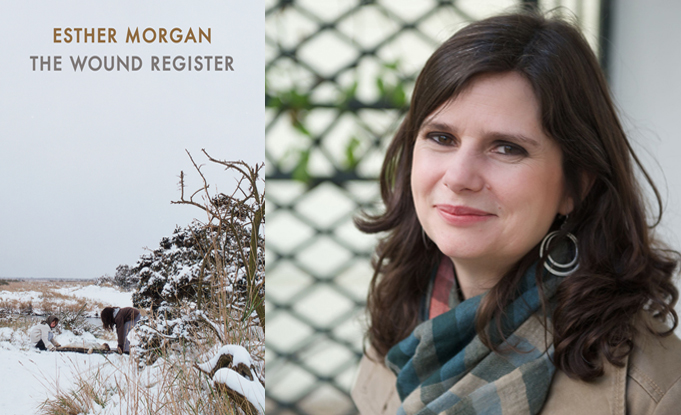 Esther Morgan Readings
Esther Morgan's fourth collection The Wound Register, published by Bloodaxe in March 2018, draws on her own family history. It was launched in Norwich on 10 May.
The Wound Register, or Casualty Book – which gives this book its title – is an official record of the casualty and sickness details for more than fifteen thousand soldiers of the Norfolk Regiment during the First World War. Esther Morgan's great-grandfather was killed at the Somme.In an unflinching sequence written to her grandmother, she explores the trauma of losing a father in combat, while other poems address the missing soldier directly as he hovers on the brink of living memory. Morgan's experience of coming late to motherhood brings the book into the present, giving her alertness to loss a fresh urgency as she traces the legacy of three generations.
Esther read from the collection at King's Lynn Poetry Festival in September 2018, and will be reading at Poetry in Aldeburgh and the Woodstock Poetry Festival in November.
AUTUMN 2018 READINGS
Poetry in Aldeburgh, Sunday 4 November 2018, 10-11am

WOUNDS OF CONFLICT, FAMILY AND FAITH
£8 | PETER PEARS GALLERY

Esther Morgan, Nigel Pantling, Maria Apichella, Jonathan Totman

​As we approach the 100-year anniversary weekend of the end of Word War I, Esther Morgan reads from her new book 'The Wound Register', and is joined by three poets exploring the frailties of our relations at home and work, with family and religion.
Click here to book.

Woodstock Poetry Festival, 10 November 2018, 4pm
23 Oxford Street, Woodstock, Oxon OX21 1TH
Esther Morgan & Liz Berry
Tickets £10
Click here to book.

15 November, 7.30pm, Faber First Pressings Re-union Reading, London

16 November, 5-6pm, Second Light Autumn Festival, London
[16 October 2018]