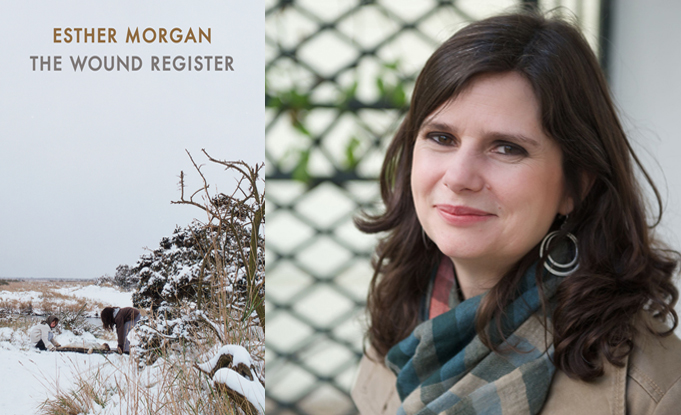 Esther Morgan Readings
Esther Morgan's fourth collection The Wound Register, published by Bloodaxe in March 2018, has been shortlisted for the poetry category of the 2018 East Anglian Book Awards.
The Wound Register, or Casualty Book – which gives this book its title – is an official record of the casualty and sickness details for more than fifteen thousand soldiers of the Norfolk Regiment during the First World War. Esther Morgan's great-grandfather was killed at the Somme. In an unflinching sequence written to her grandmother, she explores the trauma of losing a father in combat, while other poems address the missing soldier directly as he hovers on the brink of living memory. Morgan's experience of coming late to motherhood brings the book into the present, giving her alertness to loss a fresh urgency as she traces the legacy of three generations.
Esther read from the collection at King's Lynn Poetry Festival in September 2018, and at Poetry in Aldeburgh and Woodstock Poetry Festival in November.
AUTUMN 2018 READINGS

15 November, 7.30pm, Faber First Pressings Re-union Reading, London
Friday 16 November, 5-6pm, Second Light Autumn Festival, London
FRI 16th & SAT 17th NOVEMBER: Autumn Festival – I don't want this poem to end…

Theme of festival: The potential scope of an initial inspiration may seem endless but we may sense that a poem reaches out for a shape and a kind of finality, even if, paradoxically, the effect is 'open', 'questioning'. There are many ways of shaping material from formal poetic forms to different kinds of 'managed' looseness and indirection. So much depends on source, how we aim to relate to readers, and many other factors.

Four workshops exploring the theme and our responses to it will be led by Hannah Lowe, Esther Morgan, Myra Schneider and Sarah Westcott (see information flyer for workshop information from tutors). The Friday session, 4:45 to 6pm, is the Competition Adjudication event, with readings from competition winners and from this year's judge, Esther Morgan. On Saturday, 4:45 to 6pm, our now-traditional 'Open Mic' (for women poets) will be led by Guest Poets, Daphne Gloag and Myra Schneider. Reading events are for women readers only but men are most welcome to join us.

Esther Morgan workshop

Finding a form: From first draft to 'finished' poem this workshop will consider the challenges (and pleasures) of editing. Using real examples of raw material, participants will explore different strategies for finding the right shape for a poem.
4:45 – 6pm
Competition Adjudication, readings: Esther Morgan & Competition Winners

All events will take place at The Art Workers Guild: 6 Queen Square, London, WC1N 3AT (near Russell Square).
Workshops are for women only.
Open Mic readings are by women only.
Men are welcome to attend the readings.
4 Workshops £95 (£68 conc)
(reading events free)
2 Workshops £55 (£37conc)
Single workshop
£35 (£25 conc)
Click here to book.
[12 November 2018]