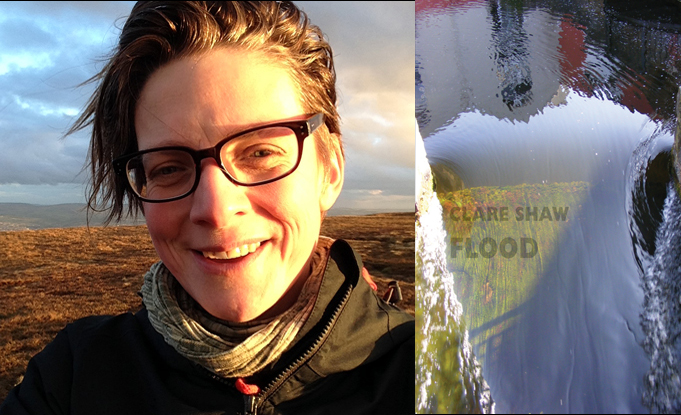 Clare Shaw Read Regional Library Events
The territory of Clare Shaw's third collection isn't one she chose herself, but one which chose her: the flooded valley and the ruined home. The 2015 floods in Britain left whole swathes of the country submerged, including her home town of Todmorden. Flood offers an eye-witness account of those events, from rainfall to rescue, but ripples out from there. Intimately interwoven with the breakdown of a relationship, flooding serves as a powerful metaphor for wider experiences of loss, destruction and recovery.
Clare Shaw launched the book in Liverpool (as part of Feminist Book Fortnight) and at Hebden Bridge Arts Festival in June 2018, and regularly gives readings and workshops across the UK. She was Poet-in-Residence at Swindon Poetry Festival and read at Manchester Literature Festival alongside the Poet Laureate Carol Ann Duffy in October 2018 .
Two poems from Flood are featured on the Bookanista website here.
Clare Shaw's third poetry collection Flood was chosen for New Writing North's Read Regional 2019 campaign. Clare took part in numerous Read Regional readings and workshops at libraries across the North of England from March-June 2019.
Clare has written a short piece about Flood, which she calls 'a long love letter to the Calder Valley'. You can read it in full here. Reading Guides for all 12 Read Regional titles can be downloaded here.
READINGS WITH CLARE SHAW

Bradford Literature Festival, Sunday 7th July 2019 | 3:00 pm - 4:30 pm
The Ganges Theatre
Modern Day Mystics

Aviva Dautch, Tommy Evans, Sukina Pilgrim, Shazea Quraishi, Clare Shaw with Muneera Pilgrim

Centuries have passed since the great mystical poets like Rumi, Kabir, and Blake created works that allowed readers glimpses into higher, transcendent worlds, and yet their tradition continues with a new generation of writers who elevate their words through spirituality.

This evening of modern devotional poetry hosted by Muneera Pilgrim and with poetry from Clare Shaw, Tommy Evans, Aviva Dautch, Sukina Pilgrim and Shazea Quraishi, a group of contemporary poets whose work uplifts, inspires, and awakens readers to a divine sense of openness.

Click here to book.
[17 June 2019]