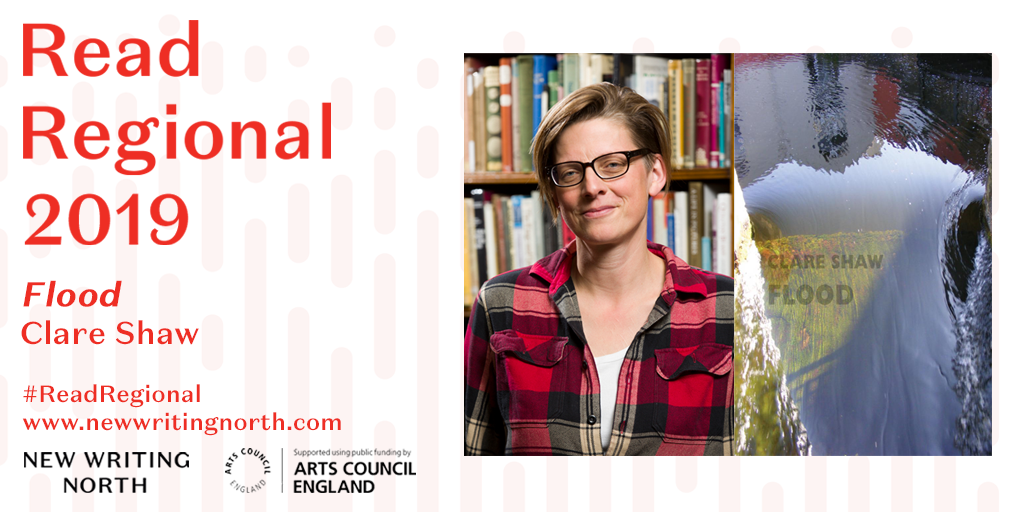 Clare Shaw Read Regional Library Events
The territory of Clare Shaw's third collection isn't one she chose herself, but one which chose her: the flooded valley and the ruined home. The 2015 floods in Britain left whole swathes of the country submerged, including her home town of Todmorden. Flood offers an eye-witness account of those events, from rainfall to rescue, but ripples out from there. Intimately interwoven with the breakdown of a relationship, flooding serves as a powerful metaphor for wider experiences of loss, destruction and recovery.
Clare Shaw launched the book in Liverpool (as part of Feminist Book Fortnight) and at Hebden Bridge Arts Festival in June 2018, and regularly gives readings and workshops across the UK. She was Poet-in-Residence at Swindon Poetry Festival and read at Manchester Literature Festival alongside the Poet Laureate Carol Ann Duffy in October 2018 .
Two poems from Flood are featured on the Bookanista website here.
READ REGIONAL READINGS AT LIBRARIES: MARCH-JUNE 2019
Clare Shaw's third poetry collection Flood has been chosen for New Writing North's Read Regional 2019 campaign. Clare will be taking part in Read Regional events at libraries across the North of England from March-June:
Cheadle Library,
23 Ashfield Rd, Cheadle, Stockport SK8 1BB
Thursday 28 March, 7.30pm (Exploring Poetry workshop at 6.30pm)

Morpeth Chantry,
Northern Poetry Library, 67A Bridge St, Morpeth, NE61 1PQ
Thursday 4 April, 7.15pm (Exploring Poetry workshop at 6.15pm)

Cleckheaton Library,
Whitcliffe Rd, Cleckheaton, BD19 3DX
Thursday 11 April, 6pm

Hebden Bridge Library,
Cheetham St, Hebden Bridge, HX7 8EP
Thursday 25 April, 8pm (Exploring Poetry workshop at 7pm)

Hull Central Library,
Albion St, Hull, HU1 3TF
Saturday 27 April, 2.30pm (Exploring Poetry workshop at 3.30pm)
(Joint event with John Challis)

Wakefield Library,
Burton St, Wakefield, WF1 2EB
Monday 29 April, 12pm – 2pm
(Writing workshop included in event)

Radcliffe Library,
Stand Ln, Radcliffe, Manchester, M26 1JA
Friday 10 May, 3pm (Exploring Poetry workshop at 2pm)

Beverley Library,
Champney Rd, Beverley, HU17 8HE
Saturday 11 May, 3pm (Exploring Poetry workshop at 2pm)

The Word Library,
Market Place, South Shields, NE33 1JF
Friday 17 May, 11am (Exploring Poetry workshop at 10am)

Crown Street Library,
Darlington, DL1 1ND
Wednesday 5 June, 2.30pm (Exploring Poetry workshop at 1.30pm)
(Joint event with John Challis)

Morley Library,
Commercial St, Morley, Leeds, LS27 8HZ
Tuesday 4 June, 11.30am (Exploring Poetry workshop at 10.30am)

Liverpool Central Library,
William Brown St, Liverpool L3 8EW
Thursday 13 June, 6pm
Clare has written a short piece about Flood, which she calls 'a long love letter to the Calder Valley'. You can read it in full here.
Reading Guides for all 12 Read Regional titles can be downloaded here.
[31 January 2019]