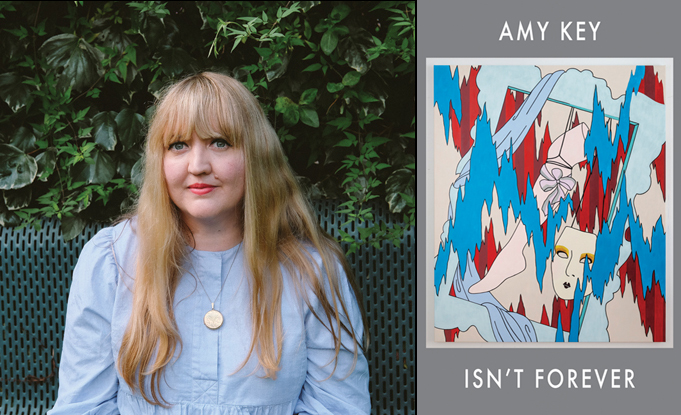 Amy Key Readings
'As for poetry, I fell hard for Amy Key's Isn't Forever, a gorgeous, sad box of delights about intimacy, bad bodies, sorrow… Key is adept at linguistic surprises, charting women's lives with a savage delicacy.' – Olivia Laing, The Guardian (Best Books of 2018)

'Her new collection, Isn't Forever (Bloodaxe), is playful, surreal and enchanting but also rooted in brutal emotional honesty. She is writer of a rare and strange magic.' - Sarah Perry, The Guardian (Best Summer Books 2018)
'Ms Key's poetry is sublime. Read this to lose yourself in another person's worldview entirely. Hypnotic with a cutting, witty edge, these poems invite you into a hall of mirrors reflecting everything about the self – from sex, to love, to death. Despite this, they are not alienating, but rather draw you closer and closer to understanding an inner transcendent human truth.' – Max Wallis, Mr Porter (Best Summer Poetry)
'Isn't Forever is a PBS Wild Card Choice. Sad and sunny, tightlaced and funny, you have to like Amy Key's poems.' – Claire Crowther, The Poetry Review
Amy Key's second book-length collection Isn't Forever was published by Bloodaxe in June 2018. It was a Poetry Book Society Wild Card Choice for Summer 2018.
READINGS BY AMY KEY

Friday 15 February 2019, 6.30-8pm, Verve Poetry Festival, Birmingham
The Old Rep Theatre, 45 Station Street, Birmingham B5 4DY
Carrie Etter, Amy Key & Jane Yeh
Verve Festival's Friday evening poetry headline features three renowned contemporary poets.
Amy Key
's second collection
Isn't Forever
was published by Bloodaxe in 2018 and was a Poetry Book Society Wild Card choice. Carrie Etter is a distinguished poet and academic who has been shortlisted for the Ted Hughes Award for New Work in Poetry. Her fourth collection,
The Weather in Normal
, was a Poetry Book Society Winter 2018 Recommendation. Jane Yeh was named a Next Generation poet by the Poetry Book Society in 2014. Her third collection of poems is forthcoming from Carcanet in March 2019.
£6/£4
Festival passes also available.
Click here to book.
Isn't Forever reviewed in the The Yorkshire Times:
'The reader is continually astonished by the outrageous acuity of Key's use of imagery; she persuades, utterly, on the most unlikely ground.' - Steve Whitaker, The Yorkshire Times
To read the full review, click here.

[09 January 2019]