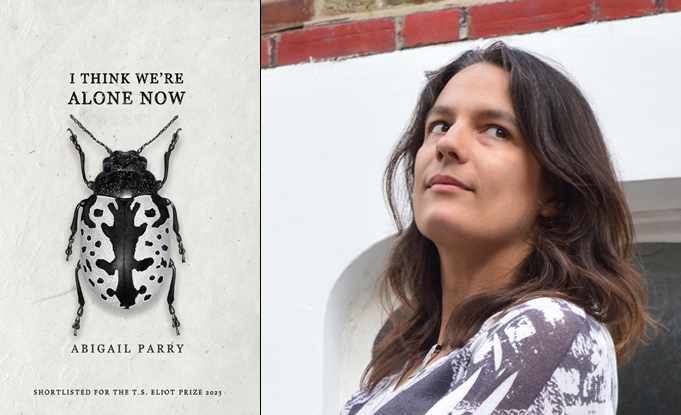 Abigail Parry Readings
'What makes this collection thrilling is Parry's relentless and immense curiosity, often signalled by her breaking into asides and parentheses ... for all its allusiveness and its continual sidelong glances, I Think We're Alone Now is entirely companionable.' – Ian Sansom, The Daily Telegraph
Abigail Parry's second collection I Think We're Alone Now is published in November 2023 and is on the shortlist for the T S Eliot Prize. The poems explore intimacy and failures of intimacy, and deal in pop music, etymology, surveillance equipment, church architecture and beetles. Scroll down to watch a video of her reading eight poems from this new collection, filmed in May 2023 at her home in Cardiff.
Her debut collection Jinx, published by Bloodaxe Books in March 2018, was shortlisted for the Forward Prize for Best First Collection 2018 and for the Seamus Heaney Centre First Collection Poetry Prize 2019, and was named a Book of the Year in The New Statesman (Marina Warner), The Telegraph (Tristram Fane Saunders) and the Morning Star (Kate Wakeling). .
'The book I'd like to recommend is Abigail Parry's I Think We're Alone Now. I first heard Abigail Parry perform her work at this year's Penarth Literary Festival Poetry Showcase and was caught by her vivid voice and the intelligence of her rhythm and clarity. She can shock you and skin you with her wit, yet her poems feel strangely merciful, cleverly observant, and filled with references to everything from Rilke and Shakespeare to Richie Cordell and Radiohead.' – Katie Munnik, Wales Arts Review (Books of the Year 2023)

FORTHCOMING READINGS
Sunday 14 January 2024, 7pm, T S Eliot Prize Readings, Royal Festival Hall, London
All ten shortlisted poets will read at the Royal Festival Hall. Hosted by Ian McMillan. Bloodaxe's Jane Clarke has also been shortlisted for her third collection A Change in the Air.
https://www.southbankcentre.co.uk/whats-on/literature-poetry/ts-eliot-prize-readings
Wednesday 31 January 2024, 5-6pm, Goldsmiths College, London (rescheduled from 6 December 2023)
137, Richard Hoggart Building, Goldsmiths, University of London, New Cross, London SE14 6NW
Maura Dooley, David Nash and Abigail Parry

Abigail Parry will be readomg frp, her second collection I Think We're Alone Now with Maura Dooley, whose sixth collection Five Fifty-Five was published by Bloodaxe in April 2023. They will be joined by David Nash.
This is a free, in person event and there is no need to register in advance.
This event was originally scheduled for 6 December. Postponed due to the rail strike. Details of the new event below.

For more information, see Goldsmiths College website here.
Tuesday 25 June 2024, The Melville Centre for the Arts, Abergavenny, Wales

Pen-y-Pound, Abergavenny, Monmouthshire NP7 5UD
Abigail Parry will be reading from her second collection I Think We're Alone Now at the Melville Centre in Abergavenny.
Details to follow: https://melvillecentre.org.uk/events/
PAST READINGS

Tuesday 21 November 2023, 7pm (YouTube Live)
Live-streamed launch reading by Matthew Caley, MacGillivray and Abigail Parry
This joint launch reading by Matthew Caley, MacGillivray and Abigail Parry celebrating the publication of their new poetry books was livestreamed on 21 November 2023. They were reading live and discussing their work with each other and with the host, Bloodaxe editor Neil Astley.
This free Bloodaxe launch event is now on this YouTube page: https://youtube.com/live/XmwI5yCOU60. Abigail read last in each set.
~~~~~
Abigail Parry: I Think We're Alone Now

Abigail Parry reads eight poems from I Think We're Alone Now: 'In the dream of the cold restaurant', 'Some remarks on the General Theory of Relativity', 'Speculum', 'Whatever happened to Rosemarie?', 'The Fly Dressers' Guide', 'Giallo', 'The brain of the rat in stereotaxic space' and 'It's the lark that sings so out of tune'. Neil Astley filmed her reading from her new collection at her home in Cardiff in May 2023 ahead of the book's publication in November 2023.
[18 October 2023]