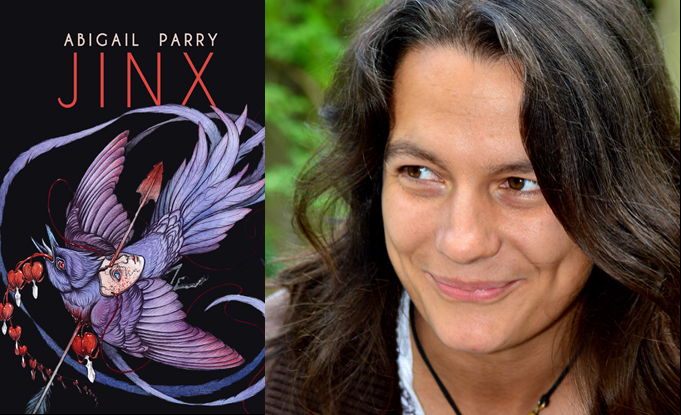 Abigail Parry Readings
'With macabre wit and a gothic sense of romance, Jinx returns obsessively to a handful of images. It gives the collection a singular and cohesive vision, while also turning it into a claustrophobic, repetitive nightmare. It may not be to everyone's taste. For this reader, it was electrifying…. Jinx is a charming collection. Read it at your peril.' – Tristram Fane Saunders, The Telegraph, Poetry Book of the Month
Abigail Parry's debut collection Jinx, published by Bloodaxe Books in March 2018, was shortlisted for the Felix Dennis Prize for Best First Collection, one of the Forward Prizes. Abigail gave a wonderful reading from the collection at the Forward Prize Award ceremony at London's Southbank Centre on 18 September. She has a number of other readings forthcoming this autumn.
READINGS BY ABIGAIL PARRY IN AUTUMN 2018
Wednesday 26 September 2018, 5pm, Ragley Hall, Alcester B49 5NJ

Stratford International Festival of Words and Music

A Symptom of Human History: Etymology as Archaeology: Talk by Abigail Parry.
"Metaphor," Empson reminds us, "is the normal mode of development of a language". We describe the new in terms of what we know, and what we believe it to be like. A shared language ties its speakers to a shared matrix of ideas, and informs and shapes our understanding of the world: the words we use are haunted by obsolete metaphors, by hidden significances. A study of language reveals these conceptual fossils, and the influence they exert on us. The writer alive to such cryptic patterns within language may deliberately (or half-deliberately) manipulate them, redrawing likenesses we think of as essential. Abigail Parry's talk will examine this practice, exemplified in works which present language as a geological sample, an archaeological digsite, and a bona fide treasure hunt.
Click here to book.
Poetry in Aldeburgh, Sunday 4 November 2018, 10-11am, Jubilee Hall

JINX ASSEMBLY OF FIRST COLLECTIONS

Abigail Parry, Susannah Hart, Tim Richardson, Jane Commane

​Come listen and play with four fine poets, all reading from recent first collections, with two books published by Bloodaxe and two by Live Canon. Former toy maker Abigail Parry's Jinx has been shortlisted for the Forward Prize for 'Best First Collection'. Susannah Hart, board member of Magma, won the Live Canon first collection competition, as did Tim Richardson, who is the founder of the Chelsea Fringe garden festival. Jane Commane is the founder and editor of Midlands-based Nine Arches Press. Her first collection Assembly Lines was published by Bloodaxe in February 2018.
Tickets: £10
Click here to book.
Woodstock Poetry Festival, Sunday 11 November 2018, 5.30pm
The Woodstock Bookshop, 23 Oxford Street, Woodstock, Oxon OX21 1TH
Isabel Galleymore, Abigail Parry & Imtiaz Dharker

Abigail Parry is reading at this year's Woodstock Poetry Festival on November 11 with Isabel Galleymore (Carcanet) and fellow Bloodaxe poet Imtiaz Dharker.
Tickets £10
Click here to book.
The Forward Arts Foundation in conversation with Abilgail Parry here.
Poem feature on the Forward Prizes website: 'Girl to Snake' from Jinx is here.
Carol Rumens discussed Abigail Parry's poem 'The Quilt' from Jinx in her Poem of the Week column for 30 April in The Guardian here. Carol commends Abigail Parry's 'linguistic zest'

A film of Abigail reading the poem can be seen on the title page for Jinx,
Abigail Parry's debut collection Jinx was chosen by Tristram Fane Saunders as his Poetry Book of the Month for March in his Daily Telegraph column.
Click here to read the review. Available online in full by subscription. You can sign up for one free article a week to view this review.
[20 September 2018]