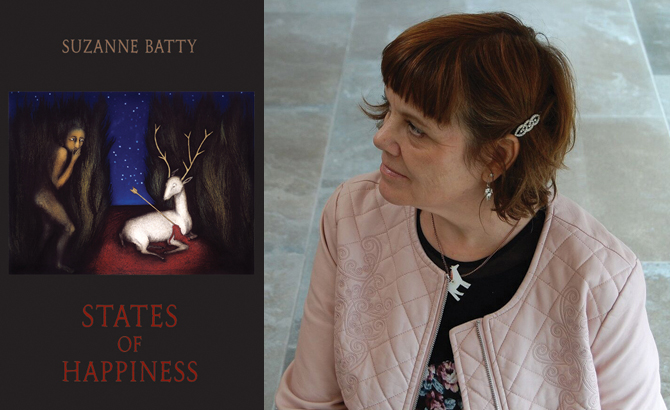 Suzanne Batty Readings
'Reading these tour-de-force poems is to encounter shadow-wonders and brilliant terrors, often drawn from the molten core of childhood, its fury and rue. Here is extraordinary witness in poems that recall the work of Janet Frame in their confronting both of mental anguish and the transformations that are the hard won and healing reward for the descent into such perilous depths. States of Happiness is distinguished by its implacable grace. It invites us '"to lie down in Samuel Beckett's boat, your arms full of lilies".' – Penelope Shuttle
Manchester-based poet Suzanne Batty's States of Happiness is published by Bloodaxe in September 2018 and was launched at Manchester Literature Festival in October 2019 at an event with the Poet Laureate Carol Ann Duffy and fellow Bloodaxe poet Clare Shaw. In this second full-length collection, which features a sequence of poems written in memory of her twin sister, who died of a rare degenerative disease, Suzanne Batty tansforms mental anguish into poems of anarchic and sensual beauty.
Thursday 24 October 2019, 6.45pm-7.45pm, York

Explore York Libraries & Archives, Library Square, Museum Street, York YO1 7DS
Finding the Words with Suzanne Batty, Jane Burn and Keith Hutson

Hear poets from Yorkshire and beyond at this relaxed and welcoming monthly poetry evening. Suzanne Batty will be reading alongside fellow Bloodaxe poet Keith Hutson
Tickets: £5
Click here to book.
[12 August 2019]