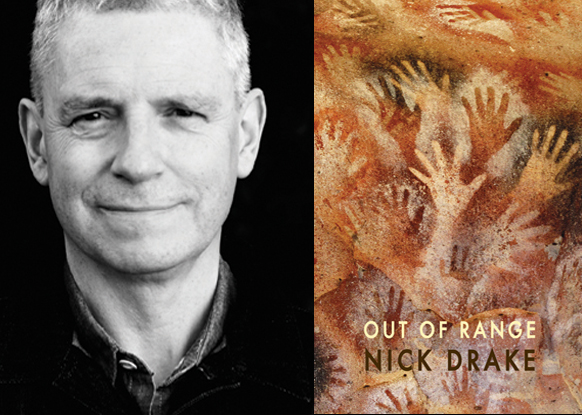 Nick Drake Readings
'This is absolutely modern poetry, at once haunting and unsettling, but in other places funny and moving. It weaves together these various strands of wonder and horror and in so doing, captures the confusion we all live with as we navigate the planet as human animals in the 21st century.' - Oxford Poetry Library (Book of the Week)
Nick Drake's fourth collection Out of Range, published by Bloodaxe on 15 November 2018, explores some of the most pressing issues of the early 21st century. Here are elegies for the Whitechapel Fatberg and incandescent lightbulbs; the life stories of plastic bottles and ice-core samples; portraits of those living on the margins of the city streets, and of Voyager 1 crossing the threshold of the solar system. The past echoes in poems about the ancient artists who recorded their presence in cave art, a Spanish missionary thrilled by an Aztec ball game, and a story of gay love from the Song dynasty.
The poems in Out of Range expand on environmental concerns raised in his last collection The Farewell Glacier, Nick Drake's book-length sequence of poems set in the High Arctic.
A video of star of Fleabag & Sherlock Andrew Scott and his sister Hannah reading a poem from Out of Range for Climate Action week in April 2019 can be seen here.
READINGS WITH NICK DRAKE

King's Lynn Poetry Festival, Saturday 28th September 2019, 3.00pm

Sue Burge, Kit Fan, Nick Drake

Nick Drake will be reading from his fourth collection Out of Range.
Tickets are £8.50, either in advance or on the door. Friday and Saturday nights are particularly popular, so do consider booking in advance to secure a seat. An all-weekend pass is £37.50. Students' price is £1 per event.
Click here to book.
Click here to read Nick Drake's blog on Climate Cultures. He dicusses three poems from Out of Range.
To read the full Book of the Week review at Oxford Poetry Library, click here (scroll down to 17-22 November 2018)
Nick Drake's 'Out of Range' was Oxford Brookes University Poetry Centre's Poem of the Week for 25 November 2018. Click here to read.
[29 July 2019]