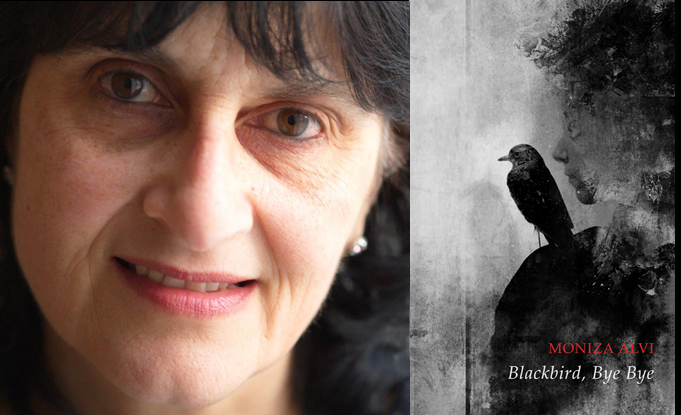 Moniza Alvi Readings
'As in her previous collections, Alvi probes the subject of dual-heritage, and the challenges and successes of living in between two countries. Concerned with borders of all kinds, Blackbird, Bye Bye also imaginatively treads the line between life and death… Blackbird, Bye Bye is a tender exploration of the world and human nature, which recognises "the carnage, the onslaught/ of the centuries" while managing to find solace in the redemptive powers of art, language and the natural world.' – Sarala Estruch, The Telegraph
'Through the metaphor of birds, Moniza Alvi writes with a sing-song clarity about her father's emigration and death in Blackbird, Bye Bye… With a light tone, Alvi probes darker truths of what it means to leave one's country and family behind.' – Carla-Rosa Manfredino, Times Literary Supplement

Moniza Alvi's latest collection Blackbird, Bye Bye was published by Bloodaxe in June 2018. This is her first new poetry book since her 2013 T.S. Eliot Prize-shortlisted collection At the Time of Partition.
READINGS BY MONIZA ALVI
Kendal Poetry Festival - FESTIVAL POSTPONED

Friday 19 June 2020, 7.30-9.30pm
Kendal Suite, Castle Green Hotel
Main Reading with Moniza Alvi and Roger Robinson

Moniza Alvi's eight collections include At the Time of Partition (Bloodaxe, 2013), shortlisted for the T.S. Eliot Prize. Her latest collection is Blackbird, Bye Bye, a beautifully tender exploration of the world and our place in it.
Roger Robinson will be reading from his fourth collection A Portable Paradise which won the 2019 T.S Eliot Prize. His poetry is lyrical, expansive and powerful, ranging far and wide in its themes to encompass family life, the tragedy of Grenfell, history and pop culture. Members of Dove Cottage Young Poets will also perform at this event.
Tickets: £8

Click here to book. FESTIVAL POSTPONED
Sunday 21 June 2020, 4-5pm
Location: Kendal Suite, Castle Green Hotel
Talk/Discussion with Moniza Alvi

'A strong explosion in the sky': Beyond the myth of Stevie Smith
'I am much condescended to, said the poet Hin, / By my inferiors.' (The Poet Hin)
Moniza Alvi
has been drawn to the strangeness and clarity of Stevie Smith's poetry for many years, and with her experience as a writer and the discovery of the full range of Smith's poetry she increasingly appreciated it, and is now researching the poet's life and work at UEA.
Stevie Smith (1902-1971) became a popular poet in the 1960s, receiving the Queen's Gold Medal for Poetry in 1969. Her much-loved poem 'Not Waving, But Drowning' is frequently anthologised. Despite her achievements, however, this combative, witty and probing poet is consistently under-recognised as a writer and thinker, compared, for example, with Bishop and Plath, her contemporaries. Moniza will encourage us to look beyond the myth of the 'eccentric' Stevie Smith and view her as a major wartime and postwar poet. Drawing on recent archival discoveries, she'll reveal that insufficient attention has been given to the traumas of Stevie Smith's early life and how her work might have been shaped by these events. She'll examine Smith's stature as a poet and the difficulties she faced as an unconventional woman poet in the very male-dominated poetry world of her lifetime. An exploration of her reputation as a poet then and now, will lead to a consideration of why we should read Stevie Smith today.
Tickets: £5
[17 February 2020]