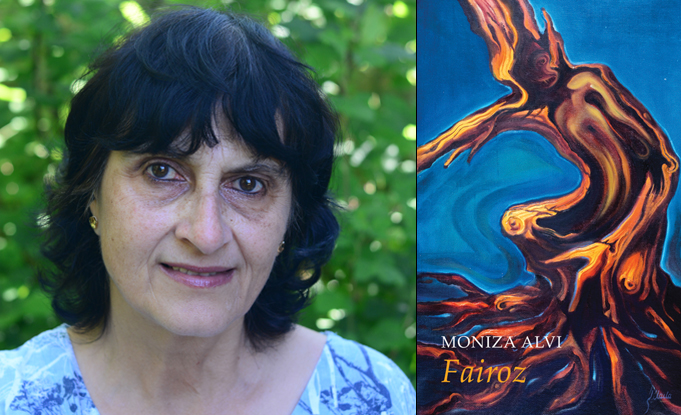 Moniza Alvi Readings
'Book-length poetry sequence in which Alvi explores an imagined teenage girl's susceptibility to extremism and draws together fairytale elements, glimpses of the girl Fairoz's thoughts and pieces of dialogue to make a "powerful portrayal of human vulnerability.".' – Caroline Sanderson, The Bookseller, on Fairoz
Moniza Alvi was born in Pakistan and grew up in Hertfordshire. After working for many years as a secondary school teacher in London, she is now a freelance writer and tutor, and lives in Wymondham, Norfolk. All her poetry is published by Bloodaxe. The Country at My Shoulder was shortlisted for the T.S. Eliot and Whitbread poetry prizes, and Carrying My Wife was a Poetry Book Society Recommendation. Europa (2008) and At the Time of Partition (2013) were selected as Poetry Book Society Choices in 2008 and 2013 respectively and both were shortlisted for the T.S. Eliot Prize. Moniza Alvi received a Cholmondeley Award in 2002.
Moniza Alvi's latest book Fairoz is a book-length sequence of poems about a fictional teenage girl's susceptibility to extremism, and is published by Bloodaxe on 24 March 2022. Moniza gave a very powerful reading from this forthcoming collection at Kendal Poetry Festival in February 2021.
Moniza was a guest on BBC Radio 3's The Verb on Friday 15 April 2022. She was discussing invisibility with Ian McMillan and guests, and reading from Fairoz. Listen here. She also spoke about the work of UA Fanthorpe, and read a new poem of her own to mark the BBC Centenary.
PAST EVENTS
Thursday 24th March 2022, 7pm

Launch reading by Moniza Alvi, Amali Gunasekera and Jessica Traynor
Moniza Alvi, Amali Gunasekera and Jessica Traynor celebrated the publication of their new poetry collections with a joint online launch event.
They read live and discussed their new collections with the host, Bloodaxe editor Neil Astley. This free Bloodaxe launch event was streamed on YouTube Live and the recording is available to watch now. Moniza read first in each set.
[17 February 2020]