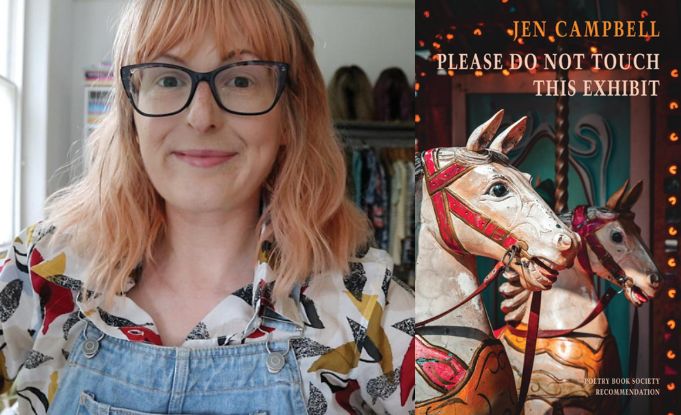 Jen Campbell Launch Readings
'I love these poems for their invention and bravery, their moving magic. Jen Campbell leads us to the places where land meets sea and borders are precarious, where the tender longing for a child entwines with the struggle of IVF, and where the traumas of girlhood and womanhood, disability and enchantment are woven together in a complex and vivid tapestry. A beautiful collection.' – Liz Berry
Jen Campbell's second collection, Please Do Not Touch This Exhibit is published by Bloodaxe Books in September 2023. It is a Poetry Book Society Recommendation for Autumn 2023.
Please Do Not Touch This Exhibit explores disability, storytelling, and the process of mythologising trauma. Jen Campbell writes of Victorian circus and folklore, deep seas and dark forests, discussing her own relationship with hospitals — both as a disabled person, and as an adult reflecting on childhood while going through IVF.
Jen Campbell grew up by the sea in the northeast of England. She is an award-winning poet and bestselling author of twelve books for adults and children. She has won both the Jane Martin Poetry Prize and an Eric Gregory Award. Her poetry pamphlet The Hungry Ghost Festival was published by The Rialto in 2012. Her first book-length collection, The Girl Aquarium, was published by Bloodaxe Books in 2019. Jen Campbell won the Spelt Poetry Competition 2022 for her poem 'The Hospital Is Not My House' from her second collection Please Do Not Touch This Exhibit.
~~~~
Two poems from Please Do Not Touch This Exhibit are featured on Bookanista here, introduced by Jen Campbell.
'Please Do Not Touch This Exhibit is the new collection by the North East poet Jen Campbell. I was so affected by these intimate, wildly imaginative and elegant poems exploring disability and illness across personal, contemporary and historical landscapes.' – Will Mackie, New Writing North (New & Recent Poetry from the North)
FORTHCOMING EVENTS
Tuesday 10 October, 6.30pm
Jen Campbell & Charlotte Eichler: online reading
The Portobello Bookshop will be hosting a conversation between Jen Campbell and Charlotte Eichler about their latest poetry collections, Please Do Not Touch This Exhibit (Bloodaxe Books) and Swimming Between Islands (Carcanet). This will be an online-only event, with both poets joining the livestream remotely.
This is a free livestream, with several book bundle options available. More information and booking here.
Wednesday 11 October, (online) 8-9pm

Bi+ Lines Online Launch

Launch event for the Bi+ Lines anthology. Jen will be reading from her new collection Please Do Not Touch This Exhibit.
'Join us on National Coming Out Day to celebrate the launch of the first ever anthology of bi+ poets. Hosted by the book's editor and poet Helen Bowell, at this online event we will hear from the varied contributors from around the world as they explore in-betweenness. We will be joined by the phenomenal Jen Campbell and Shivanee Ramlochan amongst others.'
Online event. Tickets £0-£6.13
Booking via eventbrite here.
Sunday 15 October, 3.30pm
Durham Book Festival: Poetry Book Society Showcase (hybrid event)
Gala Studio, 1 Millennium Place, Durham DH1 1WA
Jen Campbell will join Kit Fan and Mary Jean Chan for this joint reading for Durham Book Festival. Jen will be appearing remotely to read from Please Do Not Touch This Exhibit, which is a Poetry Book Society Recommendation for Autumn 2023. This event is both in person and livestreamed.
Tickets: £8/£7 (live-stream ticket £5). More information and booking here.
PAST EVENTS
September online launch event with Bloodaxe Books
Jen Campbell joined Nicole Sealey, plus the winner of the Mslexia Poetry Pamphlet Competition, Courtney Conrad, for this online reading and discussion event hosted by fellow Bloodaxe poet John Challis, who was standing in for editor Neil Astley.
I miss doing events, so I filmed this video: A delayed launch for The Girl Aquarium
Frustrated with not being able to get out and about during the pandemic, Jen Campbell does an online launch event for The Girl Aquarium two years after the book came out – marking Disability Pride Month. She introduces and reads a selection of poems from the book, and talks about the ways in which her poems draw upon fairy tales and explore attitudes towards disability, and how disabled people were exhibited in fairground and circus freak shows in earlier times.
[18 September 2023]