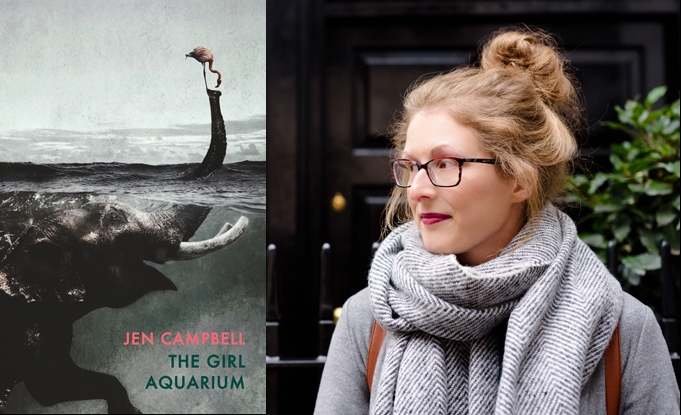 Jen Campbell Readings
Jen Campbell's debut poetry collection, The Girl Aquarium, was published by Bloodaxe on 25 April 2019, when the book was launched in an event co-hosted by Bookgig at Waterstones Crouch End in London. The Girl Aquarium, explores the realm of rotten fairy tales, the possession of body and the definition of beauty.
Foyles Bookshop, Grand Central Birmingham, Wednesday 22 May, 7-8.30pm
Foyles Grand Central Birmingham, B2 4BF
An evening 'in conversation' with Jen Campbell.
Jen Campbell will be discussing how fairy tales and girlhood inspired her latest collection of poetry, as well as reading, answering questions and signing copies of The Girl Aquarium.

Tickets: £3 per person.
Further details are available via the Foyles website.
Bradford Literature Festival, Saturday 29 June 2019, 3:45 pm - 5:00 pm
The Ganges Theatre
Fairy Tales Reimagined: Jen Campbell, Kirsty Logan, Nikita Gill with Jean Menzies
In her new collection, Fierce Fairytales: & Other Stories to Stir Your Soul, Nikita Gill rejuvenates tired tropes with princesses who save themselves and modern takes on well-known villains.
Gill will be in conversation with Kirsty Logan, whose forthcoming book of feminist, literary horror stories centres on fears of domesticity, childbearing, and violence, as well as Jen Campbell, author and host of the popular YouTube series, Fairy Tales with Jen. Jen Campell's debut poetry collection The Girl Aquarium explores the realm of rotten fairy tales.
Hosted by Jean Menzies.
Click here to book tickets.
Jen Campbell spoke to Will Rycroft of Waterstones about her new collection The Girl Aquarium.
[15 May 2019]