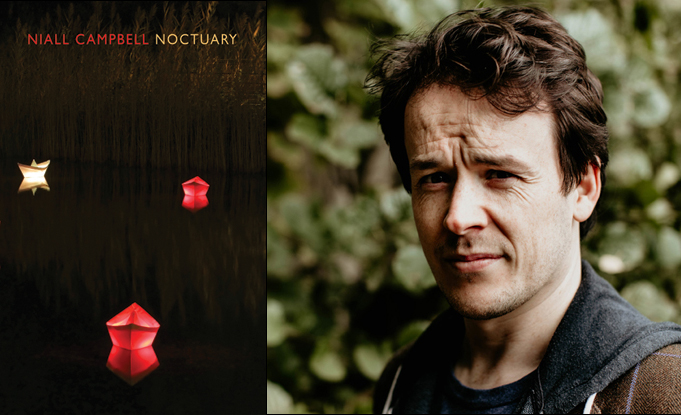 Niall Campbell Readings
Leeds-based Scottish poet Niall Campbell, whose debut Moontide won both the Saltire First Book of the Year Award and the inaugural £20,000 Edwin Morgan Poetry Award, launched his second collection Noctuary with a series of readings in England and Scotland. Noctuary has been shortlisted for the Forward Prize for Best Collection 2019.

Noctuary is a lyrical collection poems about young fatherhood and the small hours. Written from Niall Campbell's new home in Leeds, the poems nevertheless draw on the seascapes, myths and wildlife of South Uist, where he grew up. In this noctuary, a diary for the late hours, poems record moments of beauty and tenderness to be found in those broken nights when caring for a young son.
EDINBURGH INTERNATIONAL BOOK FESTIVAL, AUGUST 2019
Sun 11 August, 18:30 - 19:30, Writers' Retreat

Niall Campbell & Roseanne Watt
Rising stars of Scottish poetry

Shetlandic poet Roseanne Watt won the 2018 Edwin Morgan Poetry Prize for work that's 'a celebration of language, place and the mystery of being alive'. She returns to the Book Festival with her assured debut collection, Moder Dy, joined by South Uist's Niall Campbell — the first to scoop the award in 2014. His new collection Noctuary sees him reconnect with the landscapes of his youth while getting to grips with fatherhood. Chaired by André Naffis-Sahely.

£8.00, £6.00. Tickets go on sale at 8:30am on Tuesday 25 June.
Click here to book (from 25 June).

Wed 21 Aug, 13:00 - 14:30 Writers' Retreat £15.00, £12.00

Nothing But the Poem on Niall Campbell

Reading Workshop

Niall Campbell is a multi award-winning Scottish poet originally from South Uist. His work explores the landscapes, myths and memories of the Outer Hebrides and the altered states of fatherhood. This workshop, led by Samuel Tongue from the Scottish Poetry Library, takes a close look at the voices and themes of Campbell's poetry. No experience necessary: everyone welcome and poems are provided.

Tickets go on sale at 8:30am on Tuesday 25 June.
Click here to book (from 25 June).

The Forward Prizes for Poetry Ceremony, Sunday 20 October 2019, 7pm

Queen Elizabeth Hall, Southbank Centre, London
The best poetry being published in the British Isles today is recognised at this ceremony, hosted by jury chair Shahidha Bari and poet Andrew McMillan.

Featuring readings from the 15 shortlisted poets shortlisted for Forward Prizes. Bloodaxe's Niall Campbell and Vidyan Ravinthiran will read from their second collections, which have both been shortlisted for the Forward Prize for Best Collection.

This year's judges, Shahidha Bari, Jamie Andrews, Tara Bergin, Andrew McMillan and Carol Rumens, read over 200 poetry collections and 180 single poems to find the most exciting poetry published across the UK and Ireland.
£15
Booking fee: £3.00 (Members £0.00)
Click here to book.

Woodstock Poetry Festival, 15-17 November 2019

The Woodstock Bookshop, 23 Oxford Street, Woodstock, Oxon OX20 1TH
Poets confirmed for this year's Woodstock Poetry Festival so far include Niall Campbell, Vidyan Ravinthiran and Irish poet Jane Clarke.
More information will be posted here in due course.
Noctuary reviews & poem features at: https://www.bloodaxebooks.com/news?articleid=945
[10 June 2019]