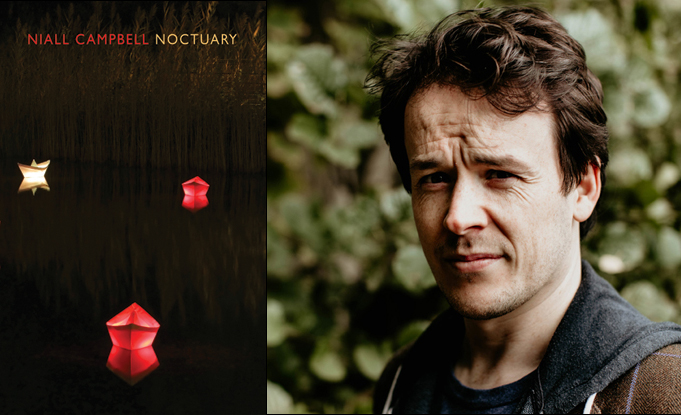 Niall Campbell Readings
'Noctuary is a homage to night-time, to "that midnight thrill of being alive", to the small, stray moments that make up a life. It is also a passionately tender examination of what it means to have and care for a small child.' – Suzannah V. Evans, Times Literary Supplement
Scottish poet Niall Campbell, whose debut Moontide won both the Saltire First Book of the Year Award and the inaugural £20,000 Edwin Morgan Poetry Award, launched his second collection Noctuary with a series of readings in England and Scotland. He read at the Edinburgh International Book Festival and at the Poetry in Aldeburgh Festival in 2019.
Noctuary is a lyrical collection poems about young fatherhood and the small hours. Written from Niall Campbell's home in Leeds, the poems nevertheless draw on the seascapes, myths and wildlife of South Uist, where he grew up. In this noctuary, a diary for the late hours, poems record moments of beauty and tenderness to be found in those broken nights when caring for a young son.
Noctuary was shortlisted for the Forward Prize for Best Collection 2019, as was fellow Bloodaxe poet Vidyan Ravinthiran's second collection The Million-petalled Flower of Being Here. They read together at the Woodstock Poetry Festival in November 2019.
After a number of years based in Leeds, Niall Campbell returned to live in Scotland in 2021.
~~~
Niall Campbell's poem 'The Night Watch' from Noctuary was chosen as one of 20 'Best Poems of 2019' featured on the Scottish Poetry Library's website. The poem, along with audio of Niall reading the poem and comments from both him and editor Roseanne Watts can be found here.
'Campbell's carefully-crafted lyricism acquires the tender quality of a lullaby in this poem, seeming to occupy a place somewhere at the edge of dreaming and rising, that 'buckthorn field of being awake'.' - Roseanne Watts
~~~
PAST READINGS

NIALL CAMPBELL A GUEST ON MAKAR TO MAKAR

Makar to Makar, livestreamed Thursday 9 July 2020, 7pm

Niall Campbell was Scotland's National Poet Jackie Kay's guest on Makar to Makar on 9 July, alongside fellow Scottish poet William Letford. The event was streamed live at on 9 July, and is now available on YouTube - see below. With music from singer Claire Brown.

Niall Campbell's page on Makar to Makar is here. He writes about his favourite bookshop and library, and there are links to the audio recordings Niall posted on his website.

Niall read 'The Night Watch', 'First Illness' and 'Good Night' from Noctuary, and 'The Work', 'Rodin Sculpts 'The Kiss'', ''The Letter Always Arrives at its Destination'' and 'Leave Poetry' from Moontide. He also read a new poem 'Exiting the Library'. Jackie Kay said 'There is something timeless in the quality of the work' after he had finished reading. Niall's set started at 35.49

Makar To Makar | Episode 9 | Jackie Kay with Niall Campbell, William Letford and Claire Brown

Fellow Bloodaxe poet Imtiaz Dharker was a guest on Makar to Makar on 4 June 2020. Links to all the episodes, with full credits to all the poems read – including Jackie Kay's poems published by Bloodaxe - are here.
~~~
NIALL CAMPBELL READS FROM HOME

Niall Campbell read for the 2015 John Hewitt International Summer School, alongside Colette Bryce.
Video recordings of Niall Campbell reading two poems from Noctuary from his home have been posted on the John Hewett Society's website here.
~~
As a number of Niall Campbell's planned readings were cancelled due to the pandemic, he decided to make audio recordings of himself reading and introducing six poems from each of his two collections. These late-night recordings were particuarly well-suited to the nocturnal subject matter of his second colleciton Noctuary.
The readings are available via Naill's website here.

~~~
Listen to Niall Campbell narrate a poem he wrote especially for the Radio 4 feature Ballad of the Fix, about Scotland's drug problem, here. This was a BBC Radio 4 Pick of the Week.
Noctuary reviews & poem features at: https://www.bloodaxebooks.com/news?articleid=945
[28 April 2020]