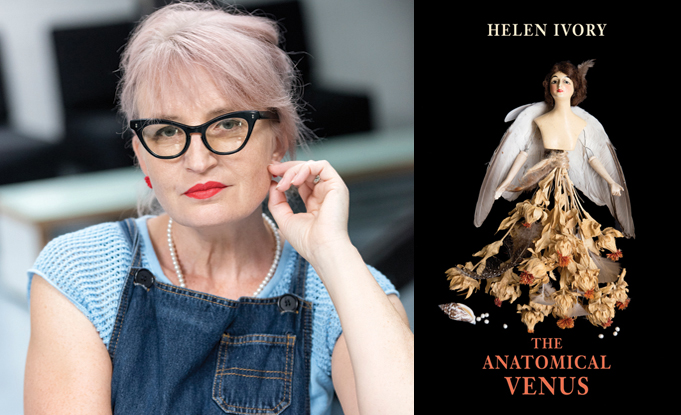 Helen Ivory Readings
Helen Ivory's new collection The Anatomical Venus - published in May 2019 following her participation in the Northern Poetry Symposium at Newcastle Poetry Festival 2019, examines how women have been portrayed as 'other'; as witches; as hysterics with wandering wombs and as beautiful corpses cast in wax, or on mortuary slabs in TV box sets.
The Anatomical Venus was launched at Cafe Writers in Norwich on 10 June 2019. It has been shortlisted for the poetry category of the East Anglian Book Awards 2019.
Readings for The Anatomical Venus in 2019
Saturday 23 October, 7pm, Norfolk Write Now! Festival, Fakenham Racecourse, Prince of Wales Suite

Reading & discussion with Louis de Bernières, Martin Figura, Helen Ivory and Jeremy Page.
£15. Phone 01328 853653. Tickets and drinks will be issued at the door
Sunday 30 October, 7 for 7.30pm, The Word Cafe, The Barrel House, Totnes, Devon

59a High St, Totnes, Devon TQ9 5PB
Helen Ivory & Martin Figura

£6 (plus 60p booking fee)
Click here to book.

Monday 31st October 2019, 7:30pm - 10:00pm. The Swan Hotel, Bradford on Avon, Wiltshire BA15 1LN

Guest poets: Helen Ivory & Martin Figura
Bradford on Avon's popular reading series, Words & Ears. Bring a poem, story or song to share, or just bring yourself. All performers and listeners welcome: open mic slots always available.
£4 on the door.
Find out more at dawngorman.co.uk/words-and-ears
Poetry in Aldeburgh Festival, Saturday 7 November 2019, 9-10pm

CONFINEMENT -- EXPLORING FEMINIST PERSPECTIVES

JUBILEE HALL

Mona Arshi, Helen Ivory, Gail McConnell, Jo Young, Dzifa Benson

Have women poets truly broken free of the masculine frame of reference? Are we seeing more poetry that explores (and subverts) traditional female experience or takes us beyond the expected confines of a woman's world? Ink Sweat & Tears Pamphlet Commission Competition co-winners, soldier Jo Young and 'fothermather' Gail McConnell, join Mona Arshi and Helen Ivory at the discussion table with poetic-folk songwriterJade Cuttle giving us the perspective of youth. Moderated by writer, producer and critic Dzifa Benson.
£10 ( with wine )
Helen will also be giving a workshop on Saturday morning, 10am- 12 noon at The Garage. Ambit Cut-Ups with Jade Cuttle and Helen Ivory.
Tuesday 12 November, 7.30-10.30pm, Chaplin's & The Cellar Bar, Boscombe, Bournemouth
Harris-Meant: Wordplay, Wit and Poetry

Join Paul Canon Harris and special guests for an evening of wordplay, wit and all things poetry. Headline Guests MARTIN FIGURA & HELEN IVORY.
Tickets £5 on the door.
More information on facebook
here
.
Helen was interviewed by William Bedford for
The High Window
. The full conversation can be read at
thehighwindowpress.com
.
[16 October 2019]