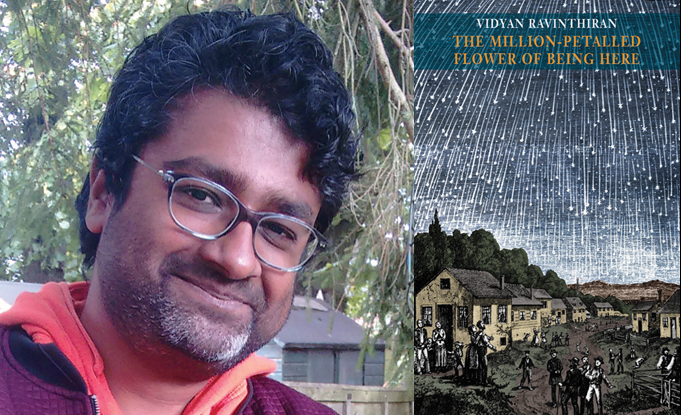 Vidyan Ravinthiran Readings
'The sonnet can miniaturise whole worlds in 14 lines. Two virtuoso sequences that half-rhymed England with elsewhere this year were Mimi Khalvati's Afterwardness (Carcanet) and Vidyan Ravinthiran's The Million-petalled Flower of Being Here (Bloodaxe).' – Jeremy Noel-Tod, The Sunday Times (Best Poetry of 2019)
'Every poem in Ravinthiran's second collection is a sonnet addressed to his wife, but here is no lack of variety in topic or tone. From interracial love to Sri Lanka's civil war, mental health to Brexit, the range itself speaks of the ideal spouse: the person with whom we can talk about absolutely anything.' – Maria Crawford, Financial Times (Best Books of 2019: Poetry)
Vidyan Ravinthiran's The Million-petalled Flower of Being Here is his second collection. This book of sonnets for his wife is finely balanced between the inward and outward. These are love poems which, considering life in Northern England for a mixed-race couple, touch on Brexit; racist and sexist abuse; taboos surrounding mental health; and the poet's Sri Lankan Tamil heritage. It was a Poetry Book Society Recommendation for summer 2019 and was shortisted for both the Forward Prize for Best Collection and the T S Eliot Prize 2019.
Radio 3's The Verb recorded the T S Eliot Prize Readings held on 11 January 2020 at the Royal Festival Hall. Highlights from the readings were broadcast on The Verb on Friday 17 January, featuring all ten poets reading from their shortlisted collections.
'I was blown away by Vidyan Ravinthrian's collection The Million-petalled Flower of Being Here and his use of the sonnet form.' – Ian McMillan, speaking on Radio 3's The Verb

Vidyan features from 19:20: https://www.bbc.co.uk/programmes/m00020s1
The readings by all ten poets can be heard in full on YouTube here.
READINGS & WORKSHOPS BY VIDYAN RAVINTHIRAN
Verve Poetry Festival, Birmingham, 20-23 February 2020

Vidyan Ravinthiran will be giving a reading and a workshop at Verve.
Fri 21 Feb, 6.30 – 8pm, Patrick Studio

Rachael Allen, Vidyan Ravinthiran & Jacqueline Saphra

Verve's regular Friday Evening poetry event features three incredible contemporary UK poets.

Rachael Allen's debut collection Kingdomland (Faber, 2019) was a Poetry Book Society Choice. Vidyan Ravinthiran's second collection The Million-petalled Flower of Being Here (Bloodaxe, 2019) was shortlisted for the Forward Prize for Best Collection and the T.S. Eliot Prize. Jacqueline Saphra's latest collection Dad, Remember You Are Dead (Nine Arches Press, 2019) is the companion collection to her T.S. Eliot Prize Shortlisted All My Mad Mothers. Hosting these three wonderful poets for readings and discussion is Emma Dai'an Wright, publisher and founder of Birmingham based indie, The Emma Press.

Tickets £6.50 (concessions £4.50)
Click here to book.
Sat 22 Feb, 3 – 5pm

Vidyan Ravinthiran Workshop: Short and Perfectly Formed

A workshop on reading, writing and loving the very short poem.

Join Forward and T.S. Eliot shortlisted poet Vidyan Ravinthiran sharing his love for and the secrets of crafting these poetry gems.

As he says, "short poems can function as one-off punchlines, or they can be surprisingly deep, with universes to discover in a single grain of sand. Because they've so few words, they often allude to a cultural situation which the reader has to intuit; and this means that writing them can be an exploratory and possibility-filled experience".

Tickets £22.50 (concessions £15)
Click here to book.
'Formally assured but far from formulaic, this book of sonnets for the poet's wife is testament, at its best, to the ways in which poetry can reach from the particular to the universal. Moving and inviting in their conversational ease, Ravinthiran's sonnets stretch from the grounding details of life for a mixed-race couple in England today… to thoughtfully touch on themes of identity, class, work and community.' – Ben Wilkinson, The Guardian
Read the full review here.
[17 October 2019]