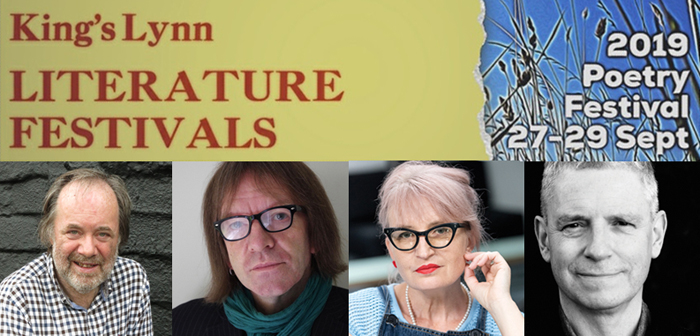 Bloodaxe Poets at Kings Lynn Poetry Festival 2019
Bloodaxe poets Matthew Caley, Helen Ivory and Nick Drake will be reading at this year's King's Lynn Poetry Festival, which will also include a tribute event to the late Matthew Sweeney.
King's Lynn Poetry Festival, Town Hall, Saturday Market Place, King's Lynn PE30 5DQ

Friday 27th September, 7.30pm

Elisabeth Sennitt Clough, Matthew Caley, Helen Ivory
Launch event for Matthew Caley's sixth collection Trawlerman's Turquoise. He will be reading alongside fellow Bloodaxe poet Helen Ivory, whose fifth collection The Anatomical Venus was published in May 2019.
Saturday 28th September, 3.00pm

Sue Burge, Kit Fan & Nick Drake

Nick Drake will be reading from his fourth collection Out of Range. These poems expand on environmental concerns raised in his previous collection The Farewell Glacier, his book-length sequence of poems set in the High Arctic.
Sunday 29th September, 3.00pm

In Memoriam Matthew Sweeney, with Mary Noonan

Chaired by John Lucas with contributions from the writers.
A special event to remember and celebrate the work of Matthew Sweeney (1952-2018) with Matthew's partner, the poet Mary Noonan.
My Life as a Painter was Matthew Sweeney's twelfth collection, published shortly before his untimely death from motor neurone disease in 2018, but written before he became ill. It will be followed in 2020 by Shadow of the Owl, a collection of the poems he wrote during his final difficult year of debilitating illness.
Click here to read Bloodaxe's tribute to Matthew Sweeney.
All tickets are £8.50, either in advance or on the door. Friday and Saturday nights are particularly popular, so do consider booking in advance to secure a seat. An all-weekend pass is £37.50. Students' price is £1 per event.
Full details at lynnlitfests.com
[29 July 2019]