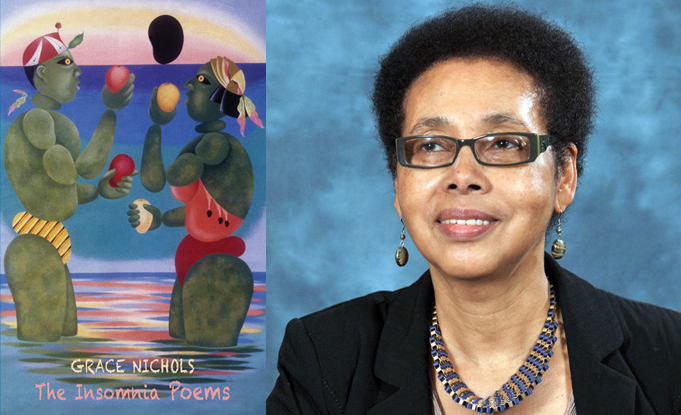 Grace Nichols Readings
Born in Guyana, Grace Nichols has lived in Britain since 1977. She has published three books with Bloodaxe, Picasso, I Want My Face Back (2009), I Have Crossed an Ocean: Selected Poems (2010), and The Insomnia Poems (2017), with a fourth, Passport to Here and There due in April 2020.
Poetry in Aldeburgh Festival, Sunday 9 November 2019

Grace Nichols will give a workshop on Saturday 8 November, 4-6pm. Paint me a Poem. Baptist Church.
PAINT ME A POEM
​
SATURDAY 4:00 - 6:00pm
BAPTIST CHURCH

Grace Nichols

Art has inspired a number of her poems, including the acclaimed Picasso, I Want My Face Back, which grew out of her residency at the Tate Gallery London. Participants will have the opportunity to create their own painting-inspired poem.
£18
Click here to book.
SOUTH COAST POETS VENTURE EAST
SUNDAY 2:30 - 3:30pm
PETER PEARS GALLERY

Grace Nichols, Clare Best, Maria Jastrzębska
Grace Nichols and Maria Jastrzębska live on the South Coast, as did Clare Best until she moved to the Suffolk Coast this year and joined the Poetry in Aldeburgh Festival team.

Maria Jastrzębska came to the UK from Poland as a child – her work explores boundaries and borders, drawing on this dual background as well as on other European and American cultures. The True Story of Cowboy Hat and Ingénue is her new book of prose poetry. 'Maria Jastrzębska's poems open out like adventures in a dual land that is both here and elsewhere' (George Szirtes). Clare Best has lived all her life in the UK and writes of inner migrations and journeys. Her new collection Each Other presents 'closely observed, exquisitely wrought poems about love and its endurance' (Mara Bergman). Grace Nichols will be reading from her most recent collection The Insomnia Poems, along with some new poems.
£8
Click here to book.


GRACE NICHOLS INTERVIEWED ON IRISH RADIO

Arena, RTE Radio 1, Tuesday 9 May 2017, 7-8pm

An interview with Grace Nichols was broadcast on RTE Radio 1's arts programme Arena on 9 May 2017. She was interviewed down the line from Brighton.

Grace read and talked about her poems 'One Night Comes Like a Blessing', 'A Brief Odyssey', 'Night Muse' and 'The One You Don't See Coming' from her new collection The Insomnia Poems, which was published by Bloodaxe in February.

Click here to listen. Archived in chapters.
[11 September 2019]