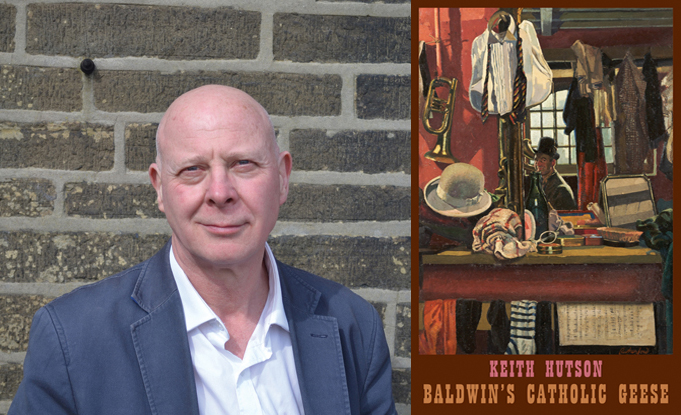 Keith Hutson on The Verb
'At the crossroads of the comic and the tragic, Keith Hutson's poetics bask in irony, but not in introspection… They are a tonic – a fizzing celebrant of unremembered comedy and Music Hall lives... The improbably-titled Baldwin's Catholic Geese is an absolute original, an unalloyed gem.' – Steve Whitaker, Poetry Wales (Poetry Books of the Year 2019)


The Verb: To the Circus, BBC Radio 3, Friday 29 November 2019, 10pm

Keith Hutson was a guest on this wonderful circus-related edition of Radio 3's The Verb. He was reading and talking about his first full-length collection Baldwin's Catholic Geese.

Keith read and introduced his poems 'Inextricable', 'Coming On Strong' and 'That's Your Lot'. He read an additional poem for the podcast, 'Castrato' and spoke further to Ian McMillan about how he sees wit and humour as being central to his work.

'Keith Hutson's collection of poetry 'Baldwin's Catholic Geese', published by Bloodaxe, explores the tragi-comic world of the music hall through some of its most beloved and well known variety artistes, as well as obscure and long forgotten acts, such Georgie Doonan whose performance consisted solely of kicking his own bum, which Keith explains, is not as easy to do as it might sound. Keith has written for Coronation Street and for many well-known comedians.'

Click here to listen. Keith features at 5.03 and at 32.17 (main interview). There's an extra poem & discussion at the end of the podcast.

Keith Hutson's first full-length collection Baldwin's Catholic Geese was published by Bloodaxe in February 2019. Through vivid portraits, the book looks at the delight and heartbreak of being human through the lens of beloved music hall stars, as well as long-forgotten variety acts of the past.
Carol Rumens discussed Keith Hutson's poem 'The Opener' from Baldwin's Catholic Geese in her 'Poem of the Week' column on The Guardian website. 'The collection delivers the comedy and oddity its title promises, but amounts to very much more than a novelty act. It's a commemoration.' Read the column here.
A podcast interview with Keith Hutson on Two Minutes Stories can be heard here. Keith read 'The Audience' from Baldwin's Catholic Geese and spoke about his poetry and his life in comedy (from 28.50).
'I cannot recommend this book too highly. If you have not lived long enough to have experienced vaudeville/music hall theatre, or to have heard your grandparents rave about it, you can read it all here. The artistry of Keith Hutson, nuanced, never forced, brings it back to life again. Be sure to look sharp though; beguiled by the characters, you may lose sight of the craft, the genius blend of pathos and humour threaded through every poem. Read it.' Wendy Klein, London Grip [on Baldwin's Catholic Geese]
Read the full review here.


[03 December 2019]