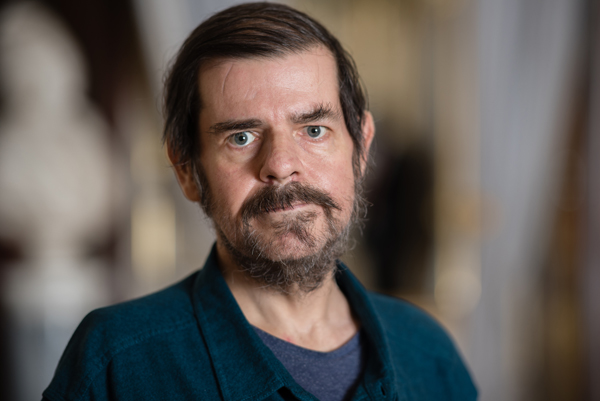 Roddy Lumsden (1966-2020)
We are very saddened by news of the death of the poet Roddy Lumsden, aged 53. He had been suffering from liver disease for the past four years, and died from a heart attack in the care home where he had been living since 2017. As well as being an innovative and highly engaging poet, Roddy influenced and assisted a whole generation of British poets, as editor, mentor, tutor and selfless promoter of their work.
Born in St Andrews in 1966, he lived in Edinburgh for many years, where he studied at the University of Edinburgh, before moving to London in 1998. His first book Yeah Yeah Yeah (1997) was shortlisted for Forward and Saltire prizes. His second collection The Book of Love (2000), a Poetry Book Society Choice, was shortlisted for the T.S. Eliot Prize. Mischief Night: New & Selected Poems (Bloodaxe Books, 2004) was a Poetry Book Society Recommendation. His later collections were Third Wish Wasted (2009), Terrific Melancholy (2011), Not All Honey (2014), which was shortlisted for the Saltire Society's Scottish Poetry Book of the Year Award, and So Glad I'm Me (2017), shortlisted for the T.S. Eliot Prize 2017 and the Saltire Society Scottish Poetry Book of the Year Award 2018 . His anthology Identity Parade: New British and Irish Poets was published by Bloodaxe Books in 2010.
Roddy played a significant role in the development of Bloodaxe's publishing over the past 25 years, not just through his own innovative collections and seminal anthology Identity Parade, but probably even more so through his mentoring, editing and promotion of many of the younger poets we and other publishers have taken on over that time, many of these going on to receive far greater recognition than Roddy himself.
He earned his living as a freelance writer and editor, also specialising in quizzes and word puzzles, and represented Scotland twice on BBC Radio 4's Round Britain Quiz. He also held several residencies, including ones with the City of Aberdeen, St Andrews Bay Hotel, and as "poet-in-residence" to the music industry when he co-wrote The Message, a book on poetry and pop music (Poetry Society, 1999). His other books include Vitamin Q: a temple of trivia, lists and curious words (Chambers Harrap, 2004).
[Author photo by Adrian Pope]
Roddy [Roderick] Chalmers Lumsden, born St Andrews, 28 May 1966, died London, 10 January 2020.
The Scottish Poetry Library was planning to host a memorial event to honour Roddy Lumsden and his work. THIS TRIBUTE EVENT HAS BEEN POSTPONED.
Mischief Night: A Tribute to Roddy Lumsden will take place at the Scottish Poetry Library on Saturday, 21 March at 6pm. Tickets for this have all gone. To enquire about returns see here.
The compere will be Rob Mackenzie. The poets appearing who will read Lumsden's work include Annie Brechin, Ron Butlin, Robert Crawford, Miriam Gamble, W.N. Herbert, Tracy Herd, AB Jackson, Eleanor Livingstone, Andrew Neilson, Andrew Philip, Kona Macphee and Kevin Williamson.

Those also speaking include: Neil Astley (Lumsden's Bloodaxe editor), Neil Cooper (arts journalist), Gordon Legge (writer) and Mark McDonnell (actor and writer).
At the opening of the T.S. Eliot awards on Sunday 12 January, host Ian McMillan paid tribute to Roddy's life and work: 'Many people here will owe the way they write to Roddy Lumsden. We will miss him very much.'
A B Jackson's obituary of Roddy Lumden was published in The Scotsman of 15 January 2020. The online edition is here.
Neil Cooper paid tribute to Roddy Lumsden in The Herald of 5 February, posted online here.
A more informal piece by Neil Cooper is posted on Bella Caledonia: Roddy Lumsden -1966-2020 - Struggle for Pleasure: Edinburgh Now and Then: here.
Katy Evans Bush paid tribute to Roddy Lumsden on Radio 4's Front Row on Tuesday 14 January (final item): https://www.bbc.co.uk/programmes/m000d71p
The Telegraph's obituary of 25 February can be read here.
The Poetry Book Society's obituary is here.
The Poetry Society's obituary included some of the many tributes posted on social media: https://poetrysociety.org.uk/news/tributes-to-roddy-lumsden/
The Poetry School, where Roddy worked as a tutor for many years, has gathered together thanks and tributes to Roddy from over fifty poets. Posted here.
America's Poetry Foundation paid tribute here.
*
'... soul-bearing, heartfelt work that demands serious attention.' - Tristram Fane Saunders, The Daily Telegraph [on So Glad I'm Me]
'This is poetry as an extreme sport, a whole world of shifting ideas with people – dead and alive – dropping in, whispering in your ear, or just walking right through, bold as brass. With such courage, beauty and complexity, it's no surprise that this, Lumsden's tenth collection, was shortlisted title for the 2017 T. S. Eliot Poetry Prize.' - Alison Craig, The Bottle Imp
'… few collections cover as much ground as this, or seem to reveal such a lithe and obsessive mind.' – Rory Waterman, The Poetry Review (on So Glad I'm Me)
'There is a level of talent that will ransom any project in any school. On the one hand, it will be interesting to see where Lumsden goes next; on the other, he's so good that it hardly matters.' – D.H. Tracy, Poetry
'One of the best poets writing in English on the planet today.' – Don Share, Squandermania
*
Roddy Lumsden talks about So Glad I'm Me
Roddy Lumsden discusses his collection So Glad I'm Me following its shortlisting for the 2017 T.S. Eliot Prize.
Roddy Lumsden reads 'Kissing Edwin Morgan'
Roddy Lumsden reads and introduces his poem 'Kissing Edwin Morgan' from his T.S. Eliot Prize-shortlisted collection So Glad I'm Me.
Roddy Lumsden reads 'The Hoopoe'
Roddy Lumsden reads and introduces his poem 'The Hoopoe' from his T.S. Eliot Prize-shortlisted collection So Glad I'm Me.
[11 January 2020]

[11 January 2020]