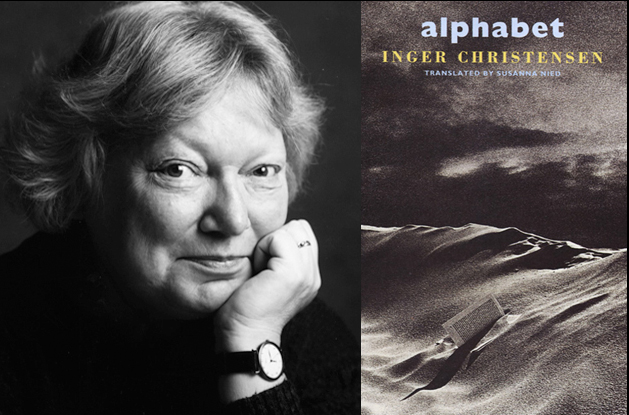 Inger Christensen's Alphabet discussed in Radio 4 Feature
'Christensen's poem is a powerful account of living an ordinary life under the threat of nuclear war, but the poem's lyrical accumulating form also makes it oddly redemptive.' – Ailbhe Darcy, introducing Inger Christensen's alphabet on Radio 4 (broadcast 23 & 29 February 2020)
Alphabet, BBC Radio 4, Sunday 23 February 2020, 4.30pm (available until 31 March 2020)
Cardiff-based Irish poet Ailbhe Darcy presented a half-hour Radio 4 feature on the late Danish poet Inger Christensen's book-length poem alphabet. With music, extracts from the poem in both English and Danish (including short archive recording of Inger Christensen herself reading in Danish), and contributions from, among others, translator Susanna Nied, who said that Inger Christensen's response to her English translations was: 'I think I hear my own music in them'. Her translation of alphabet won the ASF/PEN Translation Prize for poetry (given by the American-Scandinavian Foundation and Scandinavian Review).
Inger Christensen (1935-2009) published her book-length poem alphabet, translated by Susanna Nied, with Bloodaxe in 2000. Ailbhe Darcy's collection Insistence prompted renewed interest in the book, which was reprinted last year.
'Poet Ailbhe Darcy delves into the poem 'alphabet' and what it means to her. It was published in 1981, by the Danish poet Inger Christensen. Written during the cold war, it's an account of living an ordinary life under the threat of nuclear devastation. The destructive force hanging over the poem is the atomic bomb, but the theme of ecological crisis is resonant today (and something Ailbhe explored in her own poem 'Alphabet', written in homage to Christensen, and published in her book Insistence).

Ailbhe looks at the remarkable form of Christensen's 'alphabet' - a kind of exploding poem which is organised both in alphabetical order and also according to the Fibonacci Series - and how that structure allowed both Christensen and Darcy to write at a time of crisis. She talks to translator Susanna Nied and the poets Marie Silkeberg, Joyelle McSweeney and Johannes Goransson about whether 'alphabet' weaves a spell of protection for all the things the poet loved, or catalogues them before they pass out of existence. Together they reveal a poem which through spirals and counter-spirals encapsulates both the beauty of the natural world and the potential for its extinction.'

Details here. No longer available to listen to.
alphabet was reprinted in response to this programme.
****
Ailbhe Darcy's award-winning second collection Insistence was written in the American Rust Belt, in an era of climate change and upheaval. Insistence takes stock of the parent's responsibility to her child, the poet's responsibility to the reader, and the vulnerability of the person in the face of global crisis.
In the final section of Insistence Darcy revisits Inger Christensen's 1981 alphabet, a work which expresses the heart-sickening persistence and proliferation of beauty after Hiroshima. In Darcy's long poem 'alphabet', the spiralling form takes over, insisting on hope.
Ailbhe Darcy's Insistence was shortlisted for the T S Eliot Prize 2018 as well as winning the Piggot Poetry Prize and the Wales Book of the Year Award. At the T S Eliot Prize Readings held at London's Royal Festival Hall on Sunday 13 January 2019, Ailbhe Darcy read exclusively from her long poem 'alphabet'. The full T S Eliot Prize Readings are available here.
****
Some of the responses to the Radio 4 feature Alphabet on Twitter:

'Last night on the #NNUH ward I had the pleasure of listening to @AilbheDarcy's perfect piece of radio about Inger Christensen's 'alphabet', a poem I was previously oblivious to. The poem concerns the threat of nuclear devastation under the atom bomb. By coincidence, last week I got talking to a ward-mate. As an airman he was one of 20,000 who witnessed the 1957 Christmas Island atom bomb test. Today there are fewer than 600 survivors. The bomb fell through the air and exploded via barometric fuse, above sea level in an attempt to minimise fallout. They were told they were a safe distance away from the blast, but he suspects his health conditions now are partly a result of the exposure. This conversation made the story of Alphabet all the more real to me, and haunting - especially with its relevance to the #ClimateEmergency, which is never far from my thoughts. Anyway, superb radio - LISTEN!'
'Riveting feature by @AilbheDarcy exploring a poem for our times - 'alphabet' by Inger Christensen.'
'Sometimes I can't believe how lucky we are to have so many marvellous things at the tip and tap of an index finger- this programme is a marvellous thing'

'"Fish exist, ospreys exist..." Everything is connected including #ecology, #poetry and #climatechange as awesome #Irish poet @AilbheDarcy
@cardiffuni explores 'Alphabet' by Inger Christensen #nature #hope #competition #Fibonacci #Ireland #Wales #Denmark'
'New discovery of 'Alphabet' by the poet Inger Christensen. I was listening to this on the bus and then had to keep walking around till the programme finished.'

'I was listening to this on the beach in New Quay yesterday, with a rock pippit beside me who didn't leave until the programme was over. It was as if the pippit and myself were the two truths "proliferating life and hope" in the face of the wild weather. Thank you, Ailbhe!'

'"Alphabet" is one of my absolute favorite books of poems.'

'A quietly powerful programme about a magical poem by Danish poet Inger Christensen, skilfully presented by @AilbheDarcy. This one's not just for poets but for anyone who cares about the planet and anyone who loves language.'

'Listen to this now, poets, because BBC is taking it down soon. (@BBCRadio4 I'd also like to teach it—please make a copy available?)'

'Wow, a revelation , Inger Christensen, hear more about her ground breaking poem Alphabet #poetryhelps #climatecrisis'

'This radio-essay about Inger Christensen's Alphabet put together by @AilbheDarcy is super.'

'Hope I can get a copy so that I can play for students when I teach the book next time.'

'Thoroughly recommend this programme. How one poem speaks of a whole world. It's about language, form, existence and extinction. Fantastic.'

'A wonderful programme. Poetry I had never heard before.'

'A beautiful programme, which will take me back to both books.'

'Alfabet... Oh my gosh. Reading Inger Christensen changed my life as a young girl. I am so happy people over here recognise her contribution.'
[22 February 2020]