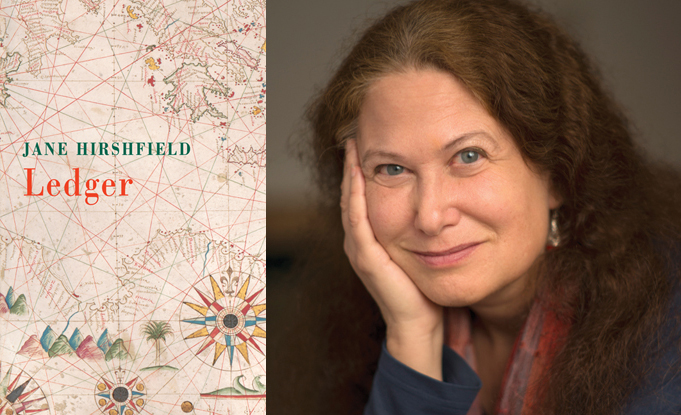 Jane Hirshfield's Ledger reviews, interviews & poem features
'The most important measure of anything is its meaning... Hirshfield perfectly captures our individual sense of lostness, faced with undeniable catastrophe, while invoking our collective responsibility.' - Fiona Sampson, The Guardian
Jane Hirshfield's ninth collection Ledger was published by Bloodaxe Books in March 2020. It is a book of personal, ecological and political reckoning. Her poems inscribe a ledger personal and communal, a registry of our time's and lives' dilemmas as well as a call to action on climate change, social justice and the plight of refugees. Ledger is published in the UK and Europe by Bloodaxe, and by Knopf in the US.
POEM FEATURES FROM LEDGER
'My Debt' from Ledger is featured as Poem of the Week in the TLS of 10 September 2021. Read in full here. The poem was first published in the TLS in 2019.

'Although she has been writing poems that speak of the environment "for decades", the subject has a new urgency and centrality here: as Hirshfield says, "the time for swerve feels shorter". From the collection's opening lines of despair and defiance ("Let them not say: we did not see it. / We saw it") to its ominous closing reference to the "flammable colors" of the natural world, this is, in the words of the New York Times, an "ecological and political reckoning … some of the most important poetry in the world today". - Times Literary Supplement
The Guardian, Poem of the Week, online Monday 19 October 2020

American poet Jane Hirshfield's 'It Was as if a Ladder' from her ninth collection Ledger was discussed by Carol Rumens in her online Poem of the Week column on The Guardian website. Her piece ends with the comment: 'The Tower of Babel is not more relevant to our times than Hirshfield's terrifying and yet tenuously beautiful "ladder in air".'

'Hirshfield's writing is always sensuous and focused: at the same time, her Zen-influenced deep absorption in things seen and sensed is often unsettled by a further, philosophical line of inquiry. This leads to new insights, but not necessarily an easy resolution.' – Carol Rumens, Poem of the Week, The Guardian
Read the feature here.
Bookanista, Poem feature, online 26 March 2020

Bookanista featured two poems from Jane Hirshfield's ninth collection Ledger to mark publication day. The poems featured were 'Day Beginning with Seeing the International Space Station and a Full Moon over the Gulf of Mexico and All Its Invisible Fishes' and '(No Wind, No Rain)'.

'Jane Hirshfield's new poetry collection is a personal, ecological and political reckoning, a registry of contemporary dilemmas and an urgent call to action on climate change, social justice and the plight of refugees. The poems record both abiding and squandered riches and mourn our many failures, summoning our common responsibility to sustain one another and the world.' – Bookanista, introducing Jane Hirshfield's Ledger
Read the feature on Bookanista's website here.


REVIEW COVERAGE FOR LEDGER

Ledger was reviewed alongside Carolyn Forche's In the Lateness of the World in The Guardian's best recent poetry feature of 4 April 2020. Fiona Sampson's original opening, sadly cut by The Guardian, read:
'Poetry's claim has always been that it can encompass both terror and joy, accompanying us even through the worst of times. So it's a consolation to find the verse being published right now does measure up to the times we find ourselves in.' Read the full review here
'Ledger is a book of harvesting of inner and outer experience, and at an extraordinarily barren time in human history, its fruits are a perfect, stunning and much needed blend of bitter and sweet.' - Rosie Jackson in The High Window. Read the full review here.
'Reviewing in this pandemic and lockdown, it is impossible not to read Jane Hirshfield's extraordinary new collection as eerily prescient and a particularly relevant gift to these times… Ledger is an essential collection for our times, and beyond.' – Beth McDonough, DURA (Dundee University Review of the Arts) Read the full review here.
'Intelligent, complex and full of clarity, Jane Hirshfield's latest collection Ledger is a call to one's sense of justice and moral responsibility in the world we live in: a personal, ecological and social reckoning. One of the remarkable strengths of this book is to call into question our world-views, the way we measure or weigh our dilemmas.' - Jennifer Wong, PN Review (in print only)
'Hirshfield has an extraordinary talent for both opening a poem out and yet pinning down; allowing the imagination both to reach out and to settle.' - Ian Pople, The Manchester Review
Read Ian Pople's full review of Ledger here.
UK LAUNCH READING FOR LEDGER

Bloodaxe's Editor Neil Astley hosted this international live streamed reading by
Jane Clarke
,
Jane Hirshfield
and
Arundhathi Subramaniam
on 15 December 2020. They were celebrating the publication of their new or recent poetry collections, and joined Neil in Northumberland from their homes in Co Wicklow, California and Bombay. They each gave two sets of readings, followed by a discussion that revealed many connections between these three outstanding poets.
This extraordinary reading and discussion is now on YouTube.
INTERVIEW WITH JANE HIRSHFIELD ON BBC RADIO 4

Terrifying Verse, BBC Radio 4, Sunday 25 October 2020, 4.30pm (repeated Saturday 31 October 2020, 11.30pm)

American poet Jane Hirshfield was interviewed for this BBC Radio 4 feature on poetry and terror presented by Caroline Bird. Caroline also spoke to poets Roger Robinson and Rachel Long.

Jane read her truly terrifying poem 'Calmness' from her 2005 retrospective Each Happiness Ringed by Lions, and the last line of a poem from her ninth collection Ledger: 'Ghazal for the End of Time (after Messiaen)', which she describes as the most frightening line she has ever written. She spoke to Caroline about the need for poems to contain beauty as well as darkness. The line quoted at the top of the programme: 'The poem carries love and terror, or it carries nothing' is from her poem 'Like an Ant Carrying Her Bits of Leaf or Sand' from Each Happiness Ringed by Lions.

'''The poem carries love and terror, or it carries nothing.' That line is from a poem by the American poet Jane Hirshfield, and it's been a kind of guiding principle for me as a poet. What I love about Jane's poems is they always make me suddenly remember the strangeness of being alive, often in quite a shocking way. The images are so playful and chewy and enjoyable, and yet the stakes are always life and death… For Jane Hirshfield, the greatest terror is in the increasing awareness of what we are doing to the planet, and what we might continue to do in the future. It's a reality she reckons with in her latest collection Ledger.' – Caroline Bird, BBC Radio 4, Terrifying Verse

'Caroline Bird celebrates the under-represented dark side of poetry, asking the poems that confront terror to step out of the shadows and into the light. One of Caroline's poetic heroes, the poet Jane Hirshfield said 'the poem carries love or terror or it carries nothing'. Whilst poetry about love is hardly news, the poetry of terror has been under-discussed and under-valued. In this programme argues that terrifying verse is just as important and resonant. Caroline speaks to Jane Hirshfield about how love and terror balance each other out, the fear involved in the act of writing itself, and what use poetry is in face of the very real horror of the climate crisis.'

No longer available online, but programme details here: https://www.bbc.co.uk/programmes/m000ntsh
~~~~~
HIGHLIGHTS FROM PUBLICITY FOR THE AMERICAN EDITION OF LEDGER

An interview with Jane Hirshifeld ran in The Boston Globe of 13 October 2020.
'Poet Jane Hirshfield on bearing witness to the beauty of an imperiled world'. Read here.
American Poetry Review featured the email conversation between Jane Hirshfiled and Kaveh Akbar. They have been corresponding by email since 2016. This extract from their correspondence was featured in APR to coincide with publication of the US edition of Ledger.

'Ledger carries that title because it's a book of stocktaking, trying to take account of and recount what feels an unaccountable time. Here we all are, trying to comprehend a precipitously incomprehensible era. These poems navigate my responses and responsibilities, as poet, as person, to that era.' – Jane Hirshfield
Read this fascinating conversation via APR's website here.


Jane Hirshfield's poem 'Falcon' from Ledger was featured in the American magazine Spirituality & Health, including a link to audio of Jane reading the poem.
https://spiritualityhealth.com/articles/2020/04/12/poem-falcon
Jane read her poem 'Today, Another Universe' on the Brainpickings website, described by Maria Popova as 'one of the most beautiful and perspectival poems from this miraculous book — a poem of consolation by way of calibration'. You can read and listen to the poem here.
[15 April 2020]