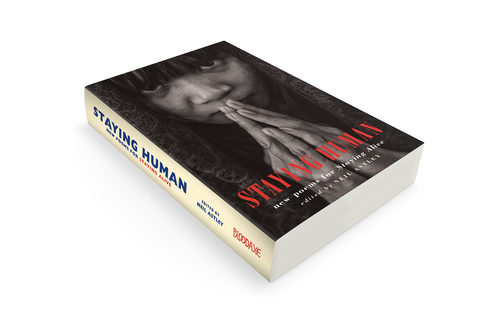 Staying Human: Advance Subscription Offer
Nearly 20 years ago Bloodaxe published Neil Astley's anthology Staying Alive, introducing many thousands of new readers to contemporary poetry from around the world. This was followed by two further compilations, Being Alive and Being Human, all three books giving readers hundreds of thoughtful and powerful poems about living in modern times.
Staying Alive
was subtitled
real poems for unreal times
. We are now living in even more unreal times, and many people have been turning to these three anthologies during this time of crisis. A fourth anthology in the series,
Staying Human: new poems for Staying Alive
, is scheduled for publication on National Poetry Day, 1st October.
Staying Human
was planned and assembled before the emergence of COVID-19, but the economic effects of the pandemic will make it that much more difficult to publish. So if you've liked the previous anthologies in the
Staying Alive
series and are looking forward to the fourth, you can help by
pre-ordering
your copy of
Staying Human.
We are working in partnership with innovative publisher Unbound, who are taking orders by advance subscription. This will contribute towards covering the high printing and permissions costs, and should allow us to proceed with publication on National Poetry Day.
Each of these anthologies has 500 poems by writers from around the world. In the sequence which follows Neil Astley's introduction to the film below, you'll see and hear some of the poets from the book reading short excerpts from their poems in Staying Human: poems about life, love, family, and the conflicts which challenge us, as well as what we love about our world and about each other, about what makes us human. The sequence starts with Tishani Doshi from India and ends with Jericho Brown from the US, who was first published in the UK in the previous anthology, Being Human.
If you click on
this link
, you will taken to Unbound's subscription page for
Staying Human
, where you can order single copies either in paperback or an exclusive signed collector's hardback edition available only to subscribers to this offer. The books will be sent to you in September ahead of publication on 1st October, and there's an ebook bundled in with both options. The special hardback edition is not listed on our website because it will only be available to subscribers who order in advance via Unbound's page link.
Following suggestions from readers, three new offers have been added for the paperback edition - you can now order two copies, four copies or eight copies - to allow for reading with a friend or with a book group. One ebook is included with the group orders. All will be sent out in September ahead of 1 October publication.
Staying Human
is one of 40 recommended poetry books for
National Poetry Day
, included on their list of ten titles suggested for reading groups. Notes for book groups are
here
.
Staying Human
: special advance subscription offer: please click
here
.
This offer is available for three months only and closes on 30 August 2020.
John Mitchinson discusses
Staying Human
and the advance subscription offer via Unbound on episode 114 of the
Backlisted
podcast
here
(from 12.35). He reads
Imtiaz Dharker
's new poem 'Cranes Lean In', written on 22 March 2020 - Mother's Day in the UK - which is one of a number of poems at the end of the book written in response to the pandemic.
[16 June 2020]