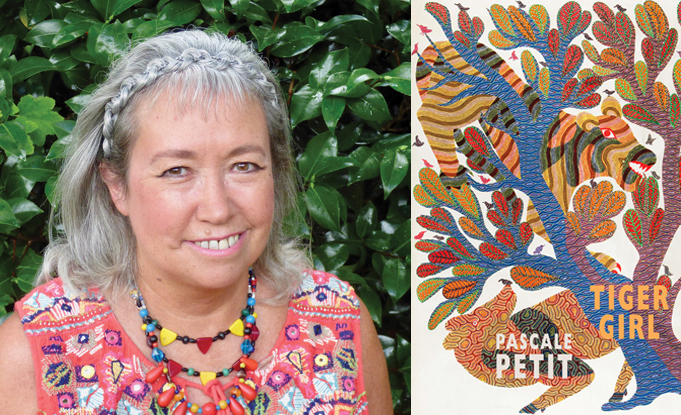 Pascale Petit shortlisted for Forward Prize for Best Collection
'In Tiger Girl, PascalePetit's richly contained lyric poems explore her grandmother's Indian heritage through the flora and fauna of subcontinental jungles.' - Forward Prizes
Pascale Petit's eighth collection Tiger Girl, forthcoming from Bloodaxe on 3 September, has been shortlisted for the Forward Prize for Best Collection. The five-strong shortlist for the £10,000 prize was announced on 10 June. The winners of all three categories in the 2020 Forward Prizes for Poetry will be revealed on 25 October 2020.
The judges were Leaf Arbuthnot, Kim Moore, Alexandra Harris, Roger Robinson and David Wheatley. The chair of the 2020 Forward Prizes jury, writer, critic and social historian Alexandra Harris, said:
'The period of our judging coincided almost exactly with the first two months of lockdown in the UK. None of the books were written for a pandemic, but it was noticeable how often a strong poem would seem as true to the hour and the day as the constantly-updated news. Our shortlisted collections are rich in energy and surprise, intellectually agile, sensuous, made to last. There are transformative leaps of connection across centuries and continents. At a time when our lives are intensely local and global at once, these poets challenge us to think on many different scales: they ask what is large and small, move between intimate individual observation and chorus.'
The Forward Arts Foundation on Tiger Girl:
'Tiger Girl is a departure for Petit; her imaginative landscapes have shifted from the Amazon rainforest which characterised earlier collections including Fauverie and Mama Amazonica to the forests of Ranthambore in Rajasthan, near her grandmother's birthplace, beautiful and full of life but threatened by poaching, deforestation and climate change. She draws attention to 'how our endangered wild is endangering all life on the planet including ourselves', while leaving room for a sense of awe and astonishment: 'how can we destroy such wonders?'
In April Pascale Petit won the 2020 Keats-Shelley Poetry Prize for 'Indian Paradise Flycatcher', a poem from Tiger Girl. Her seventh collection Mama Amazonica won the RSL Ondaatje Prize 2018, the first poetry title to win that award, and is longlisted for The Laurel Prize 2020.
Tiger Girl marks a shift from the Amazonian rainforests of her previous work to explore her grandmother's Indian heritage and the fauna and flora of subcontinental jungles. Tiger girl is the grandmother, with her tales of wild tigers, but she's also the endangered predators Petit encountered in Central India. In exuberant and tender ecopoems, the saving grace of love in an otherwise bleak childhood is celebrated through spellbinding visions of nature, alongside haunting images of poaching and species extinction.
Details of all the shortlisted titles are on the Forward Foundation website here.

The shortlisted books are featured in The Guardian of 10 June here.
Pascale Petit will be talking to Forward Prize Judge Kim Moore at Forward Meet the Poet event on Tuesday 1 September 2020, 7pm. £3, via Zoom. Book via eventbrite here.
~~~~~
Tiger Girl was warmly reviewed by Daljit Nagra on Radio 4's Front Row on 24 August 2020. Listen to his review here (from 26.39).
An interview with Pascale Petit, focusing on Tiger Girl in particular, went online at Versopolis on 27 July 2020. Read here.
Two poems from Tiger Girl are featured on Extinction Rebellion's Writers' Rebel website are here.
Pascale Petit's poem 'The Anthropocene' from Tiger Girl is featured in the New Statesman of 3 June here.
Some poems from Tiger Girl are featured on Pascale's blog here, along with photographs taken in India.
Pascale Petit's poem 'Indian Paradise Flycatcher' from Tiger Girl won the Keats-Shelley Prize. More details on our website here.
~~~~~
For press enquiries, pictures and review copies relating to the Forward Prizes, please contact Susannah Herbert on Susannah@forwardartsfoundation.org.

For proof copies of Tiger Girl or for non-Forward Prize related enquiries about Pascale Petit, please contact Christine Macgregor at publicity@bloodaxebooks.com.
[10 June 2020]