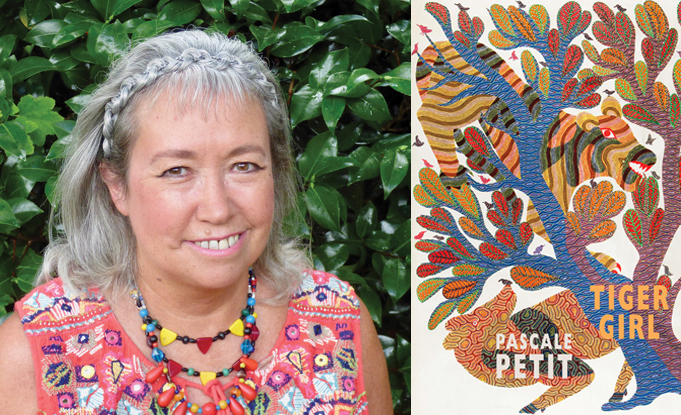 Pascale Petit's Tiger Girl shortlisted for Wales Book of the Year 2021
Pascale Petit's eighth collection Tiger Girl, set in India and Wales, is on the three-strong shortlist for the English language poetry category of the Wales Book of the Year 2021. The English language category shortlists were announced on 2 July on the Radio Wales Arts Show. The Welsh language shortlists were announced on 28 June.
Members of the public can vote for The People's Choice Award on Wales Arts Review here. Voting closes 23 July 2021.
Full details of all the shortlisted titles in the English and Welsh language categories are on Literature Wales' website here.
Each category winner will receive a prize of £1,000 and the main award winners will receive a further £3,000. Each winner will also receive an iconic Wales Book of the Year trophy designed by the installation artist and blacksmith Angharad Pearce Jones.
The English-language category winners, Wales Arts Review People's Choice Winner and Overall Award Winner will be announced on Friday 30 July at 6pm on the Radio Wales Arts Show, BBC Radio Wales, when representatives from the judging panel, Literature Wales, and literary pundits will join presenter Nicola Heywood Thomas. Listen live or after broadcast here.
On the English-language panel are poet, writer, and dancer Tishani Doshi; teacher, reviewer and influencer Scott Evans; Paralympian, Crossbench Peer in the House of Lords, motivational speaker, and broadcaster, Tanni Grey-Thompson; and academic, writer, activist and former winner of Wales Book of the Year (2003), Charlotte Williams.
On behalf of the judging panel, Charlotte Williams OBE said:
"Being able to read across the literary output of the nation in any one year is by turns inspiring, daunting and joyous. The 2021 shortlist for fiction, non-fiction, poetry and children's books demonstrates the quality, breadth and range of writing being produced in, and about Wales. Whilst these books reflect strongly Welsh literary themes, people and places, they also clearly speak to Wales' international connections and to its international readership."


For review copies of Tiger Girl or for interview requests for Pascale Petit, please contact Christine Macgregor at publicity@bloodaxebooks.com.
~~~~~
Wales Book of the Year Poetry Shortlist Interviews - Pascale Petit on Tiger Girl

In this video for WBOTY, Pascale Petit recounts the story of how her grandmother inspired the collection, and reads part of her poem 'Indian Roller' from Tiger Girl.
~~~~~

Pascale Petit was born in Paris, grew up in France and Wales and lives in Cornwall. She is of French/Welsh/Indian heritage. Her eighth collection, Tiger Girl (2020), won an RSL Literature Matters Award while in progress, and a poem from the book won the 2020 Keats-Shelley Poetry Prize. Tiger Girl was shortlisted for the 2020 Forward Prize for Best Collection. Her seventh collection Mama Amazonica (Bloodaxe Books, 2017), a Poetry Book Society Choice, won the RSL Ondaatje Prize 2018 and the Laurel Prize 2020, and was shortlisted for the Roehampton Poetry Prize 2018.
Tiger Girl marks a shift from the Amazonian rainforests of her previous work to explore her grandmother's Indian heritage and the fauna and flora of subcontinental jungles. Tiger girl is the grandmother, with her tales of wild tigers, but she's also the endangered predators Petit encountered in Central India. In exuberant and tender ecopoems, the saving grace of love in an otherwise bleak childhood is celebrated through spellbinding visions of nature, alongside haunting images of poaching and species extinction.
~~~~~
Hear Pascale Petit read three poems from Tiger Girl on the iamb poets website here.
'Surprised!' from Tiger Girl is featured in the Spring 2021 issue of Oxford Review of Books. The collection was reviewed in great depth in their autumn 2020 issue here.
Tiger Girl was reviewed by Aingeal Clare in The Guardian of 12 September 2020 here.
Three poems from the collection were featured on Bookanista to mark publication day, 3 September 2020. Read here.
More reviews, interviews and poem features from Tiger Girl are on Bloodaxe's news pages here.
~~~~~
Pascale Petit: Tiger Girl launch reading
Pascale Petit launched her eighth collection Tiger Girl in a Bloodaxe online launch reading shared with Wayne Holloway-Smith and Phoebe Stuckes on 8 September 2020. This video is an excerpt from that event which went out on YouTube Live.
[02 July 2021]