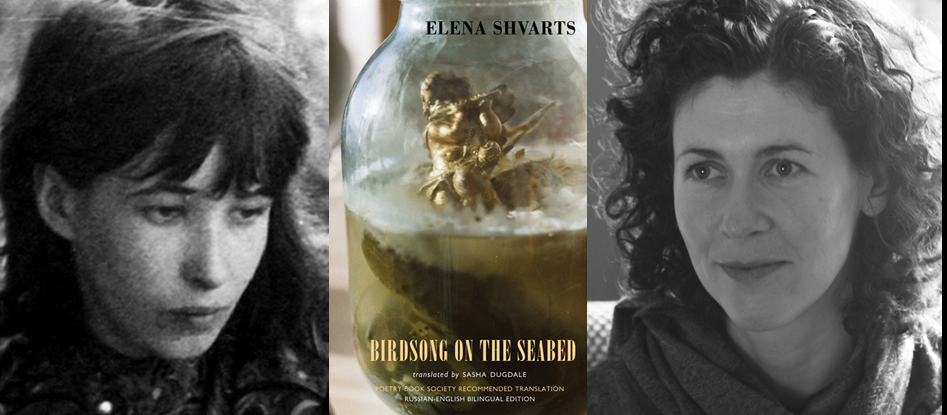 Elena Shvarts's Birdsong on the Seabed recommended on A Good Read


A Good Read, BBC Radio 4, Tuesday 23 March 2010, 4.30pm; rebroadcast on BBC Radio 4 Extra, Monday 15 June 2020, 6.30pm.

The late Russian poet Elena Shvarts' collection Birdsong on the Seabed, published by Bloodaxe in a dual language Russian-English edition in 2008, was Professor Valentina Polukhina's choice of book for A Good Read on 23 March 2010. The first broadcast was not long after the announcement of the death of Elena Shvarts from cancer on 11 March 2010. The programme was recorded some time before, so could not be adapted, but this is mentioned on the programme's website.

Birdsong on the Seabed was the second item in the programme to be discussed (from 11:15). Valentina spoke about why she had chosen the book, beginning by saying 'She is acknowledged by many as one of the most important and interesting [Russian] poets of her generation'. Valentina read a brief extract from a poem in both Russian and English, illustrating the irony with which Elena Shvarts handles political issues. Fellow guest Robert Service read his favourite poem, 'Why not everyone sees angels', of which he said 'that just takes your breath away'.
The 'excellent translator' Sasha Dugdale's translation of this book was shortlisted for two translation prizes: the Rossica Translation Prize and the Corneliu M Popescu Award for European Poetry Translation 2009, and Elena Shvarts knew about both of these shortlistings.

The programme has now been archived on A Good Read's webpage. Listen here (this book is discussed from 11:15)
~~~~
A reprint of Birdsong on the Seabed has been put through in response to the re-broadcast of this programme in June 2020 - it had just gone out of stock.

[18 June 2020]