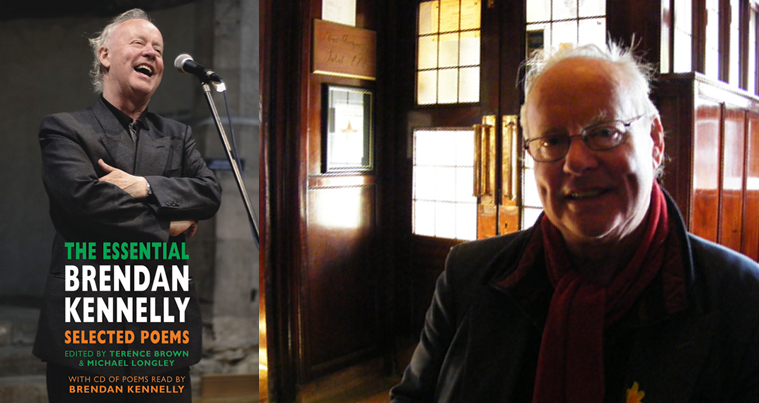 Brendan Kennelly's poem on BBC TV news
BBC TV News at Ten, Thursday 9 July 2020, BBC One, 10pm
BBC TV News used an extract from Irish poet Brendan Kennelly's poem 'My Dark Fathers' in a TV report that went out on BBC World TV, BBC News Channel and the
News at Ten
bulletins. It also feature on BBC Online and on BBC News social media platforms. The poem was used to highlight famine and dispossession in North Kerry in a Fergal Keane package about the history of Ireland – the short extract was read by some history students and their teacher. Brendan Kennelly and the poem title were credited on the subtitles.
This poem is included in
The Essential Brendan Kennelly: Selected Poems
, edited by Terence Brown and Michael Longley (2011), and you can hear Brendan read and introduce the whole poem on the CD that accompanies the book. Brendan Kennelly introduces the poem by saying:
'Irish history is very dark and complex, contradictory, and almost impossible to understand… one of the darkest moments in that history is the famine in the middle of the 19th century, and this poem is about the famine. It's an attempt to confront and celebrate that darkness of history.'
'For the latest in a series of reports considering the legacy of imperialism, Sophie Raworth presents BBC News at Ten reporting by Fergal Keane, who has been to the province of Munster in the Republic of Ireland, one of the early testing grounds of British colonialism.'
Fergal Keane's piece has been posted as a discrete item on YouTube - watch
here
. Forward to 3:00 to hear the poem extract.
~~~~
Brendan Kennelly
is one of Ireland's most distinguished and best loved poets, as well as a renowned teacher and cultural commentator. Born in 1936 in Ballylongford, Co. Kerry, he was Professor of Modern Literature at Trinity College, Dublin for over 30 years, and retired from teaching in 2005.
He has published more than 30 books of poetry, including
Familiar Strangers: New & Selected Poems 1960-2004
(2004), which includes the whole of
The Man Made of Rain
(1998). He is best-known for two controversial poetry books,
Cromwell
, published in Ireland in 1983 and in Britain by Bloodaxe in 1987, and his epic poem
The Book of Judas
(1991), which topped the Irish bestsellers list: a shorter version was published by Bloodaxe in 2002 as
The Little Book of Judas
. His third epic,
Poetry My Arse
(1995), did much to outdo these in notoriety. All these remain available separately from Bloodaxe, along with his more recent titles:
Glimpses
(2001),
Martial Art
(2003),
Now
(2006),
Reservoir Voices
(2009),
The Essential Brendan Kennelly: Selected Poems
, edited by Terence Brown and Michael Longley (2011), and
Guff
(2013).
To mark his 80th birthday, we posted audio recordings of five of his most popular poems on SoundCloud, which you can hear by clicking on the links below:
These recordings are taken from
The Essential Brendan Kennelly
, which is published both in paperback with an accompanying audio CD and as an enhanced ebook with audio, both editions including 36 audio files of Brendan reading his poetry.
You can also see Brendan reading five poems, including 'Begin', on
this video link
, and reading at Dublin's Abbey Theatre from his collection
Reservoir Voices
on
this video link
.
His available books are all shown
here
.
The Poetry Programme: Brendan Kennelly Special, RTÉ Radio 1, Saturday 30 April 2016, 7.30pm
To mark Brendan Kennelly's 80th birthday, The Poetry Programme celebrated his life and poetry. Julien Clancy visited Ballylongford and spoke with Brendan's family and friends. The programme also featured archive clips of Brendan speaking on RTÉ Radio and poetry readings from the CD accompanying his Bloodaxe title The Essential Brendan Kennelly.
[23 June 2020]