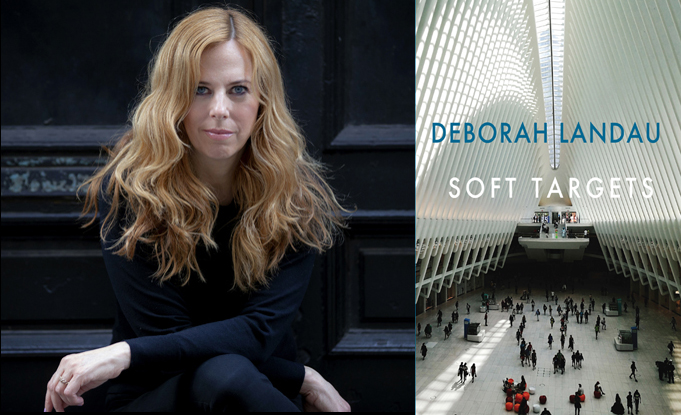 Deborah Landau's Soft Targets wins Believer Book Award
'In her latest collection, Deborah Landau writes lush, sensual lyrics to reconcile both the beauty and the unrelenting vulnerability of the body, 'the soft target.' The poems trace patterns of violence—global and local, past and present—to convey the constant threat of destruction that looms over so many 'softs' in our precarious present. All the while, the poems grapple with what it means to live with pleasure and tenderness amid the shadow of imminent doom.' - Believer Book Award citation
American poet Deborah Landau's fourth book of poetry Soft Targets, winner of the Believer Book Award for Poetry in the US, is published in the UK on 25 June 2020. Deborah was due to launch the UK edition at Ledbury Poetry Festival in July, but sadly the festival has been cancelled due to the coronavirus pandemic.
Written in response to the terror attacks in Paris and Nice in 2015 and 2016, where Deborah was at the time, the book moves from France, to Nazi Germany, and then to America, where she witnessed the 9/11 attacks on the World Trade Center from a bus when taking her children to school. In this linking sequence of poems, she contemplates a world beset by political tumult, random violence, terror attacks and climate change. This is set against a backdrop of 21st-century threats with historical echoes, as neo-Nazis marching in the US recall her grandmother's flight from Nazi Germany.
CNN commissioned an opinion piece from Deborah Landau, 'We are all soft targets', in the light of US inaction on gun control following the latest shootings in August 2019. She writes :
'While I've always been preoccupied with the vulnerabilities of the body, in my new book, Soft Targets, the fear of annihilation extends beyond the self to an imperiled planet on which we're all soft targets amid so many threats -- the threats of gun violence, of global and domestic terror, the threats to our democracy, the threat of climate change, and so on.'
The full piece can be read here.
'Writing Poems for an Unsafe World': an in-depth interview with Deborah Landau is on Literary Hub here.
Deborah Landau reading at Shakespeare and Company Bookshop, Paris, on 29 January 2018


Deborah reads from an earlier version of Soft Targets. She begins with her poems set in France, and then reads poems from other sequences in the book.
[24 June 2020]